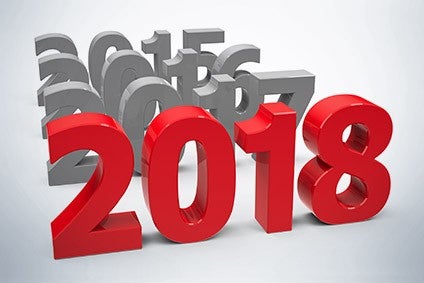 2018 is set to be a year in which disruptive trends that have been on the horizon start to become the norm for the apparel industry and its supply chain, according to first feedback from a panel of executives consulted by just-style. This includes more orders in smaller quantities and shorter lead times, the pressures of e-commerce and fast fashion, digitalisation of the value chain, slow sales and rising costs. But facing up to these challenges also presents opportunities for retailers, brands and their suppliers to rethink their business models and find new ways to become relevant.
Marc Compagnon, group president, Li & Fung: During 2018, companies will need to cope with disruptive macro trends that have now become the norm: more orders in smaller quantities and shorter lead time, rapid technology advancement, the pressures of e-commerce and fast fashion, the need for manufacturers to upgrade their capabilities including digitalisation of their processes. Brands and retailers and the companies that partner with them cannot stand still. They will need to continue to evolve quickly, move faster and be more innovative to meet the changing marketplace. Otherwise, progress will be challenged.
However, all of this also brings opportunity for retailers and brands to rethink their business models and how they operate to stay responsive to the pace of change and recognise opportunities when they arise – such as the digitalisation of the global supply chain, which we at Li & Fung are focused on.
Dr Achim Berg, partner at McKinsey & Company and co-leader of McKinsey's Apparel, Fashion & Luxury Group: The fashion industry is going through a seismic shift, driven by massive long-term changes that serve as a backdrop for everything that is happening. These are overarching, interconnected forces that will drive and shape the trends in years to come.
The key challenges, the apparel industry will face in 2018, are not new. Our latest BoF-McKinsey Global Fashion Survey shows that the four biggest challenges are: 1: Dealing with volatility, uncertainty and shifts in the global economy; 2: Competition from online and omnichannel; 3: Value chain improvement and digitalisation; 4: Decreasing foot traffic and offline retailing pressure.
All of these challenges were also among the top challenges in 2016 and 2017.
Looking towards opportunities for 2018, there is a new sense of optimism in an industry plagued by uncertainty. The McKinsey Global Fashion Index forecasts industry sales growth to nearly triple between 2016 and 2018, from 1.5% to between 3.5 to 4.5%.
One of the biggest opportunities lies in digitalisation of the value chain. As an example, the use of rich data and granular customer insights to inform decisions offers business opportunities across the fashion value chain, in areas ranging from dynamic pricing to optimised product replenishment.
Helen Mountney, managing director of Kurt Salmon, part of Accenture Strategy: Fashion brands and retailers are facing strong pressure on growth and margins, which will continue well into 2018. Faced with consumer demand for fast fashion at competitive prices and a proliferation of choice, retailers are struggling with high inventories and slow sales. In parallel, rising apparel sourcing and production costs are heavily impacting margins.
Fashion brands and retailers need to find a longer-term solution to cost pressures. Closer alignment between product development and suppliers can unlock trapped value and help improve product innovation and quality, time to market, reliability and execution. Retailers that focus on reinventing their operating models in 2018 and integrate their suppliers will reap the biggest rewards. Balancing offshore with near-shore or local sourcing will also be important, enabling retailers to react faster to trends and commit less up-front.
Edwin Keh, CEO of the Hong Kong Research Institute of Textiles and Apparel (HKRITA), and lecturer at the Wharton School at the University of Pennsylvania: The challenge for 2018 is to give customers a reason to buy. Most consumers have more clothes than they need and are running out of closet space. Other discretionary spending options (electronics, experiences, services…) are commanding more attention and promise more rewards. Meanwhile there is not a lot of excitement or "must haves" in apparel. Low prices are already a given, so where will demand come from?
Matthijs Crietee, secretary general at the International Apparel Federation (IAF): The main challenge – and the main opportunity at the same time – is to make the available technology work to take costs out of the supply chain. Many factors conspire to make the implementation of all the available technology in our industry very difficult, including a great amount of fragmentation into small units across supply chains and within industries, and a knowledge gap. Investments in machines, people and software do not combine well with purely transactional business relations.
Nevertheless, we will see a growing number of positive examples of the implementation of technology in our industry in 2018, ranging from semi-automated factories to the internet of sewing machines to digital samples. In 2018 we will see the most successful implementation of technology carried out by very large or very small companies. For mid-sized firms, a strong local supporting infrastructure including industry associations, training centres and research institutes can make a positive difference and can make it easier for them to make use of the existing technology too.
Moreover, brands will start to benefit more from the opportunity to sell across the world through the growing number of online sales channels with a global reach.
Rick Helfenbein, president & CEO, American Apparel & Footwear Association (AAFA): The biggest challenge facing apparel manufacturers and brands is simply to understand the shifting dynamic of our consumer's "new found ability" to choose exactly how, where and why they purchase product. A robust American economy has pushed the millennial shopper to the forefront of consumerism. They are quickly setting the pace for re-defining our retail environment. Social media has become the influencer, and the smartphone has become the instrument of purchase. Opportunity lies with innovative companies that truly understand exactly how to navigate this new retail terrain.
Dr Sheng Lu, assistant professor at the Department of Fashion and Apparel Studies at the University of Delaware: One of the biggest opportunities facing the apparel industry in 2018 could be the faster growth of the world economy. According to the International Monetary Fund (IMF), the global growth forecast for 2018 is expected to reach 3.7%, about 0.1 percentage points higher than 2017 and 0.6 percentage points higher than 2016. Notably, the upward economic growth will be broad-based, including the United States, the Euro area, Japan, China, emerging Europe and Russia. Hopefully, the improved growth of the world economy will translate into increased consumer demand for clothing in 2018.
Nevertheless, from a macroeconomic perspective, oversupply will remain a significant challenge facing the apparel industry in 2018. Data from the World Bank and the World Trade Organization (WTO) shows that while the world population increased by 21.6% between 2000 and 2016, the value of clothing exports (inflation-adjusted) surged by 123.5% over the same period. Similarly, between 2000 and 2016, the total US population increased by 14.5% and the GDP per capita increased by 22.2%, but the supply of apparel to the US retail market surged by over 67.8% during the same time frame.
The problem of oversupply is the root of many challenges faced by apparel companies today, from intense market competition, pressure of controlling production and sourcing cost, struggling with excessive inventory and deep discounts to balancing sustainability and business growth.
Robert P Antoshak, managing director, Olah Inc: The most significant challenge facing the apparel industry in 2018 will be commoditisation. What do I mean? It's not just that products have become cheaper; there's more to the story than that. What's concerning to me is how products are bought, sold and retailed today. Everything has become increasingly homogenised.
It's easy to blame fast fashion for the homogenisation of our industry's products, but to do so is a cop-out. Has fast-fashion ruined the business? Not at all. If anything, fast-fashion has only helped the industry to function more efficiently. Fast-fashion is a manifestation – innovation, actually – or, perhaps more so, a response to changing markets and consumer tastes. Regarding economics, let's face it: developed country markets are saturated. How many more products can people be expected to buy? Closets are already bulging.
Then there's the rise of younger consumers ("Millennials" now outnumber their "Baby-Boomer" parents) with limited incomes and less aggressive tendencies towards consumer consumption – and less aggrandisement. In aggregate, the rate of growth in consumer spending for apparel has only slowed. There's not enough demand to support current global supplies of textiles and garments.
And then there's technology – it has altered the retail landscape. Technology has made the selling and buying of products easier, but it has also made the retail experience ubiquitous. What's special anymore? Sameness has seemingly won out over unique. When coupled with our industry's over-stuffed supply chains, it's not hard to see why "cheap" seemingly goes hand in hand with the pedestrian. It's a tough market these days.
Even so, there's another aspect of technology that goes beyond online or mobile methods of connecting consumers with retailers: look at all of those smartphones, tablets and the like. Billions of such gadgets are sold each year to eager consumers. But here's the rub: all of the money consumers shell out on these devices is diverted from apparel purchasing.
In the hyper-competitive market for consumer attention, the tech industry has figured out new ways of enticing consumers to spend more, while our industry has only succeeded in marketing ho-hum products at cheaper and cheaper prices via uninteresting channels.
But wait, there's hope. It's funny how all of the gadgets now look alike: a rectangular slab of metal sandwiched between panes of glass. Hmmm. Will that story eventually become stale? Every product goes through an evolution of newness-to-maturation-to-cheap. Tech gadgets are not immune to this cycle.
Rajiv Sharma, group chief executive, Coats: While the challenges and priorities for the industry have not changed in the past few years, the most noticeable part is the pace and intensity of change. We are all under more pressure than ever before to supply products with greater innovation, better quality and at faster speed. All this while ensuring the highest standards of corporate responsibility. Brands, retailers and most large companies cannot afford any reputational risk and hence are seeking higher ethical, safety, social and environmental standards from their supply chain. Everybody is striving for more in every sense of the word and at each stage of the apparel supply chain.
The opportunity will be there for those industry operators that are able to offer added value – and not always in their immediate area of delivery. Conversations with customers nowadays are as much, if not more, about CR and sustainability rather than the cost, features and benefits of the product itself. Being able to demonstrate wider knowledge, expertise and insight and identify how that can add value is a key differentiator.
There is no time to stand still and pause for breath. Developments that take place one year are not necessarily enough to maintain momentum in the longer term and a constant cycle of innovation and transformation is now required. That is the challenge that will create the opportunity for success for those companies able to rise to it.
Rick Horwitch, vice president and global retail lead for supply chain strategy at Bureau Veritas Consumer Products Services: The biggest challenges – speed, efficiency and relevancy – are also the biggest opportunities. We are living through an amazing Retail Renaissance. Shopping is not dead. Consumers have more choices than ever before. There are more opportunities than at any time in history for retailers, brands and manufacturers to collaborate with each other and directly with the consumer. The key is to create a collaborative value equation that addresses the entire product cycle (concept to consumer).
To meet this generational opportunity, long-standing business models, processes and thinking needs to change. The continuing push for speed, reduced inventories and margin pressure can have a negative impact on the entire process. Most important, in a highly connected world, where information and analytics are instantaneous, NOT meeting the customer's expectations could have an immediate, and disastrous, effect. Creating value – along the entire chain – can no longer be a buzzword.
Today's winners have found a way to develop and integrate innovative, collaborative, processes and analytics (a value chain approach) that are improving speed and margin, without sacrificing quality, to meet the needs of the consumer.
Mike Flanagan, CEO of apparel industry consultancy Clothesource: The apparel world is a tale of two cultures.
Western economies are generally growing slowly, but the consumer base is changing rapidly. The rich continue to get richer, most others more miserable, and opportunities explode as consumer tastes develop in ways the apparel industry – unlike virtually all other consumer industries – appears incapable of responding to. So the sector remains plagued with overcapacity – and appears determined to destroy shareholder value on a continuing destructive flirtation with e-commerce. Meanwhile, even in the most developed e-commerce markets (the US isn't among them), 80% of clothes are bought from physical shops. And there are far too many of them.
In developing countries, economies continue to grow faster – but Western retailers have largely failed to find ways of making money out of them. By and large, retail doesn't cross borders profitably. If you can't make money selling in your home market, why on earth do you think you'll make money somewhere you know even less about?
The 1980-2010 sourcing and retail revolutions in effect turned the Western apparel industry into an own-label one. There are few real manufacturer-derived brands: mostly in sportswear and athleisure. So the core challenge for the Western apparel industry is to understand its home market, align its real estate and operating costs, and return to being retailers again.
Julia K Hughes, president, United States Fashion Industry Association (USFIA): From the US perspective, the biggest challenge remains the Trump Administration. What I mean is that there has been an incredible amount of anxiety about what will be the trade policy for the Administration – watching the twitter feeds and speeches seems like a full-time job some days. Consistently there is a lot of criticism of America's trading partners and a prejudice against imports. But there has not been not much action on trade since President Trump withdrew from the Trans-Pacific Partnership (TPP) one year ago.
As we start 2018, the Trump Administration is on the brink of a number of major trade decisions that have the potential to spark a global trade war. And we are in the midst of the renegotiation of free trade agreements that could hurt the fashion industry's supply chains. NAFTA renegotiation remains a top concern for USFIA's member companies. The US has proposed changes to the agreement that go far beyond an update to a 20-year old agreement. We are worried – let's not sugarcoat it – that our successful Western Hemisphere supply chains could be torn apart and hurt the regional economies as well as American consumers.
On the other hand, of course there are tremendous opportunities in 2018. The global economy is growing and we just had a very successful holiday selling season. We hope that the restructuring is over for brands and retailers, and that consumer demand will remain strong.
We also see a great opportunity to change the conversation about trade in Washington DC as part of the response to the Trump Administration. Attacks on trade have forced more policy makers and corporate executives to talk about the benefits of trade – and especially the jobs that trade creates.
USFIA is pleased to be one of the founding organisations for a new coalition, the US Global Value Chain coalition (USGVC). This coalition is committed to spreading the word that trade creates great jobs here in the United States. In a recent study that analysed the global value chains for apparel, more than 70% of the value of the clothing came from operations here in the US – even when the garments were totally manufactured outside the US. That is a powerful argument against those who want to cut back trade, and we see 2018 as the year to spread that message.
Click on the following links to read more comments about what to expect in the year ahead: