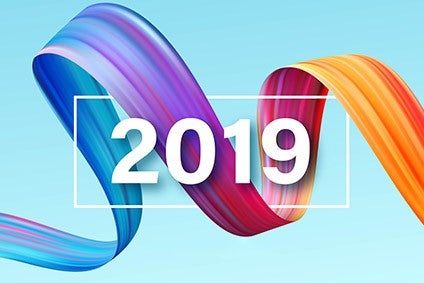 How is the sourcing landscape likely to shift in 2019, and what strategies can help apparel firms and their suppliers to stay ahead? As new barriers, trade tensions, and the need for speed continue to weigh on the apparel business, fashion companies need to develop contingency plans. Shifting some sourcing away from China, supplier consolidation, new investments closer to home, and the shrewd used of data and advanced analytics are some of the tactics executives recommend.
Marc Compagnon, executive director & group president, Li & Fung: For decades, supply chains were optimised for cost; but in today's retail environment, speed is the new currency, and this is what we're hearing from our customers across the board. In 2019 we will see technology continue to drive a lot of disruption at the retail and consumer level, and so of course the supply chain needs to undergo a transformation to meet the expectations of a digital economy. This is what's driving Li & Fung's Three-Year Plan and digital transformation, because we believe that a fully digital, end-to-end supply chain will be able to deliver the efficiency, flexibility and visibility that retailers need in order to adapt to a rapidly changing landscape, and execute faster, more effective business decisions.
Rick Helfenbein, president & CEO, American Apparel & Footwear Association (AAFA): For the last few years, five apparel sourcing countries have dominated the US landscape with 70% of all imports. The top two countries are China and Vietnam. China holds about 41% market share and Vietnam at 14% (and growing). Look for a major balance shift between China and Vietnam – with some offset to Bangladesh, Indonesia and India.
The current problem is that the further companies stray from China, the greater potential offsets and issues arise with social compliance, quick response, and product quality. In addition, altering the demand-ratio indicates that prices at wholesale will rise sharply and retail prices will rise as well. Most apparel and footwear companies have set up mini-war rooms to constantly re-evaluate their supply chains and their overall sourcing structure.
Edwin Keh, CEO of the Hong Kong Research Institute of Textiles and Apparel (HKRITA), and lecturer at the Wharton School at the University of Pennsylvania: Agile manufacturing supply chains, and Industry 4.0 types of smart responsive production are already a reality in adjacent industries. Apparel brands, manufacturers and suppliers will all have to adopt to stay ahead. This means more science and less art, new systems, solutions, and disruptive ideas.
Many current manufacturing and processing practices in our industry are too water intensive, chemical intensive, and use too much energy and materials. However, while true circularity is still a long way off, the need for fundamental change is more urgent than ever. The large-scale use of recycled materials, truly green materials and durable materials is needed. Innovations in processing and manufacturing practices are overdue. Data analytics and other smart tools need to be integral parts of how we make, use and reuse.
Dr Achim Berg, senior partner at McKinsey & Company and co-leader of McKinsey's Apparel, Fashion & Luxury Group: As new barriers, trade tensions, and new opportunities reshape the apparel business, fashion companies need to develop contingency plans. According to McKinsey's Q3 2018 Economic Conditions Snapshot, 62% of international executives across sectors believe that changes in trade policy will pose potential risks to global economic growth.
While shifts among Asian sourcing countries continue, we also asked: "Is apparel manufacturing coming home?" Our research shows agreement among four-fifths of apparel sourcing executives that political turmoil and its impact on trade agreements will change the economic equation between off- and nearshoring. Before viable nearshore models can gain significant traction, however, Tier 2 and 3 capacity must be developed in nearshore markets, and compliance and sustainability levels in the very fragmented supplier base there must improve.
Several key topics from previous years remain critical for sourcing executives: improving end-to-end efficiency; digitising processes in product development, sourcing, and the supply chain; and reaching operational excellence at scale.
Sourcing executives expect a more consolidated manufacturer and supplier landscape in the future. Demands on suppliers in terms of sustainability, their footprints, efficiency and digitisation are increasing.
Robert Antoshak, managing director, Olah Inc: In 2019, sourcing will diversify. Whether one approves of the Trump Administration's trade policy or not, the uncertainty posed by that policy on markets has prompted many companies to rethink their sourcing strategies. In particular, companies that had an over-reliance on suppliers in China have been forced to at least identify alternative suppliers in other countries – if not exiting the country outright – out of fear of being caught in the crossfire of the US-China trade war.
Although the intended purpose of the trade wars will not result in a wholesale movement of production back to consuming markets (sorry 'Made in USA' proponents), the trade struggle between the US and China has resulted in a re-evaluation of sourcing, which may prove to be a good thing over the long haul. Many supply chains were established – to paraphrase "Star Wars" – long ago, in places far, far away. And never changed once quotas ended. In many cases, these supply chains have atrophied. Maybe it is time for a change.
Perhaps, ironically, it is time for an industry-wide re-evaluation of how and where it produces its products. After all, our customers are asking a lot more questions about how their clothes are made than they used to – which leaves me feeling that sustainable initiatives supported by shorter and more efficient supply chains may help make the business case that such efforts can be paid for by new innovative sourcing strategies.
Dr Sheng Lu, associate professor at the Department of Fashion and Apparel Studies at the University of Delaware: Based on my research, I have three observations regarding apparel companies' sourcing trends and the overall sourcing landscape in 2019.
#1: Apparel companies overall will continue to maintain a diverse sourcing base. For example, in a recent study, we examined the sourcing portfolios of 50 of the largest US-based apparel companies. On average, these companies sourced from over 20 different countries or regions using more than 200 vendors in 2017. Similarly, in the 2018 US Fashion Industry Benchmarking Study, which I conducted in collaboration with the US Fashion Industry Association (USFIA), we also found companies with more than 1,000 employees typically source from more than ten different countries and regions. Since no sourcing destination is perfect, maintaining a relatively diverse sourcing base allows apparel companies to strike a balance across factors ranging from cost, speed and flexibility, to risk management.
#2: While apparel companies are actively seeking new sourcing bases, many are reducing either the number of countries they source from or the number of vendors they work with. According to our study, some apparel companies have been strategically reducing the number of sourcing facilities with the purpose of ensuring closer collaborations with their suppliers on social and environmental compliance issues. Some other companies are consolidating their sourcing base within certain regions to improve efficiency and maximise productivity in the supply chain. Related to this trend, it is interesting to note that around half of the 50 largest US apparel companies allocated more sourcing orders to their largest vendor in 2017 than three years ago.
#3: Nearshoring or onshoring will become more visible. Take 'Made in USA' apparel for example. According to the 2018 US Fashion Industry Benchmarking Study, around 46% of surveyed US fashion brands and apparel retailers said they currently source 'Made in USA' products, even though local sourcing typically accounts for less than 10% of their total sourcing value or volume. In a recent study we found 94 out of 348 retailers (or 27%) sold 'Made in USA' apparel in the US market between December 2017 and November 2018. These items, in general, focus on fashion-oriented women's wear, particularly in the categories of bottoms (such as skirts, jeans and trousers), dresses, all-in-ones (such as playsuits and dungarees), swimwear and suits-sets. The advantage of proximity to market, which makes speedy replenishment for in-season items possible, also allows retailers to price 'Made in USA' apparel substantially higher than imported items and avoid offering deep discounts. Looking ahead, thanks to automation technology and consumers' increasing demand for speed to market, I think nearshoring or onshoring, including 'Made in USA' apparel, will continue to have its unique role to play in fashion brands and retailers' merchandising and sourcing strategies.
Rajiv Sharma, group chief executive, Coats: China for China remains the overriding influence and has strong implications for the apparel ecosystem. South East and South Asia are key alternative sourcing destinations. There is a clear move back to Turkey, Eastern Europe and parts of Africa, as well as a push to increase sourcing from the Americas: Caribbean Basin, Mexico and Central America.
Supplier consolidation is becoming a feature. Pressure to deliver consistent quality and sustainability at speed and scale has led to a demand for bigger and more integrated suppliers. At the same time, complexity is increasing. Overall volumes may well be staying the same, but the number of individual styles and lines is growing dramatically.
The need for speed is ever-increasing with huge pressure on everything from product idea creation through to in-store or online availability. Lead times are coming down from months to weeks and, in some cases, days.
And of course all this plays out against the backdrop of increasing cost pressures. Consumers are used to quality products in many colours and multiple styles, that are available quickly at low prices. In addition they now also expect sustainability and even faster speed – but are not willing to pay more for them. The supply chain operates on thin margins and is finding it hard, so something has to give at some point in time: one to watch.
Julia Hughes, president, United States Fashion Industry Association (USFIA): The policy changes, new tariffs, and uncertainty of 2018 are here to stay in 2019, and for the foreseeable future. This will continue to have a major impact on sourcing and planning for fashion brands and retailers.
We know companies continue to look for ways to deal with the higher tariffs, so we expect to continue to see some sourcing shift away from China, especially if the Trump Administration's current penalty tariffs increase to 25%. Obviously if President Trump decides to hit all imports from China, then we have a crisis on our hands. USFIA encourages companies to prepare for more disruption, by seeking new sourcing destinations when possible, utilising free trade agreements or foreign trade zones or other duty-saving programmes, or seeking other efficiencies in their supply chains.
However, we all know there's simply no viable replacement for the vast majority of products manufactured in China, so unfortunately, we're likely going to see price increases for consumers and more pressure on profitability. Until then US textile and apparel imports from China continue to grow, an ironic byproduct of the uncertainty about tariffs in 2019.
Looking long term, there is new buzz about sourcing in the United States. While the numbers are not large, several USFIA members are making new investments in US production, and maybe even more exciting, we see new regional initiatives to develop innovative sourcing clusters, including product development and design. This is not the first time the industry has had to rethink our supply chains and sourcing to deal with new policy developments, and while it won't be easy or comfortable, I know the companies that pay attention to the policy developments and think creatively will come out even stronger.
Sven Kromer, Kurt Salmon, part of Accenture Strategy: There is a continuing trend of dual sourcing strategies amongst retailers and fashion brands. This means focus on sourcing cost on one side and on speed to market on the other. Different competitive positionings and multiple delivery options (for example, Basic, Collection, Fast Track) require different sourcing strategies.
Low cost sourcing markets in Asia remain important as brick & mortar retailers face increasing demand and cost challenges, requiring them to keep a close eye on sourcing costs.
Speed sourcing markets in Europe are expected to increase their share as retailers need to become more responsive to the ever-changing and less predictable fashion trends. As North Africa and the Middle East remain politically uncertain, we see Eastern and Southern Europe becoming a key sourcing location due to smaller production quantities and fast reaction to new trends in designs and colours.
Aside from a company's sourcing country mix, the method of working with suppliers becomes a key differentiator for apparel firms looking to get ahead. While sharing plans and forecasts between retailer and supplier is not a new concept, it is made more relevant and straightforward with the help of new technologies facilitating the processing of big data and the early exchange of information. For example, using advanced analytics to create more robust merchandise plans will also make it easier for retailers to share those plans with their suppliers.
Rick Horwitch, vice president and global retail lead for supply chain strategy at Bureau Veritas Consumer Products Services: Given the events of the past two years the answer to this question could be summed up as: flexibility.
The message is clear – there is no such thing as a "sure thing" when it comes to trade and traditional alliances. From China the message is also clear – they are filling the leadership void through investment, infrastructure and innovation. In addition, China seems to be filling the trade "void" by focusing internally – China for China.
Strategies will continue to be built around the big issue of Demand and Supply – speed, efficiency, regional balance and transparency. The days of "chasing the cheapest needle" are over. Collaboration, commitment and trust across the entire value chain are critical.
From an apparel perspective, most retailers and brands have already moved to a balanced sourcing strategy. The challenge is from a broader supply chain perspective. Moving production from China to other countries (such as Vietnam) is the "easy" part. The challenge is the infrastructure (ports, logistics, fibre, yarn, textiles, trims, quality services and production capacity) could be lacking.
Vietnam will continue to verticalise, expand into new product categories and take production market share from China.
Chinese suppliers continue to invest and expand abroad (Vietnam/SE Asia, AGOA, Americas).
Regional sourcing closer to the consumer will continue to expand (Asia for Asia, EMEA for EMEA, Americas for Americas).
Speed-to-market is being redefined by consumer demand. The winners will be those companies (retailers, brands and manufacturers) who evolve their thinking, and actions, in strategic collaboration, planning and forecasting with all supply chain partners and focus on value generation to the consumer.
Matthijs Crietee, secretary general, International Apparel Federation (IAF): Sourcing has a geographical and an organisational component. Geographically, China continues to be dominant, in a number of ways. It is still by far the largest exporter and dominates many product categories. But the absolute size of the business moving out of China is having a big positive effect on the industry in other Asian and Africa countries. And a lot of the growth in other manufacturing countries in Asia and Africa is being led by Chinese investments, creating a captive market for Chinese textile exports. But of course, US tariffs could turn what now feels like a controlled shift into a scramble. And I expect sourcing from countries close to the EU and US markets to keep on growing steadily.
Organisational sourcing changes deserve at least as much attention. I think overall, in spite of risk based diversification, consolidation of sourcing bases will continue to grow. In addition, the relative advantage of large manufacturers with new machines and software, advanced mid-management and a pool of suppliers they can control is growing. So, some big, successful manufacturers are set to become yet more dominant players in 2019.
Mike Flanagan, CEO of apparel industry consultancy Clothesource: Little about sourcing has changed fundamentally in the past ten years. Between 1989 (when Communism collapsed) and the 2008 rich-country recession, practically all the West's apparel production moved offshore.
Since then, production costs have drifted down while real wages have grown and human rights have improved. But there have been no serious changes in trade deals since 2008 or in individual countries' share of garment production – and probably won't be, either.
Admittedly, minor producers like Ethiopia are showing huge growth rates – but from a base of almost zero, so they're still minor. Long-touted rivals to China, like India, have made no progress and won't. Onshore production is making no progress – and won't – while China, Bangladesh and Vietnam are still selling the West more than ever: between them, over half the West's clothing.
In 2019, though, all this this stability might be under threat. Donald Trump, Brexit and China remain imponderable. Two key questions need answering, though:
#1: Can real wages in developing countries keep rising while foreign customers are paying less? Western clothing buyers haven't just demanded lower prices: they've demanded (and got) better service and improved human rights. But they can't go on like that.
#2: Is the human rights revolution over? Since 2013, Bangladesh has led in improving human rights – with the Accord and Alliance coordinating buyers, producers and global unions to improve safety. The Accord/Alliance offered temporary help under extraordinary circumstances: buyer pressure, and the commercial need for factories to meet buyers' demands now achieve the same objectives – helped by the dozens of buyer compliance consortia that didn't exist six years ago.
We all need to pay attention to changing trade rules, and keeping factories socially accountable: but what really matters is how buyers manage suppliers. That's what really needs to change. And if Donald Trump really does provoke the trading equivalent of a nuclear war, or the UK really does go ahead with no deal Brexit, that – and not faffing about with worries over the minutiae of duty-free concessions – is what buyers need to learn about sharpish.
See also: