Outlook 2021 – Apparel industry challenges and opportunities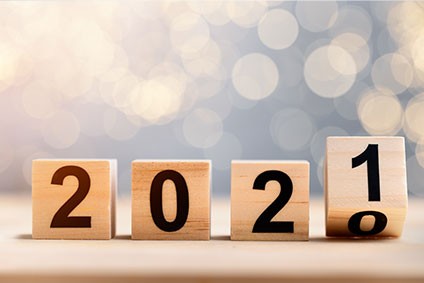 The main challenge for the apparel and footwear supply chain will come from demand uncertainty, shorter lead times, higher inflation and logistics
2021 should be a year of winners and losers. The fallout from the coronavirus pandemic means there will be continued volatility, uncertainty, complexity and ambiguity, with fewer retail brands, stores and malls. The winners will be those companies that communicate purpose, deliver new value, and adapt to this new normal, according to executives consulted by just-style.
Jason Kra, president, Li & Fung:
We live in a whitewater world that is hyper-connected and rapidly changing. Seeing what is on the surface, as well as what is causing the ripples under the water, is the challenge. If leaders can see both, organisations can steer clear of challenges and take advantage of the opportunities. As Winston Churchill said, "Never waste a good crisis" – a statement that holds even more true today.
2020 has been a year of disruption with trade disputes, bankruptcies, logistics problems, country shutdowns, shifting consumer demand, US leadership changes, exchange rate moves, and many more – which will continue through 2021. But Covid-19 has also presented an opportunity for brands and retailers to reimagine their supply chains and unlock new value. While travel restrictions remain in place, they should embrace technology and digital tools such as digital product development to help mitigate risk, speed up production and reduce costs.
There are also opportunities as consumers demand more value than the past. Based on the products people are buying today, we see a reallocation of demand as some styles fall out of favour as remote working becomes the norm. Brands are quickly bridging the gap between formal work wear and at-home loungewear. They are running fast to improve their online customer experience and ramping up direct-to-consumer sales. With that comes new sales, logistics and fulfilment strategies. D2C has taken a huge leap forward this past year and there is no looking back from that.
Edwin Keh, CEO, Hong Kong Research Institute of Textiles and Apparel (HKRITA):
Emerging from the pandemic to business in the 'new normal,' the biggest challenge may be to understand how the customer has changed and what the customer wants now.
In 2021 we see hope on the horizon for an end to the global pandemic. Retailers, brands, importers, manufacturers will all have to figure out who is the new customer. What is the new value proposition and the new reasons to buy. We know things will be different, we now need to figure out how.
E-commerce will probably be a growing part of everyone's business. This will mean new marketing and distribution models, with implications on how products are designed, where they are made, and how and where they are warehoused.
Apparel may take on some of the functionality and attributes of PPE. We are all looking to be protected and to stay healthy in the new normal. Our clothes need to support this new lifestyle. As we work more from home we will need more casual clothes for work. So our clothes will have to be more comfortable and more versatile. So, wardrobes will be different.
The US-China trade war in some form will still be with us, as will the new Regional Comprehensive Economic Partnership (RCEP) free trade agreement between Southeast Asia and China. This should mean opportunities to see how we can navigate and do business in these two big trading blocks. The Chinese market is emerging first from this pandemic; companies will have to figure out how to better access this market place and grow their presence.
Climate change is still with us and more and more countries have announced carbon neutral goals and deadlines. This has implications for everything we do all along our supply chain. We have to come up with the industry's own carbon neutral roadmap and action plan.
2021 should be a year of winners and losers. There will be fewer retail brands, stores, and malls. Winners are those companies that communicate purpose, deliver new value, and adapt to this new normal.
Robert Antoshak, industry consultant:
First, reestablishing a meaningful connection with consumers is especially important during the pandemic. Many consumers have taken to online purchasing out of necessity – only to find many poorly designed online platforms lacking a story and belief in the products offered for sale. In many cases, they resemble online used car lots: overstuffed with cheap, commoditised products lacking meaning. The desiccated remains of fast-fashion, in many cases. Now, more than ever, it's a time to find ways of making online shopping experiences more meaningful to consumers.
Next, a reassessment of supply chains is in order. There will always be consumers who will buy things just because they're cheap, but many consumers are questioning the wisdom of stuffing one's closet with too much clothing. Indeed, the industry's race to the bottom and over-reliance on far-flung global supply chains chasing the cheapest manufacturers came undone during the pandemic. It's time to reinflate the supply chain. And for those who think "cheap" is the only way to conduct business, then you're deluding yourself. You've turned your business into a commodity: nothing special, easily disposable, and eminently replaceable.
Finally, getting to grips with sustainability once and for all. The industry spends a lot of time talking to itself about sustainability – only to fall prey to greenwashing attacks. And no wonder: with supply chains sprawled all over the planet, how can it ever be truly sustainable? Somehow, claims of so-called greenest factories here or there ring hollow when considering the realities of doing business for so many companies. When raw materials are transported thousands of miles, and then converted into finished products in turn sent to stores many more thousands of miles worldwide, how is that green? The carbon footprint is staggering – and as a result, so is our planet.
Matthijs Crietee, secretary general, International Apparel Federation (IAF):
The apparel industry was already heavily challenged before the Covid-19 pandemic. So now it not only faces a demand crisis, but it simultaneously needs to adapt its organisational model. It's a bit like running up the stars, brushing your teeth and putting on a tie at the same time. Sometimes that's just too difficult, especially with 2021 likely to have more substantial high street retail closures in store. But as a result of the crisis, the way upstairs has become clearer. Continuous downward price spirals are indeed a dead end, just adding to overstock, environmental degradation and pressure on our people. It's now about reducing the high costs of the industry's low cost addiction by investing in more effective supply chains that reduce uncertainty, produce what people want, and don't produce what people don't want.
I believe that digitalisation is the great opportunity for the industry. This is not just because it enables speed and flexibility. Its implementation also enforces required process change, within brands, retailers, apparel and textile manufacturers and certainly also among these supply chain partners. For example, in a digitised design and development process, suppliers – even second and third tier suppliers – can be involved from the outset, improving flexibility. But this requires drastic changes to the traditional design and development process. And it requires much more collaborative, less adversarial supply chain relations. The rewards of digitalisation of the industry are great and cannot be seen in isolation from the tough but powerful process changes that need to be made.
Lynda Petherick, head of retail, Accenture UKI:
No-one could have predicted the events of this year. With store shutters closing for months on end, fashion supply chains faced more upheaval and scrutiny than ever before, and the nation swapped office and party-wear for loungewear as they stayed at home.
As we enter a new year, the apparel industry is grappling with challenges in predicting consumer habits and which trends to back for the upcoming year – particularly if there's a return of occasion and holiday wear as people compensate for the missed moments of 2020. With home working set to be more commonplace, new patterns of trade may emerge as customers shop more locally and at different times of the day or week. With the shift to online shopping, it's vital that fashion retailers tap into exciting experience-led engagement to entice shoppers back in-store.
There's no doubt that this year's challenges led to some fashion retailers taking their eye off the ball when it comes to the greatest challenge of all: responsible retail. It is crucial that the industry ramps up its efforts to address issues with sustainability, our planet and the treatment of people at every step of the supply chain.
But a new year brings new opportunities. It's time for retailers to embrace technology to improve supply chain transparency, to better predict supply and demand to avoid waste and cancelled supplier orders, and crucially, to establish sustainable operations and circular production methods every step of the way. Our planet and our people are depending on it.
Dr Sheng Lu, associate professor at the Department of Fashion and Apparel Studies at the University of Delaware:
I see Covid-19 and market uncertainties caused by the contentious US-China relations as the two most significant challenges facing the apparel industry in 2021.
The difficulties imposed by Covid-19 on fashion businesses are twofold. First, with the resurgence of Covid cases worldwide, when and how quickly apparel consumption will rebound to pre-Covid levels remains hard to tell, particularly in leading consumption markets, including the United States and Europe. As the apparel business is buyer-driven, the industry's full recovery is impossible without a strong return of consumer demand. Numerous studies also show that switching to making and selling PPE won't be sufficient to make up for losses from regular business for most fashion companies.
Second, Covid-19 will also continue to place tremendous pressures on the supply side. In the 2020 Fashion Industry Benchmarking Study, which I conducted in collaboration with the US Fashion Industry Association (USFIA), the surveyed sourcing executives reported severe supply chain disruption during the pandemic. These disruptions come from multiple aspects, ranging from labour shortages, a lack of textile raw materials, and a substantial cost increase in shipping and logistics. Even more concerning, many small and medium-sized (SME) vendors, particularly in developing countries, are near the tipping point of bankruptcy after months of struggling with order cancellations, mandatory lockdown measures, and a lack of financial support. The post-Covid recovery of the apparel business relies on a capable, stable, and efficient textile and apparel supply chain, in which these SME vendors play a critical role.
In 2021, fashion companies also have to continue to deal with the ramifications of contentious US-China relations. On the one hand, there is a slim chance that the punitive tariffs imposed on Chinese products, which affect most textiles and apparel, will soon go away. On the other hand, we cannot rule out the possibility that the US-China commercial relationship will deteriorate further in 2021, as more sensitive, complicated, and structural issues began to get involved, such as national security, forced labour, and human rights. Compared with president Trump's unilateral trade actions, the new Biden administration may adopt a multilateral approach to pressure China. However, it also means more countries could be dragged into the US-China trade tensions, making it even more challenging for fashion companies to mitigate the trade war's supply chain impacts.
Meanwhile, I see digitalisation as a big opportunity for the apparel industry, not only in 2021 but also in the years to come. Fashion brands and retailers will increasingly find digitalisation ubiquitous to their businesses – like air and electricity. In 2021, I expect fashion companies will make more effort to creatively use digital technologies to interact with consumers, make transactions, develop products, and improve consumers' online shopping experiences. Thanks to the adoption of digital tools, apparel companies may also find new opportunities to improve sustainability, better understand their customers through leveraging data science, and develop a more agile and nimble supply chain.
Julia Hughes, president, United States Fashion Industry Association (USFIA):
From my perspective, and I'm based in Washington, DC, the challenges facing all of us in 2021 are greater than ever before. Obviously, if we think back to one year ago, we would not have imagined the enormous impact of the Covid-19 pandemic. And in addition to Covid, here in the US we are starting 2021 with political uncertainty and societal disruption as another major challenge.
What this means for the apparel industry in the short-term is that all of us, including our customers, are distracted from our usual lives. Consumers are not yet ready to head back to the mall, and in some parts of the country, the Covid levels are critical. This uncertainty will not just disappear, even when there is a political change and the new Biden administration takes over in a number of days.
However talking with brands and retailers, there clearly is a lot of hope and positive energy these days. More people have access to vaccines. There is optimism that some of the China tariffs could be lifted. There are signs that consumer confidence is starting to rebound. What this means for the apparel industry is that there is hope that by the end of 2021 we should be living in a world that is closer to "normal" than we have seen in months. We anticipate substantial changes in how apparel brands and retailers work with their suppliers. Those companies that are committed to partnership with their suppliers will be the most successful.
Finally, from a US perspective, 2021 will be a year with changes in advocacy and the industry's ability to support a forward-looking agenda. Trade policy and the Biden administration review of the impact of trade wars and tariffs is USFIA's top priority. There also will be opportunities to work with the new administration and the new Congress on other critical issues such as support for sustainability and circularity initiatives, removing barriers to trade, as well as the industry response to climate change and social justice. Today we have an important opportunity for the apparel industry to take a leadership role – and I want to echo the message from USFIA's chair: "Our goal for 2021 is to do what we can to make the world a better place for our customers, our colleagues and our suppliers."
Rajiv Sharma, group chief executive, Coats:
As the world begins the journey of emerging from Covid in 2021, we should expect continued volatility, uncertainty, complexity and ambiguity. For the apparel and footwear supply chain the main challenge will come from demand uncertainty, shorter lead times, higher inflation and logistics.
There is also opportunity, particularly for those with good working capital management, strong balance sheets and a progressive mindset. Effective cash management ensures the critical liquidity needed to weather a crisis and also invest in capability to win the recovery.
Athleisure has experienced an adrenaline rush as the trends of what to wear while working out blur with what to wear while working at home and joining virtual meetings. Further innovation will be the stand out for both apparel firms and their suppliers in this space.
When you look at the players emerging most strongly from 2020, they are those that have been able to recalibrate their playbook to pivot to a post-Covid operating model that is underpinned by technology, digital, ESG and customer centricity.
Looking ahead to 2021, it is important to note the immeasurable impact the pandemic has had on mental health and wellbeing. The full effects will take months or even longer to play out, and the companies that stand out will be those taking responsibility to address the pastoral care of their employees – both physically and mentally.
Rick Horwitch, vice president - global retail lead & supply chain strategy, Bureau Veritas Consumer Products Services:
2020 was a year of unprecedented disruption, challenges and opportunities. For 2021 the biggest challenges and opportunities will continue to be speed, digitisation and sustainability to create a positive customer experience. The global pandemic crisis accelerated these three trends. As a result, retailers, brands and their supply chains had to show great flexibility and resilience to quickly meet new demands and realities. 2020 forced everyone to make the change to Economics 101.v2 – Demand and Supply. 2021 will be the acceleration of this transformation.
On the political front the challenge, and opportunity, for the Biden administration will be to rebuild alliances, de-escalate the trade war, while continuing to be "tough" on China. The world is ready for a return to "normal" and a more collaborative approach to international affairs. In addition, Biden has said the environment and human rights will be front and centre in his administration (he has pledged to re-join the Paris Climate Agreement on day one). This will lead to a new round of regulations focused on human rights, traceability, global warming, energy, water. Supply chain transparency and chain-of-custody will be a major challenge for retailers, brands and suppliers.
Sustainability is finally taking centre stage. The acceleration of online shopping and a heightened focus on health, well-being and environmental issues, has made consumers (of all generations) keenly aware of what their products are made of, where their products come from, and their circularity. The challenge is to effectively define and implement a sustainability strategy so that the actions and efforts are impactful – to your company, to your customer and to society. Creating trust and transparency are no longer buzz words. Consumers, and investors, are demanding actions they understand and can relate to.
The winners in 2021 will find ways to develop and integrate innovative, collaborative communications, processes and analytics (a value chain approach) that are improving speed and margin and having a positive impact on society without sacrificing quality, to better engage and interact with their consumers.
"If we aspire to return to normal we will have missed an amazing opportunity to reshape the future..."
Mike Flanagan, CEO of apparel industry consultancy Clothesource:
It's easy to see Covid as the biggest human disaster since World War II. But Spanish flu killed five times as many in 1918 though the world had one-fifth of today's population. Asian flu in 1958 killed as many as Covid though the world had just one-third of today's population. HIV has killed ten times more people than Covid over the past 20 years.
Covid's a tragedy, often made worse by disgraceful misgovernment – but overall, managing it has also been humanity's greatest ever achievement. First by keeping people from infecting each other. And now – for the first time in history – by vaccinating almost the entire world against a new disease within a year or two of its appearance. We've still not managed to do this for malaria, which has plagued the planet for 30 million years.
What's distinctive about this disaster is how much it's costing, and how much of that is coming from taxes. You've got to be rich to afford taxes, and decades of growth have provided the West with the resources to fight the virus at home and fund the fight in poorer countries.
For clothing, Covid has chased away the shops that were never going to make it. But customers who switched to buying clothes online aren't going to stay online once Covid's gone. They weren't shopping online for the previous 25 years, and they're a lot less likely to try it again once they've got real shops to go to.
But retail in general – and clothing retail in particular – still has to confront the problems that were there in early 2020. Underinvestment in upgrading physical shops; the collapse of chains like Arcadia and Debenhams may prove surprisingly beneficial to town centres; retailers' continuing obsession with the needs of youth (who've got no cash) – or rather ignoring the needs of their elders (who've got the dosh).
Stephen Lamar, president and CEO, American Apparel & Footwear Association (AAFA):
It is clear that 2021 – with the pandemic, the economic crisis, and the ever-present political tensions – may be just as challenging as 2020. However, while 2020 hit us with little warning, we have now weathered a year of crisis and we predict the industry is much more prepared going into 2021. Of course, our preparedness and resilience will depend on how well we learned and absorbed the lessons of this year.
AAFA is firing on all cylinders to help ensure members have every tool available across our key strategic priorities of Brand Protection, Trade, and Supply Chain to weather the continued storms. 2021 will require innovative approaches to sustainability, traceability, product safety, labelling modernisation, digitalisation, protecting intellectual property, trade and customs policies, government contracts, social justice, and the list goes on.
After 20 January, we will be facing a narrowly divided Congress which could be a recipe for gridlock or an opportunity for the administration to govern from the middle. We welcome a new era of smart-trade policies, with leadership that is open to hearing from our industry and crafting policies that help our companies and our workers in the US and around the world thrive.
2021 will be a pivotal year in ensuring we secure lasting change to end forced labour associated with the repression of ethnic minorities in China's Xinjiang Uyghur Autonomous Region (XUAR). We will advocate for smart, effective, enforceable, and broad-reaching policies to end these horrific practices.
Click on the following link to see more about what to expect in the year ahead: Outlook 2021 – Apparel industry challenges and opportunities.
Create sourcing plans that work
Find new apparel sourcing destinations, assess trade flows and manage tariffs. All in one place.
Oops! This article is copy protected.
Why can't I copy the text on this page?
The ability to copy articles is specially reserved for people who are part of a group membership.
How do I become a group member?
To find out how you and your team can copy and share articles and save money as part of a group membership call Sean Clinton on
+44 (0)1527 573 736 or complete this form..