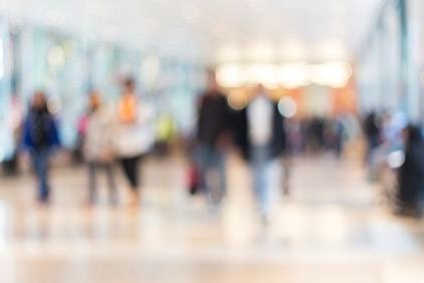 Accelerating earnings growth at some of the US's largest apparel and footwear companies is giving rise to a more positive outlook for the sector's future – although the potential for more tariffs on imports from China remains a cloud on the horizon.
The faster-than-anticipated revenue and profit growth follows challenging business conditions over the past years, and is expected to remain robust over the next 12 to 18 months, according to a new report from Moody's Investors Service.
Raising the outlook for the US apparel and footwear industry from stable to positive, the global ratings agency says more companies are showing solid growth as they realise benefits from cost savings initiatives, acquisition synergies, new product introductions, targeted marketing efforts, reduced inventory clearance activity and improved US apparel retail conditions.
Several large US companies – including Nike Inc, PVH Corp and VF Corp – are singled out as "finally seeing concurrent growth."
Upside is also seen as companies continue to take advantage of international growth opportunities, especially in emerging markets such as China, where greater economic expansion tends to fuel branded apparel purchases. Around 42% of the combined sales of rated US-domiciled apparel manufacturers are generated outside the US, the analysts say.
Moody's has revised its 2018 operating profit growth forecast for the industry to 8%-9% from 3%-5%, although this high growth rate will be difficult to sustain and decelerate to a still strong 6%-7% in 2019.
Sales are expected to grow 6%-7% this year and 4%-5% in 2019. Moody's sales figures include international sales, which are expected to continue to grow at a solid pace, particularly in Asia.
"For many US apparel and shoe companies, a focus on growing their own direct-to-consumer channels, including both online and brick and mortar stores, has led to better positioning in terms of where consumers are shopping, while also giving them more control over brand messaging and the overall shopping experience," the research says.
Downside risks
Risks to the downside for US apparel and shoe companies include a dependence on continued US economic growth, as well as rising tariffs.
Moody's forecasts GDP growth in the low-single digits for the US and Europe, and in the mid-single digits for China, in 2018 and 2019. However, these assumptions could founder if additional tariffs are imposed on imports from China, in which case apparel companies would be negatively impacted by both increased costs and, potentially, dampened US consumer spending.
In addition, input costs have risen, but remain manageable. Apparel companies continue to face input cost inflation from items such as labour and cotton that will somewhat temper profit growth over the next 12-18 months.
Cotton, a key input in the industry, has risen by about 15% year-over-year, but at around 78 cents (as of 18 October 2018) has pulled back from the high of 95 cents in mid-June 2018.
Continued increases in the cost of labour and freight will also lead to higher input costs. And after a short period of easing, currency pressures have once again become a headwind as the US dollar has strengthened since February. Even though it is still below the recent peak in December 2016, the stronger US dollar leads to increased costs for non-US subsidiaries, because apparel is largely sourced in US dollars.
Industry consolidation will also continue, Moody's analysts believe, with continued M&A activity expected over the next 12 to 18 months as companies look for alternate ways to bolster revenue and profit growth. This will include extending or expanding product categories, increasing geographic reach or gaining new technologies, to enhance areas such as e-commerce capabilities or data analytics.
Tariffs could weaken forecast
A significant risk to the later part of the 12-18 month global growth forecast is the possibility of additional tariffs being imposed on imports from China.
"Increased tariffs could lead to increased costs for apparel companies and, by extension, potentially become a drag on consumer spending. So far, apparel and footwear has largely been excluded from the list of Chinese imports facing increased tariffs, probably because these goods are already among the highest taxed US imports.
"Although the current list includes some apparel accessories such as handbags and leather gloves, textiles and yarns, leathers and cotton, this is already factored into our current apparel growth forecast."
According to the American Apparel & Footwear Association (AAFA), imports of consumer products such as clothing, shoes, home goods, fashion accessories or travel goods are subject to average tariff rates in the 10.8% to 14.2% range, versus an average rate on all US imports being less than 1.4%.
Should any future tariff increases include US imports of apparel and footwear made in China, companies would likely experience gross margin pressures for 12 to 24 months, because it will take time for most to further diversify operations away from China and adjust costs.
While many companies have the ability to increase prices to offset rising costs, it may prove challenging because US consumers may not be willing to pay higher prices for goods.