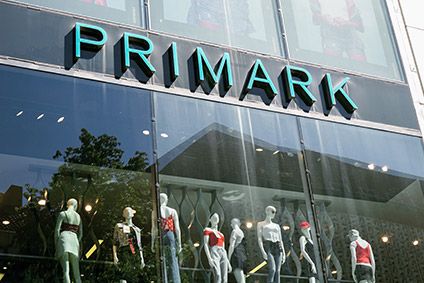 Primark parent company Associated British Foods (ABF) has announced it will repay the GBP121m (US$168.91m) for which it was eligible under government job retention schemes and says stores in England and Wales have delivered record sales in the first week after reopening.
In its interim results statement this morning (20 April), ABF says more than half of its stores in England and Wales have broken their own sales records upon reopening on the back of increased basket sizes and an improvement in footfall.
"Demand for nightwear, lingerie and leisurewear continued to be strong. However, compared to previous reopenings, this time we have seen excellent demand for our fashion ranges, particularly in womenswear," ABF says.
Progress in the Eurozone, however, has been mixed with some reopening dates delayed and while some have reopened, it has been with restricted trading. A pre-booking system controlling the number of customers in the store at any one time, "click and meet", has been introduced in reopened stores in the Netherlands, Germany, and Belgium. This format allows trading to continue albeit at a much-reduced level, where otherwise stores might have been closed.
Primark was required to close its stores several times over the past year, with a consequent loss of over GBP3bn of sales and GBP1bn of profit.
"During this time we have accessed the job retention schemes offered by the UK and European governments to pay those employees not working while the stores were closed. These schemes have enabled us to preserve all the jobs in Primark's 65,000 workforce," says chairman Michael McLintock.
He adds ABF does not plan to make any further claims from such initiatives and intends to repay the GBP121m received, which includes the repayment of GBP72m to the UK government. The group received GBP98m from job retention schemes in the previous financial year.
H1 results
The news comes as Primark sales fell 41% to GBP2.23bn for the 24 weeks ended 27 February from GBP3.71bn in the prior-year period. The value fashion retailer is particularly hard hit as it does not operate a transactional website.
Adjusted operating profit tumbled 90% to GBP43m from GBP441m a year prior.
ABF notes the majority of Primark stores were closed during November and from December to the end of the period. It estimates the loss of sales while stores were closed to be some GBP1.1bn and says when stores were open, the restrictions resulted in like-for-like sales of -15% compared to last year.
Like-for-like performance in the UK was -6% in the first half, while the like-for-like performance in the first half in the Eurozone was -20%.
ABF notes the US business performed well and is now profitable. No stores were required to close during the period and like-for-like sales performance was -11%, and -3% excluding the city centre Boston store.
As of the end of April, 275 stores representing 68% of Primark's retail selling space, are expected to be open, increasing to 79% if stores with restricted trading are included. On the basis of published expected reopening dates, ABF's estimate for the sales which will be lost during the second half of the financial year in respect of the remaining periods of store closures is now some GBP700m.
It anticipates the period after the reopening to be "very cash generative", however, as it sells the higher than normal inventory on hand.
"In line with our normal practice, we have placed substantial orders for merchandise for the coming autumn/winter season," ABF says.
It also expects to add a net 0.7m sq ft of selling space in the financial year. Following the opening of a new store in Chicago in March, it plans to open a further eight stores: Prague Wenceslas Square in Czechia, Poznan in Poland, Roma Est in Italy, three further stores in Spain, Tamworth in the UK and Rotterdam Forum, the Netherlands.
"We continue to feel very optimistic about the opportunities for growth in the Primark business," ABF notes.
Value offering drives popularity
Pippa Stephens, retail analyst at data and analytics company GlobalData, notes with the majority of Primark's retail space having been shuttered for most of H1 FY2020/21 as a result of Covid-19 restrictions, its revenue plummeted by GBP1.5bn to GBP2.2bn.
"Nonetheless, in England and Wales it has unsurprisingly been one of the most in-demand retailers since the reopening of non-essential stores on 12 April, with queues experienced outside its major locations, footfall returning to pre-Covid-19 levels and record sales achieved across much of its estate. Its popularity is a result of its wide appeal product ranges and value price positioning, with the latter becoming increasingly favourable to consumers amid this period of economic uncertainty. However, with many of its European markets recently introducing new lockdowns, Primark estimates that it will lose another GBP700m in sales in H2.
"It has unsurprisingly been one of the most in-demand retailers since the reopening of non-essential stores on 12 April" – Pippa Stephens, GlobalData
"Primark's strong presence in international markets outside of the UK provided a lifeline during H1 FY2020/21, due to lesser impact of store closures, aiding its adjusted operating profit to successfully stay in the green at GBP43m for the period. With all stores open in the US, performance in the region was promising, with like-for-like (l-f-l) sales down by just 11%. Stores in several of its EU markets were also able to continue trading, though reduced opening hours and travel restrictions caused l-f-l sales to fall by 20%. Despite the ongoing turbulence, Primark still plans to add nine more stores to its portfolio in H2, in locations such as Spain, Italy and Poland, following the six that opened in H1. As it has implemented in some stores in the Netherlands, Germany, and Belgium, it should introduce a pre-booking system in these stores when they open, as this will help boost consumer confidence to visit until the rollout of the vaccine advances further.
"Though nightwear and loungewear have remained strong sellers for Primark since reopening, it has also started to see increased demand for its more fashion-led ranges, particularly in womenswear, as the opening of UK retail is synchronised with outdoor hospitality. Therefore, it should review as much of its upcoming ranges as possible to ensure that it has enough fashion styles in stock to meet the demands of its customers. Moreover, having been left with GBP150m worth of spring/summer and GBP260m of autumn/winter stock from last year, it must resist applying heavy discounts to help protect its margins, and instead carefully time the release of different products depending on the phasing of the pandemic to maximise sales."
Shore Capital analyst Darren Shirley, adds the pent-up demand for Primark is clear, with the reopening of stores across England and Wales resulting in record sales.
"We believe this is the most important comment in today's results, clearly demonstrating the ongoing potency of the Primark offer despite broader challenges on the high street.
"We also note that the record sales performance was driven by combination of both 'increased basket size" and a recovery of footfall to pre-Covid level across locations so high street, shopping centres and retail parks. We are also encouraged to hear of "excellent demand" for fashion ranges, particularly in womenswear."