Project Just puts a spotlight on supply chain transparency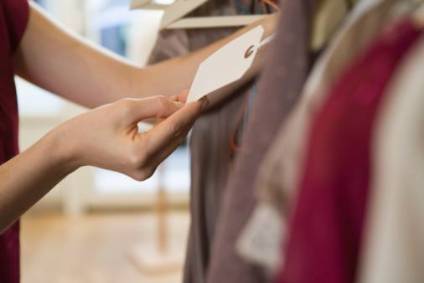 Platform Just aims to inform the consumer about the clothes they are buying
A number of products and platforms have been developed in recent years to try to bring greater transparency to global apparel supply chains. The Project JUST initiative, however, adds an extra dimension by distilling information for the consumer, providing a quick and easy-to-use tool to check a brand's manufacturing practices and ethics.
Major apparel brands have been falling over themselves in recent years to offer more insight into their supply chains: how much of the cotton they source is sustainable, whether working conditions in their supplier factories are up to standard, whether slave labour is present, and whether workers are earning a living wage.
Ethics and sustainability have been topical for some time, but the Rana Plaza factory collapse in Bangladesh in 2013 and the Tazreen Fashion factory fire a year earlier pushed transparency sharply to the fore. Where once shoppers were unaware of how and where their clothes were being made, the tragedies served to pique their curiosity about the provenance of the items they purchase.
With this in mind, Project JUST launched in December after nearly two years of research. The open online platform is essentially a listing of fashion brands, with their supply chains dissected and categorised based on social, environmental and aesthetic factors including size and business model, transparency and traceability, labour conditions, innovation, intention, management behavior, and community. A summary page lists the pros (like whether the company has signed the Bangladesh Accord or Alliance) and the cons (such as when its sustainability report was last updated), with users able to drill down into individual categories for more detail.
The website's ultimate aim is to provide information to help encourage more positive purchasing practices by consumers, and a more ethical and sustainable stance among suppliers and brands. Consumers and the wider fashion industry are also encouraged to participate by offering views via a forum, and for brands to add information and comment.
"We had this realisation [after Rana Plaza] that it wasn't just the good stories that weren't being translated up the supply chain, but it was also these hidden tragedies that were happening in how our clothing was being made," explains co-founder Natalie Grillon. "We felt that it wasn't just a nice to have but that it was a necessity to bring increased transparency to fashion."
And probably the greatest influence on the industry is shopper demand, Grillon believes. "Right now, shoppers' demands are essentially veered towards unsustainable practices. We really believe the shopper voice is a powerful one and that it hasn't really been incorporated into the conversation as of yet."
Consumer validation
At present 60 apparel brands have been evaluated, including giants like Gap, Adidas, H&M and Levi Strauss, as well as smaller brands like Nasty Gal, Suno and Nudie Jeans. The focus is on developed markets like Europe and the US that Grillon says are "really consuming a lot of fashion" – but the aim is to have 150 brands featured by the end of March, if not more, with markets such as China and Japan also on the radar.
The jargon and terminology of certain programmes and certifications, as well as industry issues, are unlikely to resonate with the consumer, however, if they don't have the knowledge to understand it. This, Grillon says, is something Project JUST is working on overcoming with a number of new features.
"One of the major pieces of feedback we got from shoppers, in addition to requesting additional brands, was having more understanding about what some of these issues are. What is a living wage? What is Fairtrade? What is the issue with auditing? So a quick fix is a glossary we are just launching. But digging further into these issues is going to be a big part of our content strategy. So this month we're focusing on waste, and next month we're focusing on human rights and living wage so that people can join us on this educational journey."
Brand validation
But while the focus is currently on providing information for consumers, the story will be a hard one to build without input from retailers and brands. Grillon is therefore keen to "cultivate a conversation" among all industry players so that it's not just "a catalogue for shoppers to look at".
She adds: "It's meant to be a forum for journalists, for brands, for NGOs that are working in the supply chain as well, who are actively involved in trying to cultivate that conversation as much as possible."
Feedback on the website from brands so far appears minimal, but Grillon is keen for them to become more involved in the platform and says Project JUST is approaching them for updates and for their participation.
"We don't have anything that we've dug up that isn't available. It's really the aggregation of it, bringing it together. But we want it to be a resource for the brands as well, for them to be able to benchmark to say "oh, this is really interesting for me, I can compare H&M and Gap all in one easy, fluid way". Comparison is one of the next features we're developing so that brands can easily see what others are doing."
"There are a lot of companies out there that are working on transparency and traceability and I think that is fantastic, it's very important. But being able to access that information and dig into it is something we can uniquely offer."
Traceability platforms
Indeed, there has been an increased desire on the part of the brands and retailers to dig deeper into their supply chains, not only their direct Tier 1 suppliers, but all the way back to the raw material providers. This challenge has led to the development of a number of tools, including the String platform from Historic Futures, and Provenance, which is built on the Bitcoin blockchain.
Historic Futures' latest String3 platform helps to tackle the challenge of total traceability by allowing retailers and brands to ask questions along the supply chain, such as where does the cotton in this T-shirt come from?
The question is passed to the first supplier in the supply chain who clicks on one of two choices: I made it, or I sourced it. The supplier fills in the details of where the fabric was sourced from, which remains anonymous. The software then generates a question for the next supplier: did you make or source the fabric in the T-shirt? And so the process continues, until you reach the country of origin.
London-based Provenance's model is similar in that it provides a shared database that is transparent and tamper-proof, but it works on the Bitcoin and Ethereum blockchains. It works to prove the identity, authenticity and ownership of a chain of assets, creating a mark of trust that spans supply chains from source to consumer.
Founder Jessi Baker argues that purchasing unethical and unsustainable products is due to the lack of available information. She hopes Provenance will offer greater transparency, which in turn will lead to increased information for the consumer about a product's origins, as well as building trust in brands and producers that behave well.
Looking ahead, Grillon's next focus is the launch of the JUST Approved awards list in April, to correspond with Earth Month and Fashion Revolution Day. The award aims to reward brands for their efforts in transparency, management, innovation, environment, and social and human rights.
Grillon says that in the long run she wants the award to become not only a symbol that shoppers look for when buying an item of clothing, but an achievement brands strive for.
"The supply chain is so complicated, there are very different implications and goals about trying to make an item in a sustainable manner. So we want to focus not only on the positives but try and acknowledge the complexity and the nuances and the grey areas there are in the supply chain and what some of these brands are really having to grapple with.
"We know we have a case to make to the brands to say look, people are really interested in having this information. And a lot of brands are being very transparent. Nobody is perfect, but the more they can share the better."
Create sourcing plans that work
Find new apparel sourcing destinations, assess trade flows and manage tariffs. All in one place.
Oops! This article is copy protected.
Why can't I copy the text on this page?
The ability to copy articles is specially reserved for people who are part of a group membership.
How do I become a group member?
To find out how you and your team can copy and share articles and save money as part of a group membership call Sean Clinton on
+44 (0)1527 573 736 or complete this form..