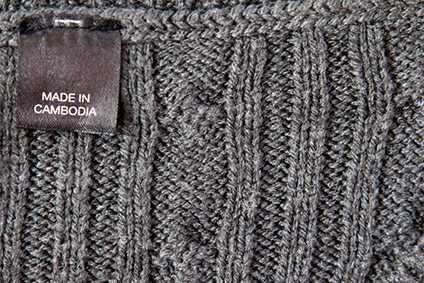 Publicly reporting critical issues in Cambodia's garment factories is continuing to drive positive change, according to the latest report on working conditions in the country's clothing sector, with almost half of factories now in compliance with all critical issues.
The latest update on labour standards and working conditions in factories where the Better Factories Cambodia (BFC) programme operates suggests improvements continue to be made.
According to the 34th Synthesis Report, which is based on factory visits and assessments, the number of factories in compliance with all 21 critical issues in the BFC's transparency programme has increased from 30% to 46% since the launch of public reporting in early 2014.
In addition, the number of violations on these issues fell from 281 to 197 for the same period.
The most significant improvement is in factories' training of workers on emergency evacuation (17% improvement), and factories ensuring that exit doors are unlocked during working hours (13%). Both issues are essential to increase workers' safety in emergencies.
The analysis uses data collated from 395 assessment reports produced from 439 factory visits between May 2016 to April 2017, but also points out that not all critical issues show improvements – particularly around issues related to Freedom of Association and clean drinking water.
And while the percentage of low compliance factories (that is, those factories that score 2 standard deviations below the average on 52 important issues) has also dropped from almost 10% prior to the launch of public reporting to 4.3% in May 2017, this number is up slightly since the last Synthesis Report was published in 2016.
Child Labour is one of the zero tolerance issues monitored in factories. In order to address the issue (typically workers under the age of 15, who have often used falsified identification documents to get a job), BFC and the Garment Manufacturers Association in Cambodia (GMAC) signed an agreement four years ago to investigate and remediate child labour cases.
Since the launch of this collaboration in 2014, the number of underage workers found through BFC's assessment process has reduced sharply from 74 cases to 4 cases in the current reporting period.
Discrimination was found in 9% of factories. As in the previous reporting period (10% non-compliance) all cases were related to discrimination on grounds of gender.
Forced Labour related practices were found in 6 of the 395 factories (1.5%) and mostly related to forced overtime. This is similar to the last report, with 1.3% non-compliance.
Non-compliance levels within the Freedom of Association cluster have gone up slightly, especially around union operations and interference and discrimination.
The synthesis report notes that freedom of association violations are sometimes hard to prove due to the sensitive nature of the issue. As part of its current strategic phase, BFC has invested in training of staff on investigation of these violations and suggests the increase in non-compliance levels is likely to be the result of stronger capacity of BFC staff to investigate and report on freedom of association violations.
Within the Compensation cluster, non-compliance with minimum wage payment remains low (1.52%). Report authors conclude that the increases in the minimum wage, which rose to US$140 and then to $153US$153 a month at the beginning of January 2016 and 2017 respectively, have been implemented at factory level.
Some of the compliance points have deteriorated. This is mostly the result of additional legal requirements that BFC started to assess from 2015, such as payment of annual leave. BFC has given factories one year to correct these issues. Many factories have not adjusted their practices, resulting in higher non-compliance levels – although this does not necessarily reflect a deterioration of the industry, the report notes.
A rise in Occupational Safety and Health non-compliance levels may indicate increased pressure on the industry due to shorter lead times and lower margins
With eight different compliance points covering a total number of 82 compliance questions, the Occupational Safety and Health (OSH) is the largest cluster. Non-compliance levels here remain high (with 5 out of 8 points exceeding 80% non-compliance) and in general have gone up slightly in most of the compliance points.
While this can be attributed to increased capacity of BFC assessors to find issues, it may also be an indication of increased pressure on the industry due to shorter lead times and lower margins. This might shift the focus on production issues at the expense of the attention to a safer and cleaner working environment.
Within the Working Time cluster, which covers Leave, Regular Hours and Overtime, the latter remains the area with the highest non-compliance levels (77%, comparable to last year's 76%). The most important reason being that factories allow more than the maximum 2 hours of overtime. However, non-compliance on overtime does not necessarily mean that all workers always work more than 2 hours' overtime.
During the assessment, BFC staff observed that excessive overtime occurs during certain periods of peak production and does not always involve all workers. It can be limited to specific lines or areas such as packing or quality control.
The report also points out that overtime is a global garment industry issue that is also related to sourcing practices of the brands (including last minute changes to orders and rush orders) as well as lack of proper production planning.
Export backbone
All export garment factories in Cambodia must agree to be monitored by BFC (a partnership between the International Labour Organization (ILO) and the International Finance Corporation) in order to receive an export license, with the programme currently covering 558 factories employing 569,324 workers.
According to Cambodia's General Department of Customs and Excise (GDCE), the exports of Cambodia's garment and footwear sector continued to grow in 2016 but at a slower pace than that of 2015.
The sector's exports rose by 7.2% to US$7.3bn in 2016 (up from US$6.8bn in 2015), making it the most important component of Cambodia's exports – with garment and footwear exports accounting for 78% of the country's total merchandise exports in 2016.
The footwear sector demonstrated the strongest growth in 2016, with exports increasing by 15.6% to US$763m, while exports of garments rose by 6.3% to US$6.56bn.
According to GDCE data, the growth in the sector continued in the first quarter of 2017 with a total of 4.7% for the sector, of which most was generated by footwear (24.6%) compared to the garment sector (2.6%).
Meanwhile, the recorded number of garment and footwear factories reduced from 699 at the end of 2015 to 626 in 2016. This is largely due to a reclassification of statistical data by the Ministry of Commerce where factories that had closed, but failed to inform the Ministry of Commerce, were removed from the factory list.
Exports of Cambodia-made garment and footwear products continue to shift from the US to the EU and other markets including Japan, Korea, and Canada.
While in 2015 30% of exports was shipped to the US, this reduced to 25% in 2016. The European Union (EU) continued to represent the largest market for Cambodia's garment and footwear sector with 40% of exports destined to this region. That said, this has fallen from 46% in 2015.
There has also been a sharp increase of exports to other destinations, from 25% in 2015 to 35% in 2016 – with most headed for the Japanese and Canadian markets.