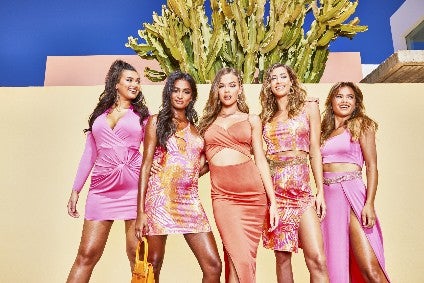 Online retailer Boohoo has hailed record trading in the last four months of 2019 – which includes the peak Christmas trading season – with group revenue surging 44% across all key geographic regions in the period to 31 December. The performance has seen the business raise its annual sales forecast, with analysts noting the group continues to excel in a challenging market.
Emily Salter, retail analyst at GlobalData, says: "Darling of UK retail, the Boohoo Group has raised its group revenue growth expectations for FY2019/20 once again to 40-42% (ahead of previous guidance of 33-38%) after an exceptionally strong third-quarter where it has yet again far outperformed the online clothing and footwear market.
"It also announced that group adjusted EBITDA margin will be slightly ahead of previous expectations at 10%-10.2%. This evidences the strength of its key brands in particular, as they continue to resonate with their young shoppers to deliver enviable revenue growth.
"The group delivered a record performance across the Black Friday weekend, stating that trading was strong across the key brands and demonstrating that demand was not dampened by frequent discounts throughout the last few months of 2019.
"Boohoo.com, in particular, had an impressive Black Friday and festive period, with Q3 revenue growth accelerating significantly on last year, with year to date revenue growth of 38%, proving that despite the brand's maturity it is still able to attract more shoppers and greater spend from existing customers, by promoting its low prices and niche sizing collections.
"PrettyLittleThing's Q3 sales rose by 32% slowing in comparison to its year to date performance with revenue up by 37%, just behind that of boohoo.com."
Salter adds the group has stated that its newest acquisitions (MissPap, Karen Millen and Coast) are "showing great promise" with initial ranges being well-received, although combined the brands only accounted for 1.9% of group revenue.
"Karen Millen and Coast, in particular, give the group access to significantly different target customers in comparison to the rest of the Boohoo Group's brands, but it must be careful to retain their premium images which are at risk given these brands have already started to offer frequent 25% off promotions. Although steep discounts have come to be expected from young fast fashion brands, boohoo.com and PrettyLittleThing, it should not be the case with more premium brands where higher price points signify quality and unique design handwriting."
Richard Lim, CEO, Retail Economics, says: "These are exceptional results from the retailer who has sustained remarkable levels of sales growth supported by their superior digital and marketing strategy.
"Despite the fierce competition and rising operating costs, the focus on own-brand has been key in delivering both sales growth and profit margins that are expected to come in ahead of expectations later this year. The continued integration of Karen Millen will open up new target markets as the business continues to ruthlessly execute the ambitious multi-brand strategy that sets it apart from its competitors."
Elliott Jacobs, EMEA commerce consulting director at LiveArea, says: "Boohoo's success is a sign that today's marketplace is truly global. Internationalisation is now an inescapable part of commerce, and those retailers that are failing to seek international opportunities are increasingly going extinct.
"While many brands have shied away from overseas markets because of their complexity, the financial pull is now too great to ignore. Indeed, from Europe and the Americas to Africa and Asia, digital trade is seen as means to supercharge their economies in the coming years."
What Boohoo has done so effectively, he adds, is to combine "outstanding" digital experiences with rapid speed-to-market and efficient logistics, and a focus on technology and automation has seen it become a shining light globally.
"Its brands are incredibly hot on trends and compressed production cycles. In the space of two weeks, a catwalk look can be turned into an affordable fashion item available for purchase online. Shoppers can refresh wardrobes in an affordable way, at speed, keeping up with the latest fads – roughly 200 new items are added online daily.
"A tight grip on supply chain and fulfilment is essential to support this approach, and Boohoo has invested heavily in automation and global distribution logistics. New items are appearing faster, consumers are buying, and receiving their goods quicker, and even returns and refunds are processed quicker than ever."
When going abroad, Jacobs says many companies attempt a "one-size-fits-all" approach. However, each market has its own nuances that need to be understood.
"Companies need to do their research, target specifically and tailor e-commerce platforms to each country's unique cultural expectations. Boohoo has been smart here, too, acquiring local brands and tapping their knowledge and brand resonance to tackle foreign markets.
"Expanding internationally is a daunting prospect, but the rewards far outweigh the challenges. To drive success, brands must realise that understanding the factors that drive change is key to successfully penetrating overseas markets, whether it be consumer trends, the market, technology or regulations."
Greg Lawless, retail analyst, Shore Capital, says: "In our view, this is another excellent trading quarter for the company. All the brands continue to develop at pace.
"The group's marketing campaigns continue to clearly resonate with young customers as they fully utilise social media and other mediums. The automated warehouses in Burnley and Sheffield will, over time, to us, drive operating efficiencies from the platform that can be reinvested in the customer proposition."