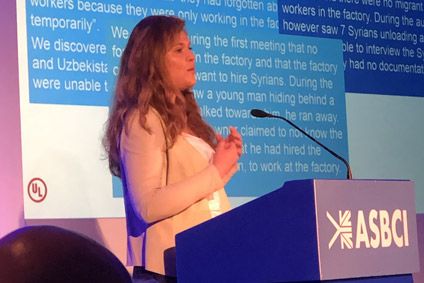 Despite efforts to crack down on modern slavery in supply chains, some 24.9m people remain trapped in forced labour worldwide. Yet there are a number of red flags that brands and retailers should be aware of – as well as steps they can take to mitigate the problem, including mapping labour supply chains, adopting an Employer Pays Principle, and assessing recruitment agencies and their practices.
Last year, the Walk Free Foundation issued a report estimating that US$127bn worth of garments and footwear coming into OECD countries are still made with modern slavery, and approximately $9.2m worth of those goods are estimated to be imported into the UK.
"So that's all of your supply chains," Daphne Guelker, head of advisory services at global testing and inspections firm UL, told the audience at the recent conference 'Time for change – facing up to fashion's sustainability and ethical challenges' organised by the ASBCI (Association of Suppliers to the British Clothing Industry).
"So yes, we're still talking about modern slavery, it's still on the agenda, it's still an issue. It's still relevant to all of us."
The term 'modern slavery' covers a number of different types of exploitation that can be seen in global garment supply chains. Among them are descent-based slavery, "one is born into slavery, and has been owned by an employer"; and forced labour – where individuals are exposed to work and cannot leave that work due to a threat of punishment. This might include debt bondage, where someone takes up a loan and offers their work in repayment.
"We're still talking about modern slavery, it's still on the agenda, it's still an issue. It's still relevant to all of us"
"Frequently, these loans are tied to extortionate interest rates and so there's this cycle of essentially modern slavery where somebody cannot leave their work because they're still repaying those loans and there's interest," Guelker explains.
It also covers human trafficking: "Those are the classical situations where somebody is offered a job, they are trafficked into a country, and their papers are taken away. When they're in the country, they find that the job is not what they were offered and that the situation is one that they can't leave."
Red flags
A global testing and inspection firm, UL supports clients across all aspects of sustainability and supply chain management, including demonstrating 'green' and sustainable credentials, assisting in gaining better visibility into supply chain issues, mitigating risk, and implementing customised and comprehensive environmental management systems.
The company has identified a series of "red flags" that are always considered during assessments in the field. In the fashion industry, the main area of focus is on "vulnerable employees," which may be migrant workers, guest workers, seasonal workers, illegal workers, or those working for a subcontractor or where it might be assumed an individual is tied to a subcontractor.
"Those for us are all high-risk employees who are at risk of being in a situation of modern slavery. And that's where we want to look more closely."
Guelker also notes the need to distinguish between involuntary and voluntary migrant workers. "Involuntary migrant workers are those who've left their country, under a situation of duress; your typical asylum seekers and refugees. I think this industry is probably the most impacted by that in the last few years in Turkey, with Syrian refugees coming into the country, finding themselves working in factories."
Voluntary migrant workers, meanwhile, are those who move abroad and search for work, with so-called imported workers being those that find a job in their home country through a recruitment agency and move abroad with a contract in hand ready to perform a specific role.
"Be aware of who might be working in your factories on top of the regular workforce, who might else be incorporated there; who is your factory hiding, who are your suppliers potentially hiding?"
The higher risk areas for the fashion industry are asylum seekers, refugees, and imported workers. "The risk when you find asylum seekers or refugees and they're not being declared is that, of course, they're not being paid a minimum wage. And probably their health and safety is not being respected in the same way," Guelker says, noting in some cases, such as in Turkey just a few years ago, many of these workers were children.
To guard against this, she recommends industry players fully engage with vendors, "especially if you notice an influx of workers coming from a specific region."
She adds: "Be aware of who might be working in your factories on top of the regular workforce, who might else be incorporated there; who is your factory hiding, who are your suppliers potentially hiding?"
Herein, lies another red flag – subcontracting.
"For us, the risk of subcontracting is that you don't know who is making your product. If you don't know who's making your product you have no way of controlling that. You have no way of verifying whether they might not be in a situation of exploitation.
"So again, the same thing holds true here. When you go to a factory when you go to a supplier, look for signs of unauthorised subcontracting, subcontracting you're not aware of. Is the factory actually able to perform the contract? Is it able to fulfil all of the work?"
This can be done by talking with workers and taking a close look at the machinery that is in place. "Look at bottleneck studies, look at where might some of this work be outsourced, and then go to that place to verify who's actually working there. Again, especially when subcontracting is unauthorised, the risk of workers being involuntary migrant workers increases substantially and the risk of these workers being exploited increases substantially."
Another great risk for supply chains is imported workers. "What we have here is really a risk of modern slavery and this is due to imported workers, relying on a labour recruiter, a broker, in their home country to find them a job."
Such workers typically have to pay a fee and very often have to hand in their paperwork before "finding themselves in a country where they don't speak the language, where they don't know the customs, and where they have no social network.
"Frequently, what can happen in these cases is that although they have a contract, although they haven't necessarily gone abroad like an asylum seeker, they are equally unable to leave because they've been deceived. They're in debt because they're trying to repay their recruitment fees, the loans they've taken out to attain the job. And ultimately, they have no social network to help them get out of there. No social network that can tell them this is not a normal practice."
"Tightening the screws"
"We actually want more [legislation]. Forced labour is not decreasing, it is increasing, and something needs to be done"
Guelker welcomes legislation, particularly in consumer countries, requiring some form of disclosure on modern slavery and what supply chains are doing to address it. But she adds: "We actually want more. Forced labour is not decreasing, it is increasing, and something needs to be done."
The UK's Modern Slavery Act of 2015 requires companies with a turnover of GBP36m or more to report annually on the slavery risks in their supply chains and what they are doing to stamp it out. Its Australian counterpart applies to organisations with a turnover of AUD100m.
"What's really interesting is that the Home Office last year said they only think about 60% of those companies that are in scope in terms of reporting are actually reporting. So there's a lot more out there that we could see changing and a lot more companies that should be reporting on modern slavery in their supply chains."
The latest efforts in the UK, she explains, will see companies asked to publicly explain why they're not taking any steps to address modern slavery in their supply chains if they're found to not be doing so.
"It's also supposed to expand to public authorities and, I think, very relevantly, to name and shame non-compliant organisations and to ban them from any public procurement options."
Recruitment solutions
While Guelker advises being vigilant of unauthorised subcontracting when it comes to workers already in the supply chain, she also highlights the potential pitfalls surrounding the recruitment process.
"This is one of the big challenges nowadays and we're understanding it is one of the big contributors to modern slavery."
She advises three steps industry players can take. "First of all, is to adopt an Employer Pays Principle. Secondly, you can map your labour supply chain. And thirdly, consider actually looking at your recruitment agencies and assessing them."
According to the Institute for Human Rights and Business, adoption of the Employer Pays Principle across all industries is fundamental to combatting exploitation, forced labour, and trafficking of migrant workers in global supply chains and represents an important step in achieving the UN Sustainable Development Goal of decent work for all.
Its fundamental stance is that no worker should pay for a job: the costs of recruitment should be borne not by the worker but by the employer.
"When we say cost of recruitment, we mean salary fees, travel costs, permissions, permits etc," Guelker explains. "All of that should be borne by the employer and it should be paid directly by the employer. Where a worker has paid any recruitment costs, ideally the employer should immediately refund those recruitment costs. This is something we're seeing happening slowly but surely: workers actually being reimbursed all of those recruitment costs that they may have paid up front."
The second part is to understanding the labour supply chain.
"I know this can be daunting," Guelker admits, "because many of us don't even understand our normal supply chain. But when you try to map your labour supply chain, what you're doing is a similar yet slightly different exercise."
Here, she says, the key is to determine what role each firm is playing and if there any commonalities: what suppliers are being used? Where does most of the migrant worker come from? What countries should the focus be on? Is it worth engaging with one country specifically, or even with one recruitment agency?
"You might find that many of your suppliers are actually using the same recruitment agents. And so you then obviously have more leverage to engage with those recruitment agencies."
Another aspect is easily overlooked: "Do the recruitment agents even know your requirements? "You might have adopted this wonderful Employer Pays Principle, but do the recruiters know this? Has this actually been communicated? And what are the actual practices at the recruitment agency?
"We are now seeing a trend towards assessments of recruitment agents and certification systems for ethical recruitment agencies," she says, that typically focus on specific migrant worker corridors.
The final step is for industry players to simply visit their recruitment agents. "See what they're doing, see how their practices are," Guelker urges. "And that's something that more and more of the companies I work with are doing. They're finding all sorts of very interesting things."