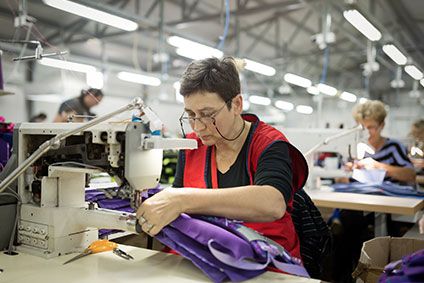 Romania's clothing and textile industry is facing a recruitment crunch and experts worry that it will struggle to find a strategy to hire sustainably to ensure long-term growth.
A survey from PwC's HR benchmarking project Saratoga, released at the end of last year, concluded that Romania faces an "acute shortage of workforce," needing about one million extra workers to sustain a 3.5% economic growth by 2023.
The clothing and textile industry is no exception – between 2014-2018, the number of people working in garment manufacturing dropped by about 21.5%, according to European Union (EU) statistical agency Eurostat, with 8,500 companies employing around 199,400 workers in 2018.
The Clean Clothes Campaign calculates that combined formal and informal workers in the sector amount to around 400,000 people. It has been stressing that for the past ten years, Romania's clothing and textile factories have constantly been searching for workers, as low wages, poor working conditions and better pay elsewhere have impeded recruitment.
Moreover, Romania's unemployment rate is at 3.2%, a historic low, notes Madalina Pasca, people and organisation manager at PwC Romania. "The blue-collar category is where this is felt most. And as blue-collar workers dominate the textile industry, companies are feeling the impact." It is estimated that 46.8% of blue-collar workers may switch jobs in Romania during any given year.
"The challenges for the textile industry are similar to all industries employing blue-collar workers," adds Corina Cimpoca, founder of Bucharest-based MKOR Marketing Consulting. Manual workers are a major part of "Romania's strong labour migration in recent years" and the clothing and textile sector especially is "affected by lack of skills and the low popularity of technical education."
Such difficulties, coupled with comparatively high costs compared to other outsourcing centres, have helped prompt some international manufacturing companies to close production sites.
A good example is US-owned Hanes Global Supply Chain Romania, which last February (2019) closed a plant in the Arad-Curtici Free Trade Zone, western Romania. Also, Rieker, a Swiss shoemaker, closed a unit employing 663 people in the western city of Lugoj, the same month.
Export dependence
If Romania had a sustainable clothing market where consumers bought local brands, more added value could remain in the country, allowing wages to rise.
But Cimpoca notes most production goes to export and domestic consumption is overwhelmingly supplied by imports, with only 3% to 4% of clothing purchases being of recognisable national brands, such as Braiconf or Nissa.
This export dependence has been rising. While the country's fashion production has fallen from EUR3.9bn in 2014 to EUR3.5bn (US$3.74bn) in 2019, according to statistics from MKOR Marketing Consulting, exports have increased, rising 3% between 2017-2018, data from the country's National Institute of Statistics (Institutul National de Statistica – INS) shows.
Meanwhile, imports have grown, notes clothing and textile industry federation FEPAIUS (Federatia Patronala a Textilelor, Confectiilor si Pielariei), being larger by value than exports since 2016.
Against this backdrop, the fact that MKOR Consulting predicts a 2019 year-on-year fall in exports by 1.5% is far from a sign of strength.
How to deal with these problems?
Pasca argues inflating wages is not the answer, especially if "it's not necessarily correlated with productivity." Instead, Romanian employers can and should "focus on introducing tailored reward and benefit packages and reach out to alternative population segments – such as single mothers needing work flexibility or people in remote areas."
She suggests investing in "employee experience," offering flexible hours and career growth opportunities that appeal especially to Millennials and Gen Z workers, are also sensible options.
Hiring foreign labour could also work, but Pasca says companies need to be careful. In 2018, the government scrapped a law ensuring foreign workers receive at least the average gross salary paid to Romanians, allowing employers to pay them minimum wages. 30,000 work permits were issued during 2019 for non-EU foreign workers – with Vietnam, Sri Lanka, India and Nepal the top non-EU sources for foreign labour in Romania's clothing and textile manufacturing sector, according to Romanian news sources.
Deciding to hire foreign labour should follow detailed cost-benefit analysis, advises Pasca. "In some cases, this can be more costly across all steps, from staff recruitment to training. Paying foreign workers more than Romanians would be regarded as discriminatory; and in some cases, opportunities in other European countries are more attractive," making recruiting quality workers difficult.
Rather, says Cimpoca, the Romanian government should support private sector efforts to persuade Romanians abroad to return home and "motivate those who are still here."