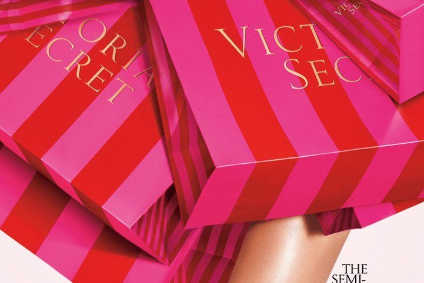 Following a slew of earnings slides, reports are now suggesting that L Brands' founder and CEO, Les Wexner, is looking to leave the business and that it is continuing to weigh up options for its Victoria's Secret lingerie brand. just-style looks at why this could be a good move for the company.
Business has been fairly challenging for Victoria's Secret-owner L Brands in recent months so it comes as no real surprise rumours have started to intensify it is looking at various strategic options for one of its key brands – Victoria's Secret. For the third quarter ending 2 November, losses widened to US$252m from $42.8m a year earlier, while net sales slipped 3.7% to $2.68bn from $2.78bn in the prior-year period.
The company owns the Pink and Bath & Body Works brands and previously, La Senza, which it sold at the end of 2018, and Henri Bedel, which it closed in the same year – both moves aimed at driving shareholder value and focusing on its "larger core business."
But while Bath and Body Works has continued to grow sales, Victoria's Secret has lagged behind.
Indeed, Neil Saunders, managing director of GlobalData Retail, described the firm's recent holiday performance as "a tale of two companies." While group comparable sales fell by 4%, Bath & Body Works helped itself to a 9% uplift – with both stores and online contributing to growth – whereas Victoria's Secret saw holiday comparables tumble 12%.
"The reasons for the sharp difference between the two divisions could not be clearer," he explains. "Across the entire holiday, Bath & Body Works put its best foot forward: it had strong seasonal ranges, loads of gifting ideas, and plenty of treats for consumers who wanted to indulge themselves. As ever, shops were bright and cheerful, and this helped to pull in passing traffic. There were also good deals across November and December which encouraged consumers to buy in volume.
"It would be unfair to say that Victoria's Secret made no effort over the holidays. But that effort did not bear fruit because, as usual, marketing and merchandising were misplaced. Consumers were looking for cozy, but the brand delivered risqué. That meant many shoppers went elsewhere. In our view, this misalignment between what Victoria's Secret stands for and what now consumers want is the central issue and is one that the company seems unable to get to grips with."
He adds: "Moving into 2020, it is clear that radical change is needed to get Victoria's Secret back on track. However, given management's record we are not at all confident this will be delivered in any meaningful way."
Investors, too, have long been unhappy at the company's performance.
Last March, activist investor Barington Capital Group urged the firm to spin off its Victoria's Secret brand after its fourth-quarter sales fell 5,2% to US$2.53bn.
"Unfortunately, over the past three years the company [L Brands] has significantly underperformed its peers and the market as a whole," the shareholder said. "Barington believes this is primarily due to the disappointing financial performance of Victoria's Secret resulting from merchandising mis-steps and the failure to maintain a compelling brand image that resonates with today's consumers. Furthermore, Victoria's Secret's struggles have overshadowed the exceptional performance of Bath & Body Works, resulting in the market failing to value the segment appropriately."
Fresh speculation this week in The Wall Street Journal suggests L Brands CEO, Les Wexner, is now looking to exit the company after 57 years at the helm, while exploring "strategic alternatives for Victoria's Secret brand" – rumours that sent shares soaring by 13%.
L Brands declined to comment when approached by just-style.
Rationale for a shakeup
Susan Anderson, analyst at B Riley, says rumours of Wexner stepping down are "unsurprising " as they come just ahead of an annual meeting where four long-term board seats are up for renewal.
"We would expect Barington to put forth nominees for the open spots. Additionally, as part of Barington and LB's April 2019 agreement, LB shifted from a supermajority voting requirements to a simple majority, and all board members will stand for election at the 2021 annual stockholders meeting, meaning further turnover is likely. With the potential for six outside board members this year and all being re-elected next year, we believe that a major corporate restructuring could be inevitable."
Lorraine Hutchinson, analyst at Bank of America Merril Lynch, believes new leadership would be a positive move.
"Under Les Wexner's leadership, Victoria's Secret has struggled, with operating margins declining from 2015's 18% to [an estimated] 1% in 2019. Deflation from the shift towards unstructured bras, exiting the swim business and a deteriorating brand image have caused this margin collapse. A key tenet to our thesis is that the brand is at a tipping point; since holiday sales did not stabilise, the concept's proximity to losing money has now forced management to re-evaluate its strategy. We think a new leader could overhaul the brand image and marketing message, add back swim and sell the company-operated loss-making international business."
Star player
Selling off Victoria's Secret could put L Brands in a strong position, with Hutchinson calling Bath & Body Works one of the "best stories in retail." A strategic buyer, she adds, could pay five times EBITDA for Victoria's Secret, the proceeds of which could be used to pay its debt.
"Bath and Body Works is arguably one of the best stories in retail. Every year, sceptics doubt the sustainability of this concept but it has consistently exceeded expectations and now contributes 92% of total company EBIT. L Brands has a history of spinning out concepts and the divergent performance of the two concepts indicates that a spin could present an opportunity to create value," she adds.
Anderson agrees, adding poor performance from Victoria's Secret continually drags down L Brands' star player.
"We are encouraged by [The Wall Street Journal] article, as we continue to feel that the stock price does not reflect Bath and Body Works' resilient, best in class performance. We have previously estimated that BBW alone could be worth ~$26/share, and that weakness in Victoria's Secret and Pink is overly discounted in the stock price. In sum, we view the article as evidence that the correct steps are being taken to unlock shareholder value."