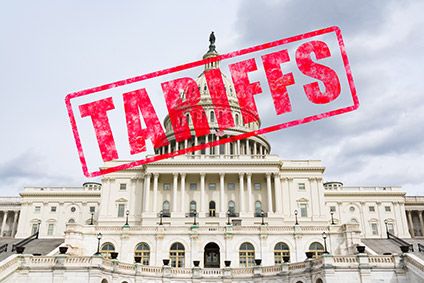 Ongoing trade uncertainty, coupled with a 20% hike in the cost of sourcing from Bangladesh, Vietnam and India – the main alternatives to China – are the biggest concerns facing today's US fashion industry executives. And not surprisingly, they're contributing to a more downbeat outlook for the future.
The annual snapshot of sourcing sentiment is revealed today (22 July) in the '2019 Fashion Industry Benchmarking Study' published by the United States Fashion Industry Association (USFIA).
And this, the sixth such survey of executives from leading US fashion brands, retailers, importers, and wholesalers – including some of the largest brands and retailers in the country – shows the impact of trade wars and uncertainty about trade policies (especially the threat of additional tariffs on imports from China) is weighing heavily on respondents.
Indeed, sourcing executives are more cautious today and less optimistic about the five-year outlook for the US fashion industry. One year ago, 84% of survey respondents were "optimistic" or "somewhat optimistic" about the outlook for the next five years. This year that number dropped to 64%. And one-quarter of the respondents said they are "neutral."
Another key finding this year is that the biggest challenge today for the fashion industry is the impact of increasing production and sourcing costs, with 84% of respondents saying it is a challenge this year.
Some of these cost increases are linked to the 301 action against China's acts, policies, and practices related to technology transfer, intellectual property, and innovation – with a majority of the respondents to the survey saying the 301 tariffs have increased sourcing costs.
The year-long US-China trade war has already seen additional punitive tariffs of up to 25% imposed on $250bn in goods from China, including many consumer products like hats, leather and accessories. There are Chinese tariffs on key US exports including cotton. And the Trump administration has threatened to expand the tariffs to virtually all Chinese imports by imposing an extra 25% on another $300bn worth of products.
This last list includes around US$36bn worth of textiles, apparel and home textile products are covered – from tops and bottoms to underwear and outerwear, from swimwear to ski suits, and from ties and gloves to socks and hosiery.
"As we look at the data, we see some other insights that are very troubling," explains USFIA president Julia Hughes. "Not just costs in China are increasing, but the costs to source in the main alternatives to China – especially Vietnam, Bangladesh and India – also are soaring. And the uncertainty seems to also affect logistics and transportation costs."
While sourcing executives are moving production out of China in response to the threat of new tariffs, the main beneficiaries are Asian suppliers. There is no evidence that reshoring for Made-in-USA production or near-shoring for Western Hemisphere production is significantly increasing.
The survey was conducted across 39 companies between April 2019 and May 2019. In terms of business size, 71% of respondents have more than 1,000 employees, including 50% with more than 5,000 employees. Another 29% of respondents represent medium-sized companies with 101-999 employees.
All respondents represent companies with headquarters or major management offices in the United States. This year, in addition to 100% selling products in the United States, over half of respondents also sell products in Canada, Western Europe, Mexico, and Asia – patterns that reflect the global nature of the fashion business today and the ever-closer connection of the US fashion industry with markets and supply chain partners around the world.
Conducted in conjunction with Dr Sheng Lu, associate professor in the University of Delaware Department of Fashion & Apparel Studies and regular contributor to just-style and the re:source by just-style strategic sourcing tool, the survey asked respondents about the business outlook, sourcing practices, utilisation of Free Trade Agreements and preference programmes, and views on trade policy.
Here are some of the highlights.
Impact of the US-China tariff war on sourcing:
The trade diversion effect of Section 301 has accelerated moves by US fashion companies to reduce their sourcing from China. About 83% of respondents expect to decrease sourcing from China over the next two years, up from 67% in 2018.
The Section 301 action is pushing up the price of US apparel imports across the board, making "increased production and sourcing cost" the top business challenge for respondents in 2019. As many as 63% of respondents explicitly blame the US Section 301 tariff action against China for higher sourcing costs.
As companies are moving orders to Bangladesh, Vietnam and India, the average price of US apparel imports from these countries – the main alternatives to China – has gone up by more than 20% in 2019 (January-May) year-on-year.
No evidence shows that Section 301 has significantly benefited near-sourcing from the Western Hemisphere and reshoring from the United States. Instead, respondents say Section 301 has increased the production costs of Made-in-USA textiles and apparel.
Respondents say they may have to increase their retail prices should the US-China tariff war escalate further, but are reluctant to do so.
US fashion companies' latest sourcing strategies:
Most respondents maintain a relatively diverse sourcing base, with 57% currently sourcing from 10+ different countries or regions in 2019. Around 83% of respondents say they plan to source from the same number or more countries over the next two years. Asia as a whole continues to take the lead as the dominant sourcing base for US fashion companies.
'China plus Vietnam plus Many' is still the most popular sourcing model among respondents. However, its details are evolving – with China no longer always the top supplier for US fashion companies. Around 25% of respondents indicate that they source MORE from Vietnam than from China in 2019, an emerging trend and one that is important to watch.
This year, Vietnam remains the #2 sourcing destination among respondents, with an 86% usage rate. However, just 7% of respondents plan to substantially increase apparel sourcing from Vietnam over the next two years, which reflects concerns about Vietnam's limited production capacity and the increasing cost of sourcing from the country.
Bangladesh is the #6 top sourcing destination, with 60% usage among respondents. A record-high percentage of respondents (80%) express an interest in expanding sourcing from the country in the next two years. Despite the price advantages, however, respondents still see Bangladesh as less attractive than many of its competitors with regards to speed-to-market, flexibility and agility, and risk of compliance.
Outlook for sourcing from China:
Despite the lingering tariff war, China will remain a dominant textile and apparel supplier to the US market in the near future. Only 6.7% expect to decrease sourcing from the country significantly in the next two years.
China does not have a near competitor in terms of the variety of product it can make.
Considering speed-to-market, sourcing cost, flexibility and agility, and compliance risk, China is also one of the few "balanced" sourcing destinations that US fashion companies can choose from.
Around 50% of respondents further say their Chinese vendors "lowered their price to keep sourcing orders" in response to the trade tensions.
Reshoring and apparel Made-in-USA:
This year, the United States ranked the #10 top sourcing base with 43% usage, the same as in 2018.
Made-in-USA apparel is treated as a niche product in the sourcing portfolios of US fashion brands and retailers. The advantage of proximity to the market, which makes speedy replenishment for in-season items possible, is an important factor behind the more successful control of markdowns for Made-in-USA products.
Respondents also list a few disadvantages and challenges likely to prevent them from sourcing more Made-in-USA products in the next five years, including high price, limitations in fabric options, and a shortage of skilled labor.
Further, respondents say more information about US based textile and apparel mills would be useful to promote Made-in-USA sourcing.
US-Mexico-Canada Free Trade Agreement (USMCA or NAFTA2.0):
The majority of respondents (65.5%) want the US Congress to pass USMCA. More than half of respondents explicitly say NAFTA is important to their business and they want a seamless transition from NAFTA to USMCA.
US fashion companies currently sourcing from the NAFTA region are more likely to use USMCA and vice versa.
However, a good proportion of respondents (around 20%) admit they do not fully understand the rule changes in USMCA for textiles and apparel.
Helping companies better understand the technical details of USMCA and reducing the uncertainty about its ratification will be essential to the future success of the agreement.
Free trade agreements and trade preference programmes:
Increasing sourcing costs have created new incentives for US fashion companies to take a fresh look at duty-saving opportunities through free trade agreements and trade preference programs.
Respondents report more utilisation of US free trade agreements (FTAs) and trade preference programmes in 2019, particularly those with countries in the Western Hemisphere, such as Dominican Republic-Central America Free Trade Agreement (CAFTA-DR), CBTPA and Haiti (HOPE, HOPEII or HELP).
43% of respondents report using tariff preference level (TPL), commercial availability/short supply lists and cumulation for apparel sourcing.
Respondents also say these exceptions to the "yarn-forward" rules of origin provide important flexibilities that make US fashion companies more likely to use FTAs and source from FTA regions.
African Growth and Opportunity Act (AGOA):
Respondents say they source from eight AGOA members in 2019, although far less often than the leading Asian suppliers.
It is concerning that respondents' enthusiasm for using AGOA and sourcing from the sub-Saharan Africa (SSA) region is gradually diminishing.
Around 45% of respondents say the temporary nature of AGOA is why they are holding investment back from the region.
But they also say the AGOA region needs more investment to improve its infrastructure and production capability before SSA countries can become more attractive apparel-sourcing bases.
Sustainability and social responsibility in sourcing:
US fashion companies overall maintain a high commitment to sustainability and social compliance in sourcing, with 63% of respondents saying they will allocate more resources here over the next two years. Another 36% expect no change.
Nearly 100% of respondents map their supply chains (that is, keep records of name, location, and function of suppliers), up from 90% in 2017. Meanwhile, respondents say "Insufficient internal budget and/or staff" is the top challenge to mapping their supply chains, along with "suppliers not being fully cooperative" and "sourcing from too many countries/vendors."
The vast majority of respondents (96.2%) currently use third-party certification programmes to audit. More respondents are conducting both announced and unannounced audits this year (74%) than in 2018 (63%). Brands and retailers are also conducting more comprehensive audits than in the past.
Click here to view the 2019 Fashion Industry Benchmarking Study in full.