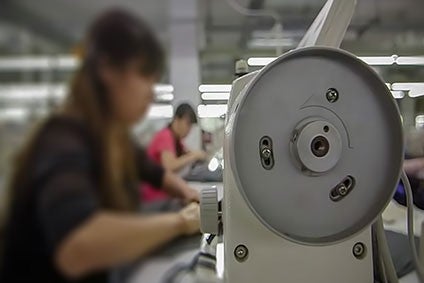 As fashion brands and retailers begin to reset and reshape their supply chains as they emerge from the global coronavirus pandemic, a new multi-year investigation has identified some of the risks at stake when sourcing from garment factories in Myanmar. Highlighted exclusively here on just-style, child labour and audit deception are among the ongoing challenges.
A relative newcomer to the apparel sourcing mix, Myanmar's garment export sector has seen dramatic growth since the country began to emerge from decades of isolation and military rule almost ten years ago.
In the last year alone, its clothing, footwear and handbag shipments jumped 26% to reach US$6.7bn, making this the Southeast Asian nation's second largest export industry. But it remains a controversial sourcing base due to concerns over widespread issues ranging from ethnic violence to abusive and illegal labour practices.
In fact Benjamin Skinner, founder and president of Transparentem, whose latest investigation has unearthed serious abuses at three garment factories in Yangon exporting to global retailers and importers, goes even further.
"Brands cannot approach doing business in Myanmar like they are doing business in a well-developed market economy with checks and balances for social and labour issues. I don't think some of them understand how motivated some of the more determined actors are to make things difficult for them to understand the truth."
"Brands cannot approach doing business in Myanmar like they are doing business in a well-developed market economy with checks and balances for social and labour issues" – Benjamin Skinner
His comments follow a two-part, three-year investigation by the New York-based non-profit that included interviews with dozens of workers, as well as analysis of shipping records, supplier lists, and clothing labels found in factories.
There was also evidence of audit deception, with accounts of factory managers concealing under-aged workers from inspectors by hiding them or sending them home during audits, instructing them to lie to auditors and in some cases even coaching them on how to do it.
It uncovered a number of problems, including isolated incidents of child labour under the age of 14, as well as 14 and 15-year-olds working beyond legal restrictions. A worker described how factory managers hired young workers with a bigger build so they would be less likely to be spotted. Another described how workers were unable to speak openly to auditors because factory staff watched and listened. And workers described how they relied on excessive overtime or workplace loans from their supervisors or others in order to survive.
This also explains one of the biggest discrepancies in the investigation: that while investigators were able to find workers under the age of 18 in the factories, the brand/retailer audits did not. And it raises worrying questions about whether buyers really know what's happening in the factories they source from.
Other findings included workers stuffing garments with down feathers but not wearing masks because of the high temperatures in the stuffing facilities, contracts and pay slips that they didn't understand, workplace loans and debt, and inadequate grievance systems.
It's standard practice for the group which, instead of publicly naming and shaming customers, instead chooses to meet with them behind closed doors to share the results of the research – and give them an opportunity to work with their suppliers to address the problems identified. It is only after this process that the results of the investigation are disclosed, along with the brands' responses.
Crucially, and in a move that sets Transparentem apart from its peers, this evidence – including videoed and recorded conversations with workers – was shared with the seven companies whose products appeared to be produced at one or more of the three factories, including Bestseller, Boardriders, C&A, G-III, The Levy Group, Next and Primark.
These discussions also fuelled Skinner's belief that: "If you are going to make the decision to do business in Myanmar, you need extraordinary diligence that supersedes what we have seen as the practices of even the most progressive brands.
"If you are going to make the decision to do business in Myanmar, you need extraordinary diligence that supersedes what we have seen as the practices of even the most progressive brands" – Benjamin Skinner
"Having sat across the table from these brands, there's a real intent to do the right thing. But they don't quite know what they're dealing with, and a general sense of frustration that they had trouble getting their arms around it."
The investigation
Transparentem's investigation into Myanmar's apparel industry was triggered by ongoing reports from the International Labour Organization (ILO), the US State Department and civil society organisations about widespread worker exploitation and child labour in the country.
Over three years from 2017 to 2019, it carried out dozens of interviews with current and former workers at Natural Garment Manufacturing Company and Myanmar Haoyang International Garment Company (both privately owned), and Join-Profit (Myanmar) Garment Company (a subsidiary of Xiamen Join-Profit Trade Company, based in China). The factories make a mix of outerwear – including down jackets – men's and women's suits, jackets and coats.
Among its findings:
Child labour and 14 and 15-year-olds employed beyond legal restrictions. Employing children younger than 14 in factories is illegal in Myanmar, but two workers at Natural Garment and one worker at Join-Profit said they were aged 13 or below. Some 14 and 15-year-old workers said they worked in excess of four hours – the maximum shift length workers this age are permitted to work under Myanmar law. When it comes to the definition of child labour, Transparentem was careful to capture what is legal under Myanmar law yet might be forbidden by brand codes of conduct. Myanmar's Factories Act, for example, prohibits factories from employing children under the age of 14, but those aged 14 and 15 can work up to four hours a day. And under the Child Rights Law adopted in July 2019 – half way through the investigation – workers under the age of 18 are considered children.
Hazardous labour. Workers at all three factories – including, at one factory, two children under age 14 – stuffed garments with down feathers, but were only given thin masks that provided insufficient protection from dust inhalation. Experts say exposure to fine organic dust from down feathers can cause short-term health problems and permanent lung damage. Join Profit denies having ever produced down products at that factory.
Wage and overtime violations. Workers from each factory said managers sometimes required them to work against their will, or at two factories, without pay. At two factories workers said they were required to work on Sundays – a day of rest under Myanmar law – without any compensation.
Inadequate documentation. The factories failed to provide workers with adequate documentation of their wages and contracts. This included payslips they did not understand – Burmese workers receiving pay slips in Chinese, for example – or could not use to calculate their pay. Some were not given copies of their labour contract, while others were made to sign a contract without having its terms explained to them.
Workplace loans and debt. Workers at all factories said they borrowed money with interest from other employees, including supervisors and, at one factory, security guards. Such loans, particularly from factory staff with supervisory authority, are a potential source of coercion.
Audit deception. Workers told investigators that factory managers concealed underage workers and others from auditors by hiding them or sending them home during audits – while managers at two factories instructed workers to lie to auditors, and in some cases, told them how.
Inadequate grievance systems. Workers at some factories were either unaware of grievance mechanisms available to them or sceptical that such avenues were safe and effective.
Opportunities to act
For their part, the seven brands and retailers were given two opportunities to take action: first, when the findings were presented to them at the end of 2018, and then after follow-up worker interviews in September 2019.
In response to the initial revelations, all except C&A – which denied a sourcing relationship with Haoyang – conducted audits at the factories where their garments were made and developed follow-up corrective action plans.
While individual factory audit reports weren't shared, the companies said no workers aged under 18 were discovered, although they did identify age verification as an area for improvement.
Next didn't engage in factory remediation efforts at Natural Garment claiming the relationship had already ended; but while Bestseller could not substantiate production at Join-Profit, it did agree to engage in remediation efforts at that facility. Primark had suspended production at Natural Garment before being contacted about the investigation, but agreed to engage in remediation efforts.
Between the two investigations, some improvements were seen. The factories committed to taking more steps to verify the ages of job applicants, may no longer be employing children, and may be employing fewer 14-15 year-olds.
Unlike previous Transparentem exposés, collaboration between companies was not part of the way forward, although Bestseller and C&A are participating in a new supplier training initiative to improve conditions for workers in through the EU funded SMART Myanmar programme. The next phase includes a 'train the trainer' scheme to extend industry best practices to human resources personnel in individual facilities.
The only company to confirm an ongoing relationship with any of the factories at the end of the investigation was Levy Group, which said it was continuing to work with Natural Garment. Boardriders and G-III provided no update to Transparentem, while the others all told the NGO their sourcing arrangements had come to an end.
Complex challenge
The researchers readily acknowledge that layer upon layer of complexities make sourcing in Myanmar a challenge – but that these were further complicated by a number of factors unique to the investigation.
Yet as Tu Rinsche, vice president of strategic engagement and partnerships at Transparentem, points out, this should surely prompt brands and retailers to take a different approach to doing business in the country.
For a start, Myanmar's foray into the global economy after decades of isolation and military rule has created a complicated business environment and left the country to play catch-up in key areas including political and legislative reform, compliance and sustainability, infrastructure and energy.
Nevertheless, since trade and economic sanctions against the country began to be lifted by the European Union (EU) and the United States in 2012, the sector has expanded to 690 factories employing over 700,000 workers at the start of the year.
Investors are attracted by the country's large workforce and low wages, as well as duty-free access to the European Union (EU) – its biggest market, taking more than half (54%) of exports – under the Everything But Arms (EBA) arrangement. But labour rights abuses remain a contentious issue, including low wages, long working hours, repression of union leaders, poor working conditions and child labour. Myanmar was just one of nine countries that made no progress in addressing child labour according to the US Department of Labour last year.
On top of this has been international condemnation over the alleged ethnic cleansing of Rohingya refugees, and potential links between suppliers and Myanmar's military – all of which add to the potential risks and reputation issues for brands sourcing from the country.
Most recently, of course, the industry has been decimated by the global Covid-19 pandemic, with an estimated 60,000 workers losing their jobs and around 200 factories closed as buyers cancelled orders.
Adding "vulnerability on top of vulnerability," at least two of the three factories investigated were facing acute business distress pre-Covid – including one shutting down and reopening with a new name – as well as significant labour unrest.
Transparentem hopes its findings will be especially pertinent as brands rethink and adjust their supply relationships in Myanmar and beyond in the aftermath of the coronavirus crisis.
Among its recommendations, one issue that stands out is the need to tackle the possibility of audit deception, since inaccurate or incomplete audits may mean possible abuses get missed, which in turn hampers remediation efforts. "Buyers of garments from factories in Myanmar should ensure that audits are unannounced, conducted by an independent third party, and include worker interviews that are free from the influence of factory managers and conducted off-site," the report suggests.
It also advises that audits should be scheduled for when suspected violations might occur – such as at weekends if this is when a factory is suspected of using child labour.
Another tool essential for securing the wellbeing of workers is an effective grievance mechanism such as a hotline they can call – but it must be a platform they can trust. A hotline set up in one of the factories didn't receive any calls and was taken down. This wasn't because there weren't any problems; instead, the reason no-one used it was that they weren't familiar with it, didn't believe it was confidential, and didn't believe their best interests would be represented.
Other advice includes setting out human rights requirements and expectations in business agreements, collaborating on supplier training programmes, implementing strong child labour remediation policies for children and young workers – and advocating for a higher minimum age of work in Myanmar.
"Our investigation isn't a criticism of Myanmar, nor are we trying to say companies must not do business in Myanmar," Rinsche emphasises. "It is about doing really thorough due diligence – and defining what this due diligence looks like," as well as setting out actions they can take to spur positive and lasting change.
just-style reached out to all the brands and retailers mentioned in the report. Some didn't respond, while others said they didn't have any further comment. Bestseller was keen for the following statement to be included:

"We want to make it absolutely clear that Bestseller does not tolerate child labour. In Bestseller we have our own factory standards, due diligence procedures and improvement programmes in place to protect worker's rights and continuously improve working conditions. At the same time, cooperation across the industry with relevant stakeholders is essential. Bestseller is therefore actively involved in strategic initiatives and partnerships with other fashion companies, NGOs and organisations to improve working conditions in the countries where our products are made. Specifically in Myanmar, Bestseller is active in "SMART Myanmar II" – a supplier-training and social-dialogue initiative – and we have played an instrumental role in the ACT Freedom of Association (FOA) process."