Suppliers in low cost locations squeezed hardest on price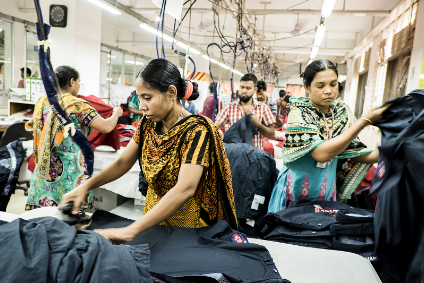 The Better Buying Index report finds suppliers in low cost locations like Bangladesh and SE Asia are pushed hardest on price
Countries with the lowest production costs – Bangladesh, Cambodia, Malaysia, Singapore, Thailand and Vietnam – are the ones whose garment suppliers are most commonly squeezed when it comes to pricing, according to the latest figures from the Better Buying Index.
The Better Buying Index 2019 report – the third report designed to improve purchasing practices in apparel, footwear and household textile supply chains – focuses for the first time on sourcing strategies across geographical locations and the varied ways that suppliers are pressured by buyers.
The organisation tracks and releases performance scores and analyses about purchasing practices, using data submitted anonymously by suppliers on its online platform. This year's report used aggregate data from 715 suppliers headquartered across 52 countries. The overall ratings assessed the performance of 71 different retailers and brands in the apparel, footwear, and household textile sectors.
The report reveals the locations with the lowest production costs, such as South-East Asia (Cambodia, Malaysia, Philippines, Singapore, Thailand, Vietnam) and Bangladesh, experience the highest pressure from their customers to slash prices.
Moreover, results show that the longer retailers/brands and suppliers are in a business relationship together, the more suppliers experience pressure on cost negotiations. Locations with the lowest production costs are most pressurised to further reduce costs. In Bangladesh for instance, 38% of the suppliers reported that their buyers held them to last year's prices, despite inflation and rising wages.
On the other hand, geographical locations with reputations for concerning workplace conditions are incentivised for compliant production (63% in Bangladesh), while locations such as the United States are hardly given any incentives for being compliant with buyer codes of conduct (19%).
Looking more specifically into the dynamics of business practices, the report found that the number of years retailers/brands and their suppliers have been in a business relationship is positively related to Better Buying scores in Design and Development, but negatively related to scores in Cost and Cost Negotiation. It shows that, over time, the supplier would come to better understand what their customer is looking for, yet experience more pressure on cost negotiations.
Country highlights
Of the highlights, a higher percentage of suppliers in Bangladesh receive forecasts further in advance, which contributes to better visibility. Along with Latin America it was named as a location with better retailer/brand purchasing habits. This is coupled with a comparatively more stable ordering pattern across the months. Yet, forecasting is inaccurate, and a negative outcome of this is the high percentage left with unutilised capacity or empty production lines that can be difficult to fill at the last minute.
Respondents also revealed suppliers are still coming under significant pressure when it comes to pricing. 37.2% said buyers demanded level prices from year-to-year with no consideration for inflation, and 27.9% said buyers stipulated a "take it or leave it" approach: that is meet the target cost or the supplier loses the order.
At the opposite end of the spectrum, suppliers from Turkey receive forecasts and capacity bookings less frequently and their retailer/brand customers provide forecasts late. Yet, even with their later forecasts, the accuracy rates of the retailers/brands are low. Monthly order variation is high compared to many other locations.
One positive is that the fast fashion, short-run, business model supported by suppliers in Turkey cuts the frequency of unutilised capacity. Low percentages of suppliers' report that most of their customers' orders are priced for compliant production. Likewise, relative few indicate they receive incentives for compliant production.
"Suppliers are surely feeling the inter-related strains of their customers' late and poor forecasting, low prices, and high order variability, which may make it difficult for them to address high-profile concerns about subcontracting and precarious labour," reads the report.
In Southeast Asia, most results showed the worst retailer and brand practices. Cost and Cost Negotiation practices were worse in Southeast Asia (compared to all but two locations). Additionally, Southeast Asia suppliers were less often incentivised for production compliance with retailers' and brands' codes of conduct (compared to one location). Furthermore, retailer/brand practices in Management of the Purchasing Process were poorest in Southeast Asia (compared with their practices in 10 other locations).
Most frequently reported high-pressure strategies include 41% of respondents saying suppliers were compared on price only rather than a full range of attributes, and 41% reporting suppliers were expected to meet specific elements of other suppliers' cost structure.
The same percentage said buyers demanded price levels were maintained from year to year with no consideration for inflation. 28.2% said they were allowed only very short times to respond to price demands.
"As a location where many countries are sought out for their low-cost labour, the very low percentage of orders priced to cover compliant production is surprising, as is the frequent use of cost negotiation strategies placing high pressure on suppliers' businesses. This begs the question of when is low cost, low enough?"
Necessary change
"For retailers and brands, supply chains of the future will need to be designed to meet volatile market demands and provide continuity of supply despite policy noise," states the report. "These supply chains will also need to contribute positively to the environment and people making our products. Suppliers we talk with understand the myriad of contextual pressures facing the industry they care deeply about – they wish to support their customers in meeting these needs.
"Better Buying believes that the winners in the future will be the retailers/brands and their suppliers that come together in new, truly strategic partnerships that draw on the core competencies and strengths each brings to the table and where the benefits they achieve together are shared fairly. This scenario will likely involve sticking with suppliers for the long-term, rather than jumping from location to location in search of the best trade deal or lowest cost. Suppliers can be trusted to choose the best production location and will benefit by getting to keep their skilled workforce and treat them fairly.
"Working more strategically with suppliers will help retailers/brands decrease operating costs and helps maintain the product quality expected by their customers. As retailers and brands seek to achieve even shorter lead times, better quality, and best price products, under the best trade conditions, they must engage their supply chain partners in new, more efficient, and more mutually profitable ways. And suppliers, in collaboration with their industry associations, must ensure the resulting partnerships are designed to meet their needs for a sustainable future."
As reported on just-style last week, the Better Buying initiative is piloting a new process of feedback loops to help convert supplier ratings on brand and retailer purchasing practices into concrete actions and more sustainable business partnerships with measurable impacts.
Create sourcing plans that work
Find new apparel sourcing destinations, assess trade flows and manage tariffs. All in one place.
Oops! This article is copy protected.
Why can't I copy the text on this page?
The ability to copy articles is specially reserved for people who are part of a group membership.
How do I become a group member?
To find out how you and your team can copy and share articles and save money as part of a group membership call Sean Clinton on
+44 (0)1527 573 736 or complete this form..