Surge in Egyptian clothing production and exports
Egypt's garment exports are on the rise, bolstered by currency depreciation and renewed interest from EU and US buyers.
The government is pushing expansion of the sector, with its Vision 2025 policy aiming to create one million jobs in the textile and garment industry.
It also hopes to attract US$13.5bn in local and foreign investment to help the country move away from being a 'cut and sew' destination.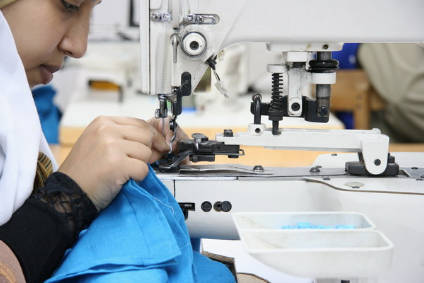 Egypt has more than 1,500 garment factories, and exports are expected to reach US$1.4bn this year
With greater political and economic stability returning to Egypt nearly seven years after the uprising that overthrew President Hosni Mubarak, the country's garment exports are rebounding.
Exports were up 14% in the period from January to October of this year, compared to the same time in 2016. And the country's Ready-Made Garment Export Council (RMGEA) expects them to reach US$1.4bn by the year end. Exports have been bolstered by currency depreciation and renewed interest from major buyers, especially in the European Union (EU) and US.
"We are bouncing back to the old numbers, and surpassed our target of 10% growth for 2017," says Sherin Hosni, RMGEA executive director.
Prior to the January 2011 uprising, garment exports had hovered at over US$1.4bn a year until the country was plunged into further instability in 2013 when President Mohamed Morsi was ousted, followed by the election of President Abdel Fattah el-Sisi in 2014.
In recent years buyers were hesitant to source from Egypt for fear of further unrest disrupting orders
Buyers were then hesitant to source from Egypt in the event of further unrest disrupting orders. As a result, exports dropped in 2015 by 3%, to US$1.38bn, and again in 2016, by 8%, to US$1.27bn.
"We are not back to the peak of 2006 to 2011, when our exports were growing by 22% on average. In 2015 and 2016 we lost about 15%, so we need to work hard to get back to where we were," says Mohamed Kassem, the commissioner of trade event Destination Africa, and former chairman of the RMGEA. As of October 2017, exports were US$1.18bn, according to the RMGEA.
That said, loyal buyers have benefited. "Companies that stuck around benefited as they didn't lose one shipment, and were able to grow due to the preferential exchange rate and Egypt's proximity to the US and Europe," says Ehab El Zaher, managing director of Sweet Girl, in Alexandria, which manufactures knitted tops and bottoms for Kids Concepts in the US and Avon in Europe.
Until the Egyptian government devalued the Egyptian Pound (EGP) in November 2016, it was EGP8 to the US dollar. It has since risen to EGP17.60 on average during 2017.
But while the depreciation has made exports attractive, it has increased costs for manufacturers – especially as the sector is highly reliant on imported fabrics, yarns and accessories, despite Egypt's fabled cotton sector.
"Last year we sold more in terms of quantity, as this year we've been impacted by inflation and raw material prices. Yarn was US$2.50, now it is US$4, which is 75% of a total garment's cost," says Adel Hassanein, marketing manager at SOGIC Group, which supplies knitwear to Aldi and Galeries Lafayette, among others.
Export destinations
Around 60% of Egypt's garment exports are to the EU, followed by the US, the Middle East and Africa. Wovens are the biggest export, at US$807m (October 2017), followed by knitwear, at US$387m.
In 2017, the largest growth in garment exports year-on-year has been to Saudi Arabia, at 65%, followed by Spain (33%), Italy (28%), France (22%), and the US (13%). One black-spot however, has been that sales to the Netherlands have declined by 22%, comparing October 2017 sales to those in 2016, according to the RMGEA.
The boost in US exports has been particularly apparent, says Hala Hashem, CEO of Arafa Holding, which manufactures formal men's wear for the likes of Zara at its Swiss Garments Company facility in 10th of Ramadan City outside of Cairo.
"In classic wear we always supplied Europe, but for the first time in five years we had demand from US brands. Also, Turkish retailers are asking," she told just-style.
For the second year running, Egypt hosted the Destination Africa trade fair earlier this month to attract buyers and manufacturers to Egypt and the rest of the continent. Egypt is also looking to diversify as global apparel consumption patterns shift, but also to reduce reliance on the European market.
"All the triple A factories focus on Europe, so we are trying to mix it up. Brexit pushed that too," says Zaher, who says the industry is responding to concerns about market access to the UK once Britain quits the EU.
Even so, the Egyptian government is planning to reintroduce a fast boat to the EU to bolster fast-fashion exports. It stopped due to the revolution.
"It's very important we bring back the fast boat, and we need to re-look at shipping to the rest of North Africa," says Samir Riad, general director of Riad Group, which sells garments to major US and EU retailers, including Inditex.
QIZ opportunities
Egypt also wants to bolster exports to the US through its Qualifying Industrial Zones (QIZ), free trade zone areas that gain tax and duty breaks if 10.5% of the manufactured goods they process are sourced from Israel.
Talks are also underway, in cooperation with the UN's International Labour Organization (ILO), to get back suppliers for Disney merchandise after the US corporation exited the Egyptian market in 2016 due to concerns over labour and environmental standards. Some 60 Egyptian companies had supplied garments and textiles to the US entertainment giant.
Egypt's exports of ready-made garments to the US dropped 16% in 2016 year-on-year, partly as a result, to US$633m. But sales seem to have stabilised this year, having reached US$591m by October.
In July, ILO implemented a 'Better Work' programme in Egypt – the second in the Middle East after Jordan – to improve working conditions and boost business competitiveness. Some 26 factories, primarily in the garment export sector, are part of the pilot project, says Peter Van Rooji, ILO Egypt director, speaking at Destination Africa.
Vision 2025
Meanwhile, the government is pushing expansion of the sector hard, with its Vision 2025 policy aiming to create one million jobs in the textile and garment industry, train some 750,000 workers, supervisors and managers, and attract US$13.5bn in local and foreign investment. Egypt currently has more than 1,500 garment factories.
"We had an export target of 10% growth this year, and as of October, it was up by 14%," says says Hosni. "Next year we forecast 15% growth, and in 2019 and 2020, 20% a year. But I think we will reconsider the figures at the end of the year, as exports are going well so far. I imagine we will not exceed US$1.4bn by the end of 2017."
Research organisation Euromonitor International forecasts Egypt's clothing production growth at 69.8% between 2016-2021, with a compound annual growth rate (CAGR) of 11.2%, reaching US$2.05bn in 2021.
But to develop the sector further, Egypt needs to move away from being a 'cut and sew' destination, according to buyers at Destination Africa.
"We [Egypt] can't supply everything yet, like fabrics, [and the country lacks] very big mills, which many companies find a handicap. Additionally, not all accessories are of high quality, so are sourced globally," says Simon Fares, sales manager for Japanese zip-manufacturer YKK in Egypt. The company manufactures around 70m zips a year in Egypt and is targeting 100m pieces by 2020.
Create sourcing plans that work
Find new apparel sourcing destinations, assess trade flows and manage tariffs. All in one place.
Oops! This article is copy protected.
Why can't I copy the text on this page?
The ability to copy articles is specially reserved for people who are part of a group membership.
How do I become a group member?
To find out how you and your team can copy and share articles and save money as part of a group membership call Sean Clinton on
+44 (0)1527 573 736 or complete this form..