Sustainability – the next use case for RFID?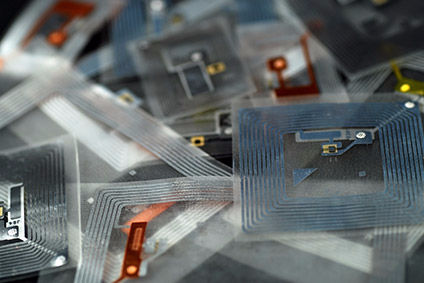 The apparel industry is expected to use 4.6bn RFID tags in 2016
As well as the business benefits of adopting radio frequency identification (RFID), there's wide scope to apply it across various parts of the supply chain too. So it may come as no surprise then that sustainability is emerging as the next use case for the technology, explains Jacky Broomhead, market development manager for apparel at supply chain standards organisation GS1 UK.
Since the Rana Plaza factory building collapse three years ago, fashion brands have attempted to bring greater visibility to their supply chains to manage how, where and by whom products are manufactured. Reinforced by the recent changes to the UK's Modern Slavery Act, the growing importance of corporate social responsibility is also developing alongside advances in technology adoption in apparel retail.
Beyond omnichannel, personalisation and the consistent cycle of retailers updating their legacy systems, retailers around the world are also embracing RFID technology. Since Walmart's RFID pilot in 2005, adoption of RFID tagging has grown rapidly, with the industry forecast to use 4.6bn tags in 2016. The business case for RFID in apparel is so convincing that RFID adoption is surpassing the growth rates of barcodes when they were introduced back in the 1970s.
Further to the business benefits of adopting RFID as a truly transformational technology, there's a wide scope to apply RFID across various parts of the supply chain. It may come as no surprise then that sustainability is emerging as the next use case for the technology.
RFID and sustainability
So how can RFID support sustainability in apparel? By creating efficiencies and enabling businesses to more closely manage the assets and activities within their total supply chains. It provides the data and tools to improve the use of resources and gives greater clarity and control over how these resources are developed.
GS1 UK, the supply chain standards organisation, identifies supply chain visibility, transparency and traceability as core elements in driving sustainability. When you dissect the jargon it's as simple as:
Visibility: Can you see what's going on in your supply chain? Do you know what materials, processes and sources were used to bring a product to market?
Transparency: What is the level of openness of that information? Is it available to be shared with external parties?
Traceability: Do you have a record of each product's journey?
The first step to making a product visible is to identify it, and RFID takes product identification to the next level. Rather than identifying it at the style colour classification, each and every item is given its own unique serialised number. And as compliance tightens while sourcing locations expand, having this granular level of detail allows businesses to react based on specific rather than aggregated data.
RFID can also hold more than just a product number. Different sizes of chips mean retailers can read/write information to a tag like source factory, information about the materials and components or even a log of a product's journey.
Lasting change with RFID
The features of RFID create a compelling case to support sustainable practices. Let's examine two particular use cases in detail:
1: Improving resource productivity and reducing wastage
RFID is typically adopted in apparel retail to improve inventory accuracy – it's where the primary return on investment (ROI) lies. Most retailers conduct stock takes twice a year. However, accuracy of stock records typically decrease by 2-3% per week, meaning that after a month or two merchandising decisions could be taken based on ineffective data. This can result in retailers allowing themselves significant buffer stocks and ordering more product than needed to account for these variances.
With RFID, retailers can perform weekly stock takes leading inventory accuracy to increase from 63% to 95%. When you have stock data you can rely on, you can reduce consciously wasteful decision making – you order what you need and reduce buffer stocks, which leads to achieving higher inventory productivity and maximising a lower level of resource usage. The early roll-outs of RFID have found that it lowers their inventory levels overall.
American Apparel was able to reduce in-store inventory by over 20% and Macy's has reduced its in-store inventory by a third. Macy's is also able to maximise its full inventory with its "pick to the last unit" approach that lets it confidently offer products online when there may only be one item left in the entire estate.
At the recent COP 21 (Conference of the Parties to the UN Framework Convention on Climate Change), apparel was called out as one of the most detrimental industries for environmental impact due to its high energy use in upstream processes. Increasing inventory productivity and lowering stock levels can reduce the resource requirements and minimise the impact on natural resources of apparel manufacturing.
2: Supporting traceability and transparency across the supply chain
As a data carrier, RFID can be used to manage and validate the origin of the materials and practices used to create a product. RFID is already used to manage materials sourced from endangered species and luxury brands see it as a way to drive compliance.
RFID tags are very difficult to forge, which is why CITES (the Con­ven­tion on Inter­na­tional Trade in Endan­gered Species) is using them to track and ensure exotic skins and even rare timbers have been sourced in line with its guidelines. And from a finished goods perspective, UK and Europe are leading the way in applying RFID for brand authentication with both Vivienne Westwood and Mulberry speaking publicly on their plans for the technology.
Brand authentication gives consumers assurance of two things, that a product is genuine and it has been sourced through the brand's legitimate supply chain. Management and authentication of both of these components are about control – over where and how a product was sourced at an individual level.
Mulberry revealed in a recent webinar with GS1 UK it is looking to embed RFID tags in its products to confirm that a product is in fact a Mulberry bag and ensure longevity of the product in terms of CITES and other exotic materials. The embedded tag will be used to maintain a record of the development of any product – so even if a product is no longer produced, scanning the tag could establish the leather supplier and factory it was made in.
As RFID adoption and applications continue to evolve, apparel retailers will continue to find new ways of applying this transformational technology and unexpected benefits from doing so. As businesses increasingly turn to technology to improve social compliance, RFID stands out as a strong contender to manage and influence sustainable practices across the apparel supply chain.
About the author: Jacky Broomhead, market development manager for apparel at GS1 UK, joined the company in May last year to implement the strategy for its apparel sector by increasing awareness, driving standards adoption and ensuring its standards are aligned with the needs of industry.
Create sourcing plans that work
Find new apparel sourcing destinations, assess trade flows and manage tariffs. All in one place.
Oops! This article is copy protected.
Why can't I copy the text on this page?
The ability to copy articles is specially reserved for people who are part of a group membership.
How do I become a group member?
To find out how you and your team can copy and share articles and save money as part of a group membership call Sean Clinton on
+44 (0)1527 573 736 or complete this form..