Sustainable fibres, finishes, printing and processes at ITMA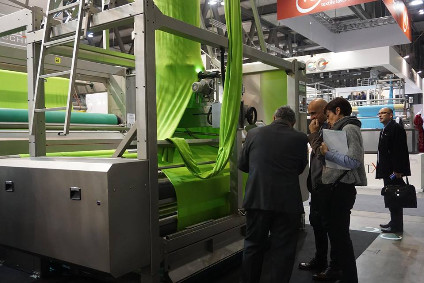 ITMA 2015 saw a record 1,691 exhibitors from 46 countries, showing the latest apparel and textile technologies
Some of the most exciting developments on show at this month's ITMA international textile and garment machinery exhibition had a sustainability edge, from using fewer resources to reducing waste and speeding up processes. Here, we take a look at a few of the innovations launched.
The event, which took place earlier this month, attracted a record 1,691 exhibitors from 46 countries, and featured exhibits across 19 sectors ranging from spinning, finishing, dyestuffs and chemicals, software, logistics and recycling, to garment making and textile processing, printing, fibres and yarn.
Sustainable fibres, finishes, printing and processes
French fibre specialist Rhodia, part of the Solvay Group, launched what it claims is the world's first biodegradable polyamide yarn, Amni Soul Eco. The formulation of the bio-degradable polyamide 6.6 yarn has been enhanced to allow garments to quickly decompose after being properly disposed of in landfills, making the articles environmentally-friendly. Unlike other fibres, which take decades to decompose, this one only takes around three years. According to the company, its other benefits are soft touch, extreme comfort, breathability, moisture management, easy-care, easy washing, and easy to dye.
Dye manufacturer DyStar Group presented solutions to improve resource efficiency and reduce waste. The new web-based Eliot is designed for product selection and process optimisation in the dyeing process. A 'Positive Lists' tool offers recommended DyStar products that are compliant with Restricted Substances Lists or the selected eco standard. Another feature is the 'Product Finder' module, which allows the user to search for technical properties of DyStar products by fastness criteria and dyeing or application performance. Its 'Optidye' programmes offer recipe or process optimisation to help shorten the dyeing cycle and reduce the effluent load. Other product innovations exhibited by the dye manufacturer included the new Levafix Eco range for exhaust and continuous dyeing of cellulosics, completely free of p-CA and other regularly controlled amines; Dianix XF2 disperse dyes with high wet fastness; and Realan Black MF-PV for wool, based on a newly-developed chromophore, completely free of heavy metals.
Chemical company Erca Group presented two of its latest textile solutions: ReactEVO and One Tone. The former is a process based on what it says is a "radically new post-treatment concept" in dyeing with reactive dyestuffs that enable reductions in energy consumption, water volumes, and total treatment time. All ReactEVO auxiliaries are compliant with Oeko-Tex Standard 100 requirements and are Bluesign and GOTS approved. OneTone is a new dyeing process designed to achieve the best results in terms of dyeability, colour strength and colour fastness, while being an environmentally-friendly and safe process that is Bluesign approved.
Plasma technology group Europlasma used ITMA to launch its 3D plasma coating technology for textiles, which is says offers coatings with the highest performance and lowest environmental footprint demonstrated on 3D textile goods and filtration products. One such group is the durable water repellent (DWR) and oil repellent Nanofics 110 and 120 coatings, widely used in outdoor and workwear. For sporting goods, Europlasma has developed several PFOA-, PFOS- and PFC-free varieties, marketed under the PlasmaGuard name. For each product or application there is a tailor-made solution giving optimum cost-performance, the company says.
MS Printing Solutions chose ITMA to launch a new challenge at its round-table – Transparent as Water – under the banner 'Sustainability on the Path to 2020'. The new 100/90/10 industrial paradigm challenges brands and manufacturers to save 90% of water and "return 10 litres of water to every human being" through the introduction of 300 "dry printing" single-pass machines to replace the "wet printing" cylinders currently used. It also points out that 100 litres of water is used per every kg of fabric in traditional finishing processes. "This short, streamlined, totally digitalised and efficient supply chain will allow for sustainable digital manufacturing, perfectly in line with the globalised fast fashion ethical model and top-of-the-range large retail standards," the company explained.
Specialised polymer materials and solutions provider PolyOne unveiled "breakthrough" technology for colouring polyester fibre that eliminates aqueous dyeing and its associated wastewater treatment, giving increased production and greater flexibility. ColorMatrix Fiber Colorant Solutions introduces late-stage colour injection for the spin colouring process, and can help to transform the way footwear and apparel fabrics are manufactured. "This solution offers the environmental benefits and operational efficiencies of spin colouring, but with greater production flexibility and development speed to help brands and fibre producers react faster to market trends," John Van Hulle, president of global colour additives and inks for PolyOne, explained.
Bluesign Technologies showcased its new resource productivity calculator – BlueXpert – designed to optimise processes in terms of resource savings and environmental impact. The web-based application show savings and environmental impact immediately, and claims to reduce the consumption of water by 50%, energy by 30% and chemicals by 15%.
India's Geratex Machinery introduced a "first-of-its-kind", innovative and sustainable machine to process fabrics, whether mercerizing, bleaching, desizing or washing. Using ultrasonic technology on industrial size washing machines, the Geratex fabric washer offers higher efficiency in terms of space, energy usage and chemicals and water consumption. The technology can also be retrofitted into existing fabric processing machines. It does away with wetting agents, meaning that 25-30% less water is consumed and the amount of chemicals used is reduced by 30%.
Inkjet printing specialist Konica Minolta used ITMA to demonstrate its Nassenger SP-1, high-productivity, high-resolution inkjet textile printer, which will launch next month, and which the company believes is the start of the "industrial revolution" in digital printing. The machine employs a single-pass system to print on the fabric, which is fed under a fixed print unit. The model boasts a faster print speed than a scan-type printer, and precise ink ejection control that enables high-resolution images to be reproduced at "an ultra-high speed". It also incorporates newly-developed printheads for higher-quality reproduction of fine patterns and colour gradients.
Colorjet Group launched two digital textile printers: Metro and Fabjet-Duo, a 3.2 metre digital printer that offers the "Power of Two" in one machine. Metro claims faster and smoother productions with seven pigment colour inks. It also features automatic temperature control. Fabjet-Duo enables cotton and polyester fabrics to be printed on the same machine and is recommended for both sampling and mass production.
DuPont collaborated with inkjet technology firm EFI Reggiani to launch a new digital textile pigment ink said to offer printers greater speed and environmental benefits. The DuPont Artistri PK2600 digital textile pigment ink for EFI Reggiani ReNoir digital textile printers is designed primarily for cotton textile roll-to-roll printing and gives performance comparable to reactive ink results. It has been shown to work well on a number of fabrics that can't be printed with reactive inks including polyesters, viscose, cotton/polyester blends and non-woven materials, the companies say. And, it provides true colour and a soft feel comparable to reactive printing. Because no steaming or washing production steps are required, job turnaround is significantly faster while water and chemical usage and costs are minimised.
Textile chemicals specialist Archroma joined forces with Swiss technology provider Ink-Situ to launch a system that changes the way inks are supplied to digital printers. The Inkpresso system brings new benefits to inkjet printing, including production flexibility, no shelf-life issues, and a larger colour spectrum. The central component is the Ink Formulation Unit (IFU), where eight colour modules are available, which can be mixed to meet manufacturers' specific needs.
European printing specialist MTEX Solutions launched its new digital textile sample 'Mini-lab' at ITMA. Described as a "world-first", the Mini-lab comprises coater, steamer, and washer and dryer which, when coupled with a digital textile pigment, acid or reactive printer, will produce 1m square samples accurately in a controlled professional environment.
Digital textile printing specialist Epson previewed two machines – Monna Lisa Vinci and Monna Lisa Evo Tre – that it hopes will "radically change the textile digital printing market". Both designed by Robustelli, and based on Epson technology, Monna Lisa Vinci integrates Micro TFP heads with reduced piezo-electric nozzle for more flexibility, higher speed and top printing quality. It has a printing speed of up to 1000 sqm/h and can use up to 12 colours. Monna Lisa Evo Tre is based on the same technology and has a printing speed of up to 740 sqm/h, and can also use up to 12 colours.
Woven textile software specialist Arahne unveiled its ArahDrape digital fashion marketing tool at this year's ITMA show. The software allows a customer to apply a fabric texture (or simulation) over a photo of an existing product, so that ideas can be validated before the fabric is manufactured. Arahne says that without this tool, every product for sale online must be made and photographed in all colour and pattern variations. For many e-commerce sites, this can cause a bottleneck in putting product on the market.
Create sourcing plans that work
Find new apparel sourcing destinations, assess trade flows and manage tariffs. All in one place.
Oops! This article is copy protected.
Why can't I copy the text on this page?
The ability to copy articles is specially reserved for people who are part of a group membership.
How do I become a group member?
To find out how you and your team can copy and share articles and save money as part of a group membership call Sean Clinton on
+44 (0)1527 573 736 or complete this form..