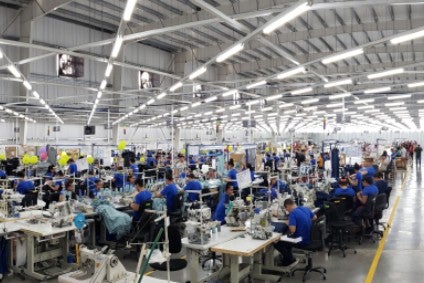 Tegra, the Atlanta, US-based leading apparel manufacturing and supply chain provider, is expanding its workforce in Latin America with new job posts in El Salvador as well as its soon to be opened facility in Honduras.
Tegra's Decotex plant in El Salvador was expanded to nearly 250,000 square feet in August. The objective was to significantly increase both manufacturing and warehousing capabilities for leading global apparel brands such as Nike – which buys shirts from the facility for its US and Canada markets. Decotex also ships directly to Outerstuff and HanesBrands.
Besides the expansion of the compound and the purchase of new equipment to support customers' needs, Decotex's most significant transformation has been training its workforce to respond to the challenges posed by the new infrastructure.
The open positions include engineers, software developers, business analysts, auditors, mechanics, and needlework experts.
For the last five years, Decotex has been recognised by El Salvador's government as one of the country's top employers at the American Industrial Park area, west of the capital San Salvador.
According to reports from the labour and social welfare ministry, Decotex is one of the top ten most inclusive companies in the zone, with gender parity within its workforce and career opportunities for young people. In this way the company has effectively managed its expansion from having 300 workers in 2009 to more than 2,000 people in 2019.
According to a statement from Tegra, these new investments in El Salvador will allow the creation of innovative products that respond to customers' needs and environmental challenges – in a faster and more efficient manner.
At present, US customs data shows that Decotex ships clothes including T-shirts, singlets and tank tops, as well as a wider range of women's garments, to the US.
Tegra says its mission is reshaping the clothing industry by "putting bold ideas into action with sound strategy," including shortening supply chains by keeping product in the western hemisphere and ensuring supply chains do not waste capital, remove fragmentation of supply, integrate vertically and deliver quicker product turnarounds.
Ramping up
This vision will be taken up a step in 2021, once Tegra opens another plant called 'The Arena,' in San Pedro Sula, Honduras, aided by its local partner, the Kattán Group, a clothing manufacturer that has diversified into construction, real estate and communications.
This new venture will be a 679,000 square feet compound – the company's biggest facility in Central America and the Caribbean – and will directly employ at least 7,000 people, while indirectly generating 4,000 jobs.
The US$50m investment is critical in enhancing the northern Honduras city's economy, while supporting renovation projects promoted by the local Mayor Armando Calidonio through his 'Master Plan for Urban Development.'
The Arena compound will be designed and built with a particular emphasis on assuring eco-friendly and sustainable practices, avoiding product waste and environmental damage, without sacrificing high quality, cutting edge products, said the mayor and Kattán executives during the launch event.
Tegra's vertically integrated apparel manufacturing and supply chain provider business focuses on sports, team, licensed and activewear markets, serving leading brands and retailers in the Americas.
It offers diverse and integrated capabilities in product development and design, cutting, sewing, embellishment, distribution and logistics, and programme management through five locations in Central America (in Honduras, El Salvador and Nicaragua) combined with seven quick response manufacturing units located throughout the United States.
The developments come after Tegra in 2018 acquired US sportswear apparel manufacturer Fjord and screen-printing and embellishment specialist Latitudes. It also hired a number of longtime industry executives to lead product development, customer strategy, Central American manufacturing, innovation and automation and US operations.