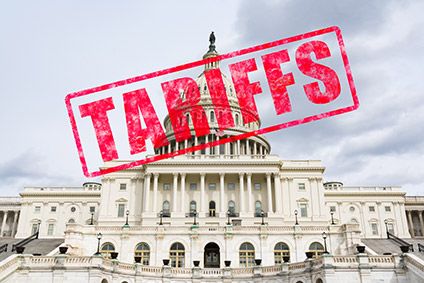 The fear of an imminent rise in new tariffs on virtually all US imports from China – including textiles, apparel and footwear – seems to have abated for now. But what's potentially at stake was set out by dozens of executives from apparel and footwear brands, retailers and importers who took part in a series of recent hearings in Washington. Here's what they had to say.
Dozens of company and industry representatives descended on Washington over the past two weeks to testify on the impact of any further tariff escalation on US apparel, footwear and textile retailers, importers and manufacturers.
The year-long US-China trade war has already seen additional punitive tariffs of up to 25% imposed on $250bn in goods from China, with textiles and clothing so far largely outside the scope of the levies. But this would all change if the Trump administration went ahead with threats to expand the tariffs to virtually all Chinese imports by imposing an extra 25% on another $300bn worth of products ('Tranche 4').
The proposed retaliation list includes almost 1,700 Harmonized Tariff System (HTS) items of textiles and clothing. Around US$36bn worth of textiles, apparel and home textile products are covered – from tops and bottoms to underwear and outerwear, from swimwear to ski suits, and from ties and gloves to socks and hosiery.
The threat of new tariffs seems to have receded after a meeting between President Trump and China's President Xi Jinping at the G-20 summit in Japan, with negotiations between the two countries "back on track" according to a Trump tweet, and new China tariffs now on hold.
But the potential risk of such a move was set out in no uncertain terms during the hearings organised by the Office of the US Trade Representative.
Executive after executive explained how any new tariffs would hike sourcing costs, increase competition for factory space outside of China, drive up the price of machinery and materials used by domestic US manufacturers, and wreak havoc through a lack of alternative sources of supply, not only for factory space but also inputs used throughout the footwear and clothing supply chain.
The companies also warned that US consumers would have to pay more as they would not be able to quickly shift sourcing from China for many of the items under review. And the timing might mean that back-to-school clothing would be amongst the first to be hit.
The testimonies repeatedly referenced the fact that footwear and apparel goods are already subject to the highest US tariffs, behind only tobacco and peanut products. The industry is also subject to a disproportionate tariff, representing 4% of all imports in 2018, yet paying a whopping 30% of all duties collected. Children's basic canvas sneakers can have a duty rate as high as 67.5% of the landed cost price, and certain manmade fibre apparel can have duty rates as high as 32%.
And China is the top supplier of these items to the United States by far. In 2018, China accounted for 42% of all apparel and 69% of all footwear imported into the United States. All other countries combined are ill-equipped to handle the sheer volume that would be required to move out of China.
Here are some of the takeaways from apparel, textile and footwear executives, according to US Trade Representative transcripts and written submissions.
What they say…
China has a 42% [US apparel] market share – and you could say, as a group, how could you be so stupid to have so much in China? And the truth of the matter is we've been trying to get out of China for years, but they just seem to do it better than anybody else. And there are limited places to where we can go. The second largest is Vietnam, [with] around a 13-14% share of the market. So, that's 55% between two countries. Then, you add the next three, which is India, Indonesia, Bangladesh, that's 70% of the US market. So, the question which we blow back is, where are we going to go? We don't have a place to go. We're stuck. And therefore, if we get hit with these tariffs, it's going to hurt really bad – Rick Helfenbein, president and CEO, American Apparel & Footwear Association (AAFA)
We, as a country, don't have the capacity or, frankly, the desire to create the low-paying manufacturing jobs you would need to replicate China's capacity. What we do have as a country is the desire, capability, and capacity to build more higher-paying jobs and value chains that emphasise skills and which deliver real value to the final product – Patrick Fox, senior director of customs and trade strategy at VF Corporation
As our sourcing departments go and seek out new manufacturers who have capacity and capability to manufacture our products, before we can ever issue a purchase order to those suppliers, they have to go through rigorous factory audits to ensure there's worker safety in the facilities; there is product safety requirements that are involved related to things like CPSC regulations; to ensure that those factories can source intermediary raw materials that go into the products. The lead time for setting all of that up and getting authorisation can take many months – Patrick Fox, senior director of customs and trade strategy at VF Corporation
Families who shop at Macy's should not be required to face potential tax increases on back-to-school shoes, sweaters, and pullovers for the fall, or, for that matter, on baby clothes. Yet all of these items are on the USTR's proposed list of China Section 301 tariffs. Indeed, List 4 includes…a new tax on baby clothes. It is hard enough for new parents to make ends meet while changing diapers and surviving on a few hours of sleep. Is it really a good idea to impose new taxes on baby clothes? – Macy's written submission
There can be little doubt that imposing tariffs on apparel, footwear, and household goods would cause economic harm to US consumers. Indeed, List 4 includes a proposed tariff on Christmas ornaments. For goodness sakes, a tax on Christmas ornaments? One wouldn't think the Administration would seek to emulate the Grinch, who left little Cindy-Lou Who with walls devoid of ornaments and "nothing but hooks and some wire" – JC Penney written submission
The threat of a tariff is the same as implementing a tariff, due to the long lead time it takes for our supply chain to adjust – Michael Jeppesen, president of global operations, Wolverine Worldwide
I believe that China is going to be still a long-term source of goods because the fabrics are available pretty much exclusively in China, [and] the lead times for retail today are very, very short, and Forever 21 has a very fast turnaround cycle – Richard Wortman, customs and international trade counsel to Forever 21
In addition to the potential disruptions to our global supply chain, VF is concerned about the rising trade tensions that could impede our sales of VF brands in China by attracting Chinese retaliation in the form of non-tariff barriers or decreased perceptions by Chinese consumers – Patrick Fox, senior director of customs and trade strategy at VF Corporation
"The products that we continue to manufacture in China are highly specialised and tied to significant investments that we have made in tooling, machinery and personnel training. We also own and operate a wholly owned subsidiary in China, which is one of our largest foreign markets with more than 700 retail locations throughout the country. Having local production helps us remain competitive in the local China market, which in turn supports U.S. based innovation jobs" – Katie Tangman, director of global customs and trade, Columbia Sportswear Company
There's a natural limitation to how much we can move out of China, simply because of the size of these countries we are moving into. Vietnam has about 7 or 8 percent of the total population that China has. There are 1.4 billion people in China and about 100m in Vietnam. I think that there is a limitation to how much we, as an industry, can move into Vietnam from China today, and I think we are getting very close to maxing out – Michael Jeppesen, president of global operations, Wolverine Worldwide
We choose to make shoes in the United States because it is the right thing to do, even though it is less profitable. The existing duty rates on imported components [such as soles and inserts] are low, ranging from zero to 5.3%. Based on our preliminary analysis of a 25% punitive tariff, we project millions in additional costs for our five New England factories. These increased costs would upend the fragile financial model for domestic manufacturing that, against the mainstream of our industry, we have been committed to sustaining – Dr Monica Gorman, vice president, Responsible Leadership and Global Compliance Divisions, New Balance
We know that this [tariffs] will happen, just like gravity. There will be decisions made all the way along the whole spectrum from manufacturers to the end impact with the customer when they come in the store or when they purchase something online. There will be a decision as to the sharing of costs, and we know that there will be an adverse impact on our customer – Sean Georges, senior vice president of human resources and corporate counsel for Shoe Carnival
"The products that we continue to manufacture in China are highly specialised and tied to significant investments that we have made in tooling, machinery and personnel training. We also own and operate a wholly owned subsidiary in China, which is one of our largest foreign markets with more than 700 retail locations throughout the country. Having local production helps us remain competitive in the local China market, which in turn supports U.S. based innovation jobs" – Katie Tangman, director of global customs and trade, Columbia Sportswear Company
Fashion brands and retailers like ours are making their purchasing decisions anywhere from 6 to 12 months in advance. Therefore, it's not possible to make changes today to shift near term deliveries to alternative countries – Bryan Wolfe, vice president of international trade for Ascena Retail Group
Footwear is still a very, very labour-intensive production process. There's about 120 people involved in making one pair of shoes. It takes a lot of people to run a factory. These facilities are often 3-, 4-, 5-, 10-, or 15-thousand-people facilities. So, when we moved into Vietnam initially, we would start out in Ho Chi Minh, move up to Hanoi, down to Mai Phuong. Now we are kind of crossing over the border to Cambodia, just in order to find labour that can make the shoes for us – Michael Jeppesen, president of global operations, Wolverine Worldwide
While the 301 tariffs might result in trade diversion from China, it still will not lead to more sourcing in the United States. We often hear that argument that uncertainty and disruption to global supply chains will lead to more jobs here in the US, as manufacturers return from overseas. That's not the case for the fashion industry. The manufacturing capacity and the workers are not in the United States – Julia Hughes, president of the United States Fashion Industry Association (USFIA)
The United States is the largest source country for cotton for China as well as eighth largest importing source of Chinese textile, clothing and the raw materials. China imported 528,000 tons of cotton from the United States in 2018, worth US$1.06bn. With the proposed additional tariffs, China's exports of textile and apparel to the United States will decline. Chinese demand for American cotton will decrease accordingly, and the export of cotton from the United States will face a drop as a result, which will further impact the cotton production in the United States – Wang Yu, vice chairman of the China Chamber of Commerce for Import and Export of Textiles