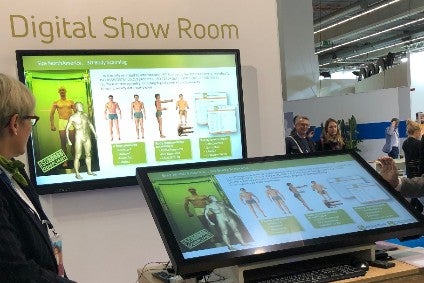 Industry 4.0 remained a buzz-word at the recent Texprocess and Techtextil technology trade shows in Frankfurt, Germany, with new tools allowing data to flow seamlessly from digital design and development all the way through the supply chain to help garment manufacturers cut costs, improve quality, increase productivity, speed time-to-market, reduce waste and stay competitive. Other highlights included virtual fit solutions, a new 3D body scanner, and robot-assisted sewing.
Industry 4.0 enabled, automated scan-to-cut system
Along with playing an integral role in the Smart Textiles Micro-Factory exhibit, apparel software and systems supplier Gerber Technology showcased its end-to-end solution for on-demand bespoke design through production, as well as mass production. Proof of its success, Gerber says, can be seen in the firm's new Waldrip Collection – a collaboration with designer Stephanie London. Each piece is designed, developed, and produced using Gerber's tools, with several garments made using its digital print workflow for customised garment production. Other pieces use integrated small batch production workflows, enabling London to adapt to trends and scale production to accommodate the demands of her customers.
All software is seamlessly integrated to the production floor, where Gerber showcased what it claims is the world's first fully integrated print-to-cut workflow that will feature a Mimaki direct-to-textile printer and the Gerber cutter Z1 with ContourVision. The two solutions are connected using Gerber's PrintSync concept, an Industry 4.0 enabled, automated scan-to-cut system allows manufacturers to scan custom textiles, generate cut files automatically and cut directly from textile rolls. The PrintSync device on the single-ply Z1 cutter integrates the printing and cutting process into a single step, helping to increase throughput and reduce labour. PrintSync is printer-agnostic and can connect with any direct-to-textile printer with in-line drying capability.
Virtual sampling
Computerised knitting machine manufacturer Shima Seiki demonstrated two different product lines, with flat knitting applications in technical textiles shown by its Italian subsidiary Shima Seiki Italia, and cutting solutions with Tajima GmbH. Of particular interest, however, was the firm's SDS-ONE APEX series 3D design system for virtual sampling in ultra-high resolution, helping to streamline the decision making process by minimising the enormous amount of time, cost and material normally associated with producing physical samples. When approved, the same data can be used to program machines for immediate knitting, significantly reduc­ing lead times.
Meanwhile, Tajima displayed its P­CAM131 multi­-ply computerised cutting machine (NC cutting machine) for the first time at Techtextil.
Customised solutions for garment production
Veit Group presented its "significantly improved" SF 26 shirt finisher, which it says provides a higher quality of the finished product and simplified operation for the customer. In addition, the firm has equipped its BX fusing machines for shirts and outerwear with a separate feeding belt and a 7″ colour operating panel. These changes, Veit says, make the BX "fully Industry 4.0 ready" and help improve ergonomics and energy efficiency.
The company also unveiled its new BRI 860 VC sleeve seam finish pressing machine, a new solution for high-quality finishing of the elbow seam that increases flexibility in the shaping of textiles.
Shaping apparel industry digitalisation
Assyst GmbH, part of the Human Solutions Group, presented a range of new solutions for design, product development, and distribution.
The company says its new 3D Vidya Sketch tool makes creating a first design concept "easier than ever" with features specifically tailored for designers and an intuitive layout. Presented on the company's Digital Fashion Board, the tool allows the user to edit designs in real time in the cloud. Individual garments can be viewed on a tablet, in augmented reality on an avatar. Once the design is approved, a techpack with additional information for the supplier can be created in a few clicks.
Assyst also demonstrated its Digital Development Line, in which designs for sample pieces are worked out; and its new Digital Photo Studio, where 3D data can be prepared for an online store or as high-end photographs for a catalogue.
Also new was Assyst's Asset Management Tool. Whereas 3D Vidya simulates single images, the Asset Management Tool makes it possible to manage these images and sort them by colours, for example, or filter them by specific garments. Techpacks can also be generated. In addition, the Asset Management System also serves as a data transfer portal for downstream systems such as a Digital Showroom, Product Information Management (PIM) or Product Lifecycle Management (PLM) system.
Once the collection is ready, the new Digital Showroom allows the retailer to select the collections or garments from various physical samples. A large screen shows colour variations, additional information and sales campaigns. Assortment planning is also possible via a link to the PLM system, and the order is prepared according to turnover, so the retailer can place an order digitally.
Another new tool is a virtual fitting solution that allows customers to 'try on' clothing using a personal avatar via their mobile phones.
Meanwhile, Assyst's virtual decision-making aid Digitalisation live! helps companies to make the right decisions faster and to obtain the customer's purchasing opinion at an early stage, while also reducing the number of garments produced. It was named a winner of the Texprocess Innovation Award 2019 in the 'new process' category.
New 3D body scanner
Avalution, the Human Solutions Group's youngest company, presented the results of its Size NorthAmerica measurement survey and revealed its new AVAone body scanner for the first time.
The sizing and fitting and body scanning divisions of Human Solutions were transferred to Avalution in September of last year. Its AVAone scanner is based on stereoscopy and measures with 12 depth sensors, creating an image of the body in just a few seconds from which 50 measurements can be taken. The scanner, Avalution says, needs about as much space as a changing cubicle.
"We've created a store scenario from the future to show how technologies can help customers find the right product a lot faster," says Michael Stöh, managing director of Avalution. "Our new 3D body scanner creates a realistic digital image of the customer within seconds…the digital image can then be used for size determination, for the manufacture of made-to-measure clothing, or to adapt individualised clothing."
The firm also released the first results of its Size NorthAmerica survey. Said to be the most comprehensive representative measurement survey ever carried out with 3D body scanners, it provides the industry with up-to-date information on how the bodies of US consumers have changed over the past years. Among the findings: body height growth is slowing, while body circumferences are increasing. Significant differences can be seen between urban and rural populations, and between populations of different ethnic origins.
New version of EFI Optitex
3D design and prototyping software provider EFI Optitex launched the newest version of its EFI Optitex 2D/3D CAD platform. Software enhancements include a new Print & Cut solution that enables printing of all garment patterns on a single roll, enabling savings in fabric roll inventory and typically 15%-40% greater efficiency compared to traditional methods, the company says. An improved nesting algorithm also helps increase fabric utilisation by up to 4%.
"In order to respond to the fast pace of fashion and changing buying behaviours, implementing end-to-end digital workflows is no longer a nice-to-have; it is survival," explains Amir Lehr, general manager, EFI Optitex, adding that with the new release, "full design-to-production preparation can be automated, enabling customers to focus on creativity, to quicken execution, and allow for the customisation required in today's demanding market."
It also enables custom views of designs for 3D sample displays for product catalogues and design review meetings, minimising the need for physical samples and costly photo shoots.
Solutions for industrial sewing
Dürkopp Adler Group also played a part in the German Institute for Textile and Fibre Research (Deutsches Institut für Textil- und Faserforschung – DITF) Microfactory exhibit with its QONDAC system. The plug-and-play network solution can link up to 1,500 sewing machines in a network, working to monitor data from all connected machines in real-time while analysing the productivity and status of each machine. It can also enable remote maintenance access and sends automatic alarm messages to technicians or managers should any problems arise.
The Group also won the Texprocess Innovation Award 2019 in the 'new technology' category for its new sewing system, the M-Type Delta – an industrial sewing concept that can be integrated into fully digitised sewing production for the automotive, upholstery and leather industries, as well as for the technical textile sector.
Robot-assisted sewing
The Dürkopp Adler Group also presented two new robotics applications developed by its Pfaff Industrial and KSL brands. Using robotics and control technology, the two applications target the clothing and automotive sectors. Specifically, the clothing application targets assembly (insertion and removal), automating entire processes and reducing operator intervention to a minimum.
'Fashion On Demand'
Launched last December, 'Fashion On Demand by Lectra' automates on-demand production from order reception to production development stages and the cutting room – and was named a winner of the Texprocess Innovation Award 2019 in the 'new process' category.
The solution enables companies to define product customisation criteria and range for each item depending on the package (such as altering product characteristics for customisation and pattern adjustments for made to measure) and launch production processes right from the get-go, without interfering with their standard workflows.
With a 360° view of the entire personalisation process, customers can streamline multiple production processes and manage complex individual demands from custom order to cut piece, Lectra says. In addition, it brings supply-chain flexibility to enable companies to expand their product range and offer more variety, without interrupting their existing production processes.