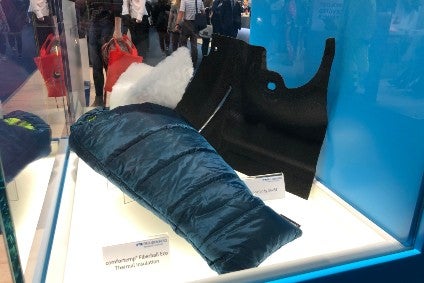 A number of new fibre and fabric concepts were on show alongside eco-innovations for clothing and footwear at the recent Texprocess and Techtextil trade shows in Frankfurt, Germany. A new line of identification threads, the "perfect alternative" to down, and a water-based breathable imitation leather were among some of the highlights.
Activewear solutions
Swiss colour and speciality chemicals manufacturer Archroma presented several new systems at Techtextil designed to add value in outdoor and activewear applications. These include Color Vibe, which maintains colour vibrancy in nylon sportswear "wash after wash"; Fast Sport, a colouration system for polyester knitted sportswear, providing "the best fastness in the shortest possible time" with a reduced environmental footprint; and Odor Control for improved material longevity, freshness and wearing comfort due to the lasting dual-action technology of Sanitized Odoractiv 10.
In addition, Archroma also shared details of its new range of high-performance disperse dyes for polyester sportswear, Foron SP-WF, which aim to give the best performance for repeated washing.
Identification threads
Sewing and embroidery thread major American & Efird (A&E) previewed its new line of molecular-tagged DNA threads – Integrity – developed in partnership with product authentication business Applied DNA Sciences (APDN). The new sewing threads have been developed with CertainT molecular-based validation technology and provide a tool to help brands resolve counterfeit and diversion in their supply chains.
"One of the big challenges brands face today centres around authenticity. Loss of revenue, reputation, and brand trust are some of the potential outcomes of counterfeit products," said A&E president, Chris Alt.
New TPU fibre
Polymer company Covestro presented new and sustainable developments with Insqin technology for aqueous textile coatings as well as a water-based polyurethane dispersion enabling biodegradable textile coatings. One of the highlights was breathable yet waterproof outdoor clothing, intended to protect joggers or hikers from rain, but at the same time let sweat escape from their skin. With the Insqin technology, textiles are coated with water-based polyurethane (PU) dispersions without the use of solvents.
The firm also showcased a new fibre made from thermoplastic polyurethane (TPU) at Techtextil 2019, which can be used in footwear, functional textiles, sports accessories and casual wear. Compared to conventional polyethylene terephthalate fibres, it is characterised by an improved abrasion resistance and can be heat pressed at lower temperatures. Tear resistance and a good haptic feeling are further advantages.
In addition, Covestro has also recently partnered with Austrian cellulosic fibre producer Lenzing Group to develop environmentally-compatible PU synthetics for the footwear industry.
The "perfect alternative" to down
At Texprocess, Freudenberg Performance Materials presented what it claims is the world's first padding made from continuous fibre balls, which function as a substitute for down in clothing. Made from 100% recycled polyester fibre balls, Comfortemp Fiberball Padding Eco combines the advantages of both padding and down, making it an "ideal solution" for the sports and outdoor sector but also suitable for use in fashion garments. It is manufactured without the use of chemicals and offers optimum breathability.
Instant thread colouring unit
Sweden's Coloreel returned to Texprocess with its digital instant thread coloring product, the Coloreel unit, fully industrialised and available to the market. The Coloreel technology enables a white base thread to be coloured while it is in production, such as during embroidery, giving users the freedom to create unique embroideries without any limitations in the use of colours.
Last year, Coloreel made its technology available in Europe after taking the first step in building a global distribution network. The company was awarded the Texprocess Innovation Award for outstanding new technology in 2017 and will go commercial at the end of June.
Heat retention for insulated garments
Swiss speciality textile company HeiQ presented XReflex, a radiant barrier technology that works to reduce heat loss – allowing the same level of warmth to be maintained with half of the insulation material. An ultra-thin reflective surface coating applied through high-tech vapour deposition allows the technology to reflect the body's radiant heat, increasing thermal resistance without altering air permeability. Matched with HeiQ XReflex optimised insulation material, the combination creates "ideal heat retention" for insulated garments, and is best suited to outdoor and sports jackets, pants and skirts, and lifestyle jackets and coats.
When using HeiQ XReflex² (two layers of Heiq XReflex fabric), the company says up to 50% of the insulation material can be saved and the environmental footprint per standard insulated jacket can be reduced by 6 litres of water, 280g C02, 10MJ energy.
HeiQ has also recently developed a new shark skin inspired fabric technology for swimwear brand Speedo's latest line of suits. The brand's LZR Pure Intent line features a triple-fabric construction designed to enhance compression and flexibility, with a shark skin inspired fabric technology to reduce drag.
Sustainable durable water repellency
Expanding the long-term alliance between Huntsman and Chemours, Huntsman Textile Effects presented its range of durable water repellents at Techtextil. The extended range included offerings around Phobotex and Zelan for sustainable, high performance and non-fluorinated durable water repellent finishes. The firm also showcased its Terasil TS water-based sublimation inks that deliver high colour density and improved printing performance for sportswear and apparel; and its Terasil W/WW dye range for polyester. The range achieves "right-first-time performance" and is Bluesign approved and suitable for Standard 100 by Oeko-Tex certified textile products.
Wash-durable, non-biocidal odour control solution
Odour Breakdown is the latest addition to Devan Chemicals' odour control family. The firm's new wash-durable, non-biocidal odour control solution works to capture and neutralise malodours produced by bacteria and also reduces the adherence of bacteria onto the fabrics.
It has different application levels to meet specific product needs, with the desired wash durability determining the level of application. In addition, it also contains Devan's Moov&Cool technology, meaning at the highest application level, in addition to odour control, the technology can also help in cooling during sports activities.
Water-based imitation leather
Trans-Textil presented new products at Techtextil including a water-based breathable imitation leather and 3D warp knit laminates.
Purely water-based formulation components are the starting point for Aquair, the firm's synthetic leather offering. The manufacturing process not only completely dispenses with organic solvents, but also offers a high degree of design freedom in terms of structure, colouring and technical properties of the abrasion-resistant Aquair functional layer, Trans-Textil says. In conjunction with its portfolio of membrane systems, substrates and textile technologies, the process creates multi-layer products for footwear and apparel.
Meanwhile, the company has also developed new 3D Warp Knit laminates for the Topaz Fusion collection, in collaboration with its partner Penn Textile Solutions. Targeted functional areas based on body regions for protective, outdoor and leisure clothing are integrated directly into the digitally controlled knitting process. For example, mesh zones with targeted hole size for tailored breathability or abrasion resistant 3D structures can be placed exactly where they are needed.
For a clearer view, transparent or coloured membrane systems from Trans-Textil are used as the design highlight in the three-layer laminate. Oeko-Tex certified materials of European origin, PFC-free finishing from the Topaz clean4green line and short distances between the manufacturing sites through processing in Germany also contribute to an environmentally responsible process chain.
Finishing technology protects against fingerprints
Fabric developer Schoeller launched its new NanoSphere Plus finishing technology at Techtextil, which acts to guard against fingerprints and greasy stains. Developed by Schoeller Technologies AG, NanoSphere Plus equips fabrics with a matrix finish to reduce the capillary effect of the fibres. Residues and dirt that are often released by finger and handprints are less absorbed by the fabric and can easily be wiped away, the firm says.
In addition to this protection, textiles with NanoSphere Plus are also water and oil repellent, abrasion resistant and "extremely durable." While best suited to non-washable textiles, NanoSphere is also being used in clothing such as sport and outdoor wear, business and workwear.