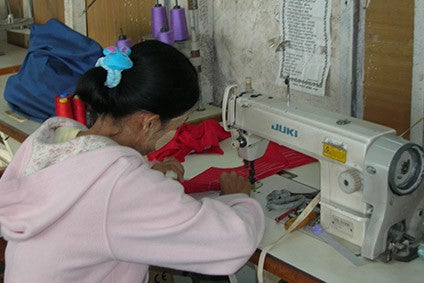 Research into the corporate social responsibility (CSR) efforts of China's textile and garment enterprises as they expand overseas has uncovered a number of shortfalls in Chinese-invested factories in Bangladesh and Myanmar.
Commissioned by the Ethical Trading Initiative (ETI) and authored by the Chinese National Textile and Apparel Council (CNTAC), the 'Survey report on the status quo and risk of corporate social responsibility in Chinese-invested overseas textile and apparel enterprises' hopes to encourage firms to attach more importance to social responsibility while investing overseas.
It points out that 'Going Global' efforts are bolstered by the Chinese government's Belt and Road Initiative, and that the China textile industry's outbound direct investment reached a historical high of US$2.66bn in 2016 – a rise of 89.3% on the previous year.
With the slowdown of global economic trade and increasing labour costs in China, the trend for export-oriented Chinese textile and apparel firms to make more overseas investments and build plants abroad is also set to continue.
Nevertheless, many Chinese companies have limited experience in overseas operation, lack understanding of local culture, customs and business environment of the host country, and sometimes neglect risk management. And this has occasionally led to negative reports about clashes between Chinese enterprises and local industries and workers.
"In particular, the political ecology, economic development, and social culture of foreign countries are greatly different from China's, increasing uncertainties for enterprises as they seek to fulfil their CSR," the report notes.
As part of the research, CNTAC visited 11 Chinese-funded factories in Bangladesh and Myanmar earlier this year, speaking with employees and local stakeholders.
It singled out these two countries because their low labour costs and preferential trade terms mean they have attracted increasing numbers of Chinese textile and apparel investors, "and will possibly become important overseas bases for the transfer of the Chinese apparel industry."
CSR management systems
Among its recommendations, the research advises Chinese companies heading overseas to "establish a more perfect CSR management system" based on Western practices, "adopting a performance reporting mode that combines finance, the environment, and social responsibility, and disclosing comprehensive operating results to the public in a transparent manner, in order to win trust and support."
So far, it says, most Chinese-funded enterprises in Bangladesh and Myanmar have not established a CSR disclosure or reporting system.
Also lacking is adequate investment in training, partly due to high worker turnover rates. "Enterprises should realise that training is a necessary way to increase the efficiency of employees…[and] can shape people and make employees more loyal to the enterprise."
Another issue is security protection. "Some workers have complained that the plant has provided corresponding labour protection facilities and devices, but has not taught them how to use these things."
The importance of collecting and analysing information is also emphasised. "For example, child labour prevails in Bangladesh and Myanmar. Even if an enterprise strictly verifies workers' identity certificates, it cannot completely rule out the use of false identities. If an enterprise verifies identities through diverse channels, it can at least find problems at an early stage, rather than not discovering the problem until a factory audit."
Supervision of raw material and service outsourcing suppliers is also recommended, to "not only to meet the requirements of brand owners but also to cover the entire supply chain in respect of corporate social responsibility. Judging by the current situation, enterprises still have a very big space for improvement in this regard."
And philanthropic activities are also advised. "Our survey shows that Chinese enterprises do not attach much importance to such practices, and invest very limited resources in this area."
Culture clash
Problems are also found to have arisen through communication difficulties and cultural differences between Chinese management and local workers. One solution, the report says, is to employ more local management.
"Many investment companies are not assured of the quality and management of local employees, and believe that only Chinese employees are competent for the management of ordinary labour. However, Bangladesh and Myanmar have their own unique languages and cultural backgrounds. Ordinary workers have limited abilities in English, so Chinese managers find it difficult to understand them.
"This results in misunderstandings, strikes, and other extreme events. Some enterprises hire interpreters to communicate with local employees. However, interpreters cannot properly express the full meaning of Chinese managers' words, causing bigger misunderstandings."
Inadequate communication is blamed for strikes that have resulted from misunderstandings about overtime wages and holiday leave.
Suggestions for stakeholders
The report also notes that stakeholders have a role to play by offering "tangible and effective help" to companies, "rather than simply setting requirements."
For instance, the Chinese government has explicitly called upon enterprises "going global" to meet their corporate social responsibilities – but lacks guidelines pertaining to concrete industries and specific countries (regions). "So, we suggest that related regulatory authorities strengthen CSR training for textile enterprises "going global"."
The authors also suggest many factories wrongly believe that buyers' efforts to promote corporate social responsibilities are limited to factory reviews and audits.
"If a buyer does not truly participate in cultivating awareness of corporate social responsibility, and only "instructs" or "intervenes" from above, the enterprise will only deal with various inspections mechanically, which will reduce review and audit to a form."
Instead, the relationship between buyers and suppliers needs to move away from one in which buyers review suppliers, reduce product prices, and set CSR requirements that "severely threaten suppliers' interests."
In future, buyers "should concede part of their profit income to sharing the CSR cost with the supplier," and "urgently need to establish a uniform, consistent, and comparable assessment standard" so that suppliers do not have to go through repeated inspections for different clients.
Buyers are also urged to provide tangible help for suppliers to resolve any problems after an inspection.
Click here to read the complete report.