Rana Plaza two years on: Timeline of change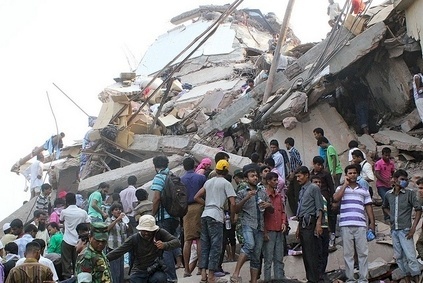 The Rana Plaza building collapse killed at least 1,138 garment workers two years ago
On the day of the second anniversary of the Rana Plaza building collapse in Bangladesh, just-style looks at the progress that has been made to improve worker and building safety within the country's ready-made garment industry. While there are still calls for greater social dialogue and more funding for compensation payments, the efforts made to improve working conditions have been applauded.
24 April 2013: An eight-storey factory building complex at Rana Plaza in the industrial outskirts of Dhaka, Bangladesh, collapses killing at least 1,138 garment workers and injuring over 2,500 more. Exact numbers are sketchy, with hundreds of bodies remaining unidentified or missing. The world's worst industrial accident in 30 years came just five months after the Tazreen factory fire in Dhaka, where more than 120 workers lost their lives. The Rana Plaza building housed five clothing factories - Ether Tex, New Wave Bottoms, New Wave Style, Phantom Apparels and Phantom Tex - and a mall. The collapse was caused by the illegal addition of two floors on an already sub-standard building.
1-4 May 2013: A joint statement is signed by tripartite partners (government, workers, employers) identifying key areas for action, such as the assessment of the structural integrity of ready-made garment factory buildings; strengthening labour inspection; worker and management training and awareness of occupational safety and health and workers' rights; rehabilitation and skills training of disabled workers; and the possible establishment of the International Labour Organization (ILO) Better Work programme.
13 May 2013: The first of two major remedial plans is launched. The Bangladesh Accord on Fire and Building Safety is backed by global unions and mostly-European companies, with founder members including Benetton, C&A, Carrefour, Debenhams, Esprit,H&M, Inditex, Marks & Spencer, Otto Group, Primark, Puma, PVH, and Tesco. The full list of signatories now extends to more than 200 companies, and can be seen here. The Accord covers 1,639 supplier factories.
The legally-binding five-year Accord commits to independent safety inspections with public reports on all Bangladeshi suppliers used by the signatory companies, mandatory repairs and renovations, the obligation by brands to underwrite the costs of safety upgrades, and repercussions for suppliers that refuse to improve conditions including the termination of business. It also binds signatories to maintain sourcing volumes in Bangladesh for two years.
27 June 2013: The US decides to suspend the Generalized System of Preferences (GSP) benefits to Bangladesh - the system under which it can export certain goods to the US duty-free. While this has little impact on apparel - the vast majority of products do not enjoy GSP relief - it sends a powerful signal to the Bangladeshi government and business leaders. Renewal is due to be reconsidered again in May 2014.
8 July 2013: The EU, Bangladesh Government and ILO issue the Global Sustainability Compact to promote improved labour standards, the structural integrity of buildings and occupational safety and health, and responsible business conduct in the RMG and knitwear industry in Bangladesh. The Compact assigns an important coordination and monitoring role to the ILO.
10 July 2013: Certain elements of the Accord present a major stumbling block to North American firms, including the way in which disputes are resolved, which many US companies feared would subject them to potentially unlimited legal liability and litigation. As a result, a group of 26 mostly North American brands and retailers, including Wal-Mart, Gap, JC Penney and VF Corp commit to the Alliance for Bangladesh Worker Safety. The Alliance covers 770 supplier factories. A comparison of the Alliance and Accord can be seen here.
15 July 2013: Amendments are made to the Bangladesh Labour Act, including provisions on workplace rights, safety and health. Progress is also seen on the registration of new unions following the labour law reforms, with over 140 new unions registered to date - compared to just two in the preceding three years.
25 July 2013: The Accord and Alliance between them cover 2,409 of the 3,498 Bangladesh factories making garments for export, although it is also estimated that there are another 1,500 factories and facilities on top of this. To address the shortfall, the Government of Bangladesh and representatives from local employers' and workers' organisations sign an integrated National Tripartite Plan of Action on Fire Safety and Structural Integrity in the garment Sector of Bangladesh (NTPA), coordinated by the ILO.
22 October 2013: The ILO launches a US$24m, three-and-a-half year programme on improving working conditions in the ready-made garment sector. The programme is designed to support the National Tripartite Plan of Action. A new Better Work programme is also launched in Bangladesh.
7 November 2013: The ILO brings together technical experts (structural engineers, fire safety experts) from the Bangladesh University of Engineering and Technology (BUET) on behalf of the NTC, the Accord, and the Alliance. The experts agree on harmonised standards for structural and fire safety assessments.
22 November 2013: Led by engineers from BUET, assessments of the structural integrity and fire safety of RMG factory buildings officially commence.
1 December 2013: A new minimum wage for garment workers comes into effect, rising by 77% to $68 (BDT5,300) per month. The basic salary is also set to rise by 5% each year.
15 January 2014: The Government of Bangladesh upgrades the chief inspector of factories and establishments office to a department, sanctioning 679 new staff positions, including 392 new inspectors.
17 January 2014: The Accord on Fire and Building Safety in Bangladesh finalises the fire, electrical, and building inspection standards against which all its member supplier factories will be assessed. Click here to see the full scope of the building standards.
20 February 2014: Accord factory inspections get underway, with 38 teams of fire, electrical and structural engineers due to conduct 250 inspections a month until September.
12 March 2014: Alliance factory inspections get underway. By 22 April, inspections have been completed on more than half of them, and are due to be finished by July.
18 March 2014: The Rana Plaza Coordination Committee adopts the Rana Plaza Arrangement to provide compensation to all injured workers, dependents of the dead and missing, and non-injured workers present in the complex when it collapsed.
23 April 2014: The Rana Plaza Coordination Committee agrees to award BDT50,000 (US$650) each to victims of the building collapse as advance compensation payments. The fund has so far received about $15m of the estimated $40m needed to compensate all victims.
15 May 2014: Production has been suspended in 12 factories supplying a group of brands and retailers in Europe, North America, Asia, and Australia following concerns over building safety. A total of 1,500 factories are due to be inspected between February and October 2014. So far more than 550 factories have been inspected for fire and electrical safety and 480 for structural safety.
26 June 2014: The Accord on Fire and Building Safety in Bangladesh publishes factory inspection reports and film footage in a move it says is a commitment to be more transparent. To date, it has completed around 800 inspections for fire, electrical and structural safety.
25 July 2014: The Accord calls on retailers and clothing brands to contribute more funding in order to complete its factory inspections. It says it is still on track to complete its inspection of all 1,500 factories used by its signatories by September 2014 - and that it still expects to spend around $48m on the five-year project. But, it adds, the amount will now need to be front-loaded to complete inspections on the remaining 700 factories.
31 July 2014: UK apparel retailer Matalan makes a contribution to the Rana Plaza Compensation Trust Fund following a social media campaign calling on the group to pay GBP3m (US$5.1m). At present, the fund has raised $17.7m of its $20m target for the first round of payments.
12 August 2014: The Accord says it is "on track" with the initial inspections of factories used to supply garments to its member companies, which are due to be finalised next month.
27 August 2014: Supermarket giant Auchan Group reveals it will contribute $1.5m to the Rana Plaza Donor's Trust Fund – but maintains that it had no business relationship with anyone based in the building.
9 September 2014: The Rana Plaza Trust Fund distributes BDT108m (US$1.4m) to 700 cases, including dependents of 332 deceased victims and 368 injured survivors, in the first of a two-part instalment.
30 September 2014: The Fund makes first compensation payments - BDT127.1m (US$1.64m) to 1,587 beneficiaries. The beneficiaries received payments to the level of 40% of the amount they're entitled to, with deductions for advanced payments already received.
18 February 2015: Ian Spaulding, senior advisor to the Alliance, talks to just-style about the "good progress" the group is making on its goals, and explains what still remains to be done. Click here to read the full interview.
23 February 2015: Benetton reveals it is to make a contribution to the Bangladesh Rana Plaza Trust Fund that compensates victims of the disaster, after nearly 1m people signed a petition calling on the company to pay into it.
25 February 2015: Some 110 additional labour inspectors have been recruited in Bangladesh and are being trained in an ILO programme, bringing the total recruited since the disaster to 178.
16 March 2015: A government-backed telephone helpline has been set up to help Bangladesh garment workers make and resolve grievances relating to workplace safety or worker rights. It will initially target ready-made garment workers in Ashulia, near Dhaka, and if successful, will be rolled out for workers across the country.
20-24 March 2015: With a month to go until the two-year anniversary of the disaster, Benetton is urged to make the donation it promised into the Rana Plaza Donors Trust Fund in time for the next round of compensation payments.
26 March 2015: The ILO releases an update on RMG factory inspections. Of the 3,508 total factories in the country, 2,703 or 77% have been inspected, and 32 have closed.
1 April 2015: Primark reveals it has completed paying more than 95% of long-term compensation payments to the 668 victims of its Rana Plaza supplier New Wave Bottoms. The retailer's payments stand at $14m, of which long-term payments amount to $11m and have been made in full, in cash.
17 April 2015: Benetton Group reveals it will double the amount of compensation paid into the Rana Plaza Trust Fund to US$1.6m following an independent assessment by PwC. However, the $1.1m payment is described as "insufficient" by the Clean Clothes Campaign (CCC), which has been calling on the retailer to pay $5m.
20 April 2015: The Rana Plaza Coordination Committee says it has has distributed a total of BDT760m (US$9.8m) to the injured and family members of the deceased and missing workers of the building collapse, after paying BDT310m to 2,968 eligible claimants earlier this month.
22 April 2015: A report by Human Rights Watch suggests Bangladesh needs to effectively enforce its labour law and ensure garment workers can voice their concerns without fear of reprisal if it is to prevent another disaster like Rana Plaza. The report, 'Whoever Raises Their Head, Suffers the Most: Workers' Rights in Bangladesh's Garment Factories' says government and western retailers should do more to enforce international labour standards to protect workers' rights. Click here for more details.
Meanwhile, a report looking at the response of Canadian businesses to Rana Plaza suggests internal supplier auditing programmes are still not doing enough to address the risks. The Shareholder Association for Research & Education (SHARE) analyses the response to the disaster by Gildan Activewear, HBC, Loblaw, Lululemon, Reitmans, Sears Canada and Canadian Tire. Click here for more details.
Separately, Jean Lambert, Green MEP for London, urged the remaining retailers and fashion brands who have yet to contribute to the compensation fund for victims of the tragedy to do so without further delay.
24 April 2015: The ILO, Alliance and global union IndustriAll highlight the progress that has been made towards a safer ready-made garment industry in Bangladesh, but outline the challenges that lie ahead.
Create sourcing plans that work
Find new apparel sourcing destinations, assess trade flows and manage tariffs. All in one place.
HOT ISSUE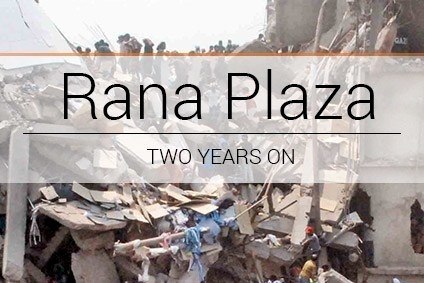 Oops! This article is copy protected.
Why can't I copy the text on this page?
The ability to copy articles is specially reserved for people who are part of a group membership.
How do I become a group member?
To find out how you and your team can copy and share articles and save money as part of a group membership call Sean Clinton on
+44 (0)1527 573 736 or complete this form..