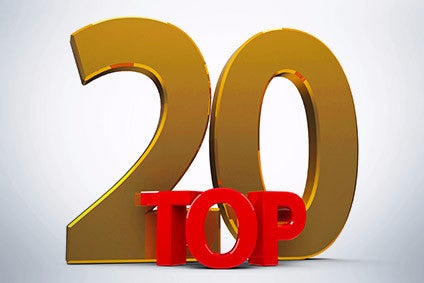 In this year-end roundup we to take a look at the top analysis pieces on just-style in 2017. Trump and trade, sewbots, digitisation, sourcing challenges and retail trends were just some of the issues we analysed.
1: Foreign investment continues in Ethiopia clothing sector Ethiopia attracted foreign investments of US$1.2bn in the first six months of the 2016/17 fiscal year, with these financial injections dominated by major Chinese companies – half of which are licensed in textile and garment manufacturing.
2: Esquel – From making shirts to making a difference Hong Kong-based textile and apparel giant Esquel Group has made it its mission to weave sustainability into its core values, and across a vertical supply chain that spans every step from cotton farming to retail. Using fewer but more skilled workers, increasing productivity, investing in robotics and automation, micro-financing cotton farmers, and even selecting the whitest cotton fibres to reduce the bleaching process are among the initiatives outlined by managing director Edgar Tung.
3: Digitisation – The next apparel sourcing hotspot? So far, the promise of digitisation in the apparel industry remains largely unfulfilled. But with opportunities for new cheap supplier countries nearly exhausted, it is now seen as offering sourcing executives untapped potential to lower costs, shorten lead times and increase transparency. A new survey takes a deep dive into unlocking digitisation's potential.
4: Five key buying practices that put pressure on suppliers A worldwide survey set out to understand one relatively under-explored aspect of global supply chains: how buyer purchasing practices can put pressure on suppliers in terms of timeline, prices and delivery – and the knock-on impact on suppliers' capacity to provide decent wages and working conditions.
5: How Li & Fung is getting smarter, faster, more efficient As global sourcing specialist Li & Fung works to differentiate itself from traditional buying agencies, the Hong Kong company is confident the traction it is gaining since the start of its current three-year plan is already enabling smarter, faster and more effective decisions.
6: Ten retail trends to watch for in 2017 The rise of e-commerce, the adoption of increasingly intelligent technology, faster delivery and the need for better supply chain visibility will all likely dominate the retail industry through 2017. Fung Global Retail & Technology offers some retail trends to watch out for in the year ahead.
7: Is the apparel industry about to be Trumped? – Infographic The election of Donald Trump as the 45th president of the United States casts a shadow of uncertainty over the textile and apparel sector, with his promises to tear up US trade agreements, impose tariffs on imports from China and Mexico, and bring back US jobs and manufacturing. Here we take a closer look at what's at stake, with a special infographic powered by re:source from just-style, a new tool that uses data and intelligence to help apparel companies save time, reduce cost and manage supply chain risk.
8: An Epic milestone for apparel made in Ethiopia The scale of Ethiopia's ambition to become a world-leading apparel and textile hub is epitomised by the flagship Hawassa Industrial Park, where 60,000 jobs and US$1bn in exports are targeted by the end of next year. In the latest milestone taking it closer to this goal, Hong Kong based Epic Group has completed its first commercial garment shipment to US retailer The Children's Place.
9: Central America makers eye export surge under Trump Central America could benefit from a NAFTA re-write under US president-elect Donald Trump, according to local executives, who are optimistic of a surge in apparel exports as many China orders swing back to the region.
10: How the global apparel sourcing landscape is changing As usual MAGIC, one of the largest fashion trade shows in the United States, held 13-16 August in Las Vegas, was crowded and hot. The event attracted over 81,000 attendees, including vendors, buyers, service providers and educational institutions coming from over 40 countries and regions. Dr Sheng Lu, assistant professor at the Department of Fashion and Apparel Studies at the University of Delaware, presents his thoughts from the event regarding the industry outlook and the changing landscape of apparel sourcing.
11: Outlook 2017 – Ten apparel supply chain takeaways Several recurring themes cropped up in just-style's roundup of sourcing and supply chain issues likely to impact apparel and footwear firms in 2017. The reports, which ran across four articles and more than 11,000 words, combined the views of a panel of industry executives. Here we condense their words of wisdom.
12: Sewbots pave the way for the apparel factory of the future While the use of robotics in the apparel production process remains a frustratingly elusive panacea, fully automated worklines for T-shirts and workcells for jeans operations are finally on the horizon – and with them the potential to disrupt and redesign the traditional clothing supply chain.
13: Apparel factory auditing appears in the firing line Two separate pieces of research are calling for a new approach to the garment factory auditing process, claiming that not only is there a need for more meaningful auditing that goes beyond ensuring basic compliances, but also that their current checklist approach has contributed to the problem of poor working conditions in many manufacturing hubs.
14: Primark challenges critics with India cotton initiative With the ultimate aim of ensuring all the cotton in its products is sourced sustainably, value clothing retailer Primark is adamant that having a business model focused on offering the lowest prices on the high street is not at odds with efforts to improve ethical standards in its supply chain. just-style's deputy editor Michelle Russell found out more during a trip to northern India where the company's sustainable cotton programme is taking shape.
15: Why speed is a new currency for Li & Fung Changing mindsets and challenging the status quo are key to building fast and smart supply chains, according to Paul Fowler, chief information officer at Hong Kong-based global sourcing specialist Li & Fung.
16: Trump trade plans spell trouble for Asia apparel sourcing As US President Donald Trump has been wasting no time carrying out his campaign pledges to undo long-standing American trade ties, the Asian apparel industry and the US retailers it supplies have ample reasons to be on edge.
17: TPP demise helps propel fabric mills to Ethiopia Textile investment is pouring into Ethiopia, helped by the shared vision of brands, manufacturers and fabric mills, government support, preferential trade deals, investments in infrastructure, low costs – and an unexpected windfall from the end of the Trans-Pacific Partnership (TPP).
18: Change or die – the stark message for supply chains The old guard of the United States apparel and footwear industries better wise up to changes occurring all along the supply chain if they want to see their companies survive, the head of a leading Hong Kong based research centre told a room of industry representatives in New York last week.
19: Still no apparel sourcing alternatives to China While China might have passed its zenith as the dominant player in apparel sourcing, the country's indispensable role is expected to remain for some time to come, according to a new survey of supply chain executives.
20: Why Nike is laser-focused on getting faster Sporting goods giant Nike Inc continues to pin its hopes on speed and scale as the driving forces for future growth – and is already getting faster in creating, making and delivering its products.
Click on the following links for a look at what else led the way on just-style in 2017: