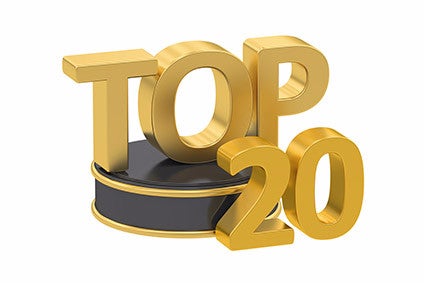 In this year-end roundup, we take a look at the top analysis pieces on just-style in 2018. Trump and trade, blockchain, digitalisation, sourcing challenges and retail trends were just some of the issues we analysed, while the new re:source by just-style online sourcing tool helped measure and compare labour costs for the world's top 25 clothing supply countries.
1: Timeline – Trump's track record on trade – Update Since President Donald Trump took office in January 2017, his administration has been busy fulfilling major campaign promises on trade policy – much to the concern of US fashion brands and apparel retailers. To keep abreast of developments, Dr Sheng Lu, associate professor in the Department of Fashion and Apparel Studies at the University of Delaware, has compiled a timeline of all the key milestones.
2: How labour costs compare across 25 top supply countries It takes more than cheap labour to produce competitively priced clothing – and the re:source by just-style online sourcing tool lets us quickly measure and compare how labour costs stack up for the world's top 25 clothing supply countries.
3: Successful price negotiation in global apparel sourcing Price negotiation is a critical, and often stressful, aspect of apparel sourcing – but it is also integral to the health of any brand's bottom line, so getting it right is crucial. Here we offer some key tips in negotiation tactics.
4: Trump Trade – The tariffs are coming, the tariffs are coming! Tariff discussions are looming over the White House – and everyone in the apparel, footwear, and accessory industry should be on high alert, writes Rick Helfenbein, president and CEO of the American Apparel & Footwear Association (AAFA).
5: Can blockchain transform the apparel supply chain? Blockchain is the big buzzword in business circles at the moment, and a string of blockchains is evolving to disrupt the sourcing and retail landscape. But what is blockchain, how do these chains work and can they really revolutionise the fashion industry? Here we take a closer look.
6: Who will hurt most from US tariffs on Chinese clothing? The threat of tariffs being imposed on all goods imported into the US from China would be a "credit negative" for the US apparel and footwear sector, leading to higher costs and gross margin pressures for up to two years until companies adjust their sourcing patterns.
7: New NAFTA 2.0 – The devil is in the detail The new United States-Mexico-Canada Agreement (USMCA) – also dubbed NAFTA 2.0 – has finally been agreed, but what does it mean for apparel sourcing? Here Dr Sheng Lu, associate professor at the Department of Fashion and Apparel Studies at the University of Delaware, takes a close look at the new apparel-specific rules of origin.
8: 12 of the world's most innovative fashion companies Six apparel retailers have made it onto Fast Company's annual ranking of the world's Most Innovative Companies (MIC) for 2018, while another six clothing specialists are seen as pioneers in the 'Style' category.
9. What should suppliers do when retailers go bust? Difficult trading conditions on the high street, increased online competition, rising costs and low consumer confidence are pushing retail bankruptcies to record-highs. Yet while the store closures and redundancies are widely reported, the fallout is also reverberating further along the supply chain.
10: Li & Fung's 'shot at the moon' approach to digitalisation Digitalisation offers a solution to some of the challenges facing the global apparel industry – but as Spencer Fung, group CEO of Li & Fung explains, the goalposts are constantly evolving.
11: The world's 10 worst countries for workers An annual survey of violations of human and trade union rights ranks key apparel-producing nations including Bangladesh, Cambodia, Colombia, Egypt, Guatemala, the Philippines and Turkey among the ten worst countries in the world for worker rights.
12: Why Hong Kong is the new hub for sustainable innovation Hong Kong's once powerhouse textiles and apparel sector might be shrinking, but that doesn't mean it's losing its significance. Far from it. A number of new projects being unveiled in September – and revealed exclusively on just-style – include the first mill being set up in the territory in more than half a century to produce recycled yarn from post-consumer apparel.
13: How to build a balanced apparel sourcing strategy A balanced scorecard approach is key to helping supply chain managers make the best decisions around where in the world their garments are made, based on at least 10 factors ranging from cost to speed to market. Here, we offer advice on how to achieve a balanced sourcing strategy.
14: Where are the world's key sources of denim fabrics? What are the key sources in the world supply of denim fabrics? In particular, which countries play a major role in the trade of this essential material? And do global trade flows offer an insight into possible future trends? We take a look at the data.
15: Changing trends in world textile and apparel trade The value of world textile and apparel exports returned to growth in 2017 for the first time in two years, with notable trends including China's textile shipments reaching a new record high and Vietnam's continuing climb as a leading exporter. In turn, these shifts are closely linked to changing patterns in world apparel manufacturing, writes Dr Sheng Lu, associate professor in the Department of Fashion and Apparel Studies at the University of Delaware.
16: Turkish textile and clothing exporters in bullish mood At first glance, the future looks bright for the Turkish economy in general, and the textile and garment manufacturing sector in particular. During the recent Istanbul Yarn Expo there was optimistic talk of growth and progress, with machinery suppliers at the neighbouring ITM fair confirming that Turkish investments are on the rise. But there are concerns, too, as Jozef De Coster reports.
17: US brands ponder sourcing switch away from China The ongoing trade dispute between the US and China could accelerate the trend for American apparel brands to shift their sourcing away from Chinese suppliers – but any such moves will pose challenges.
18: Myanmar facing hurdles in garment industry growth A few years ago, optimistic observers believed that by 2020 the Myanmar garment industry would employ 1.5m people and generate US$10-12bn in exports. With this date now looming, such performance seems out of the question. Even attaining these figures in 2024, the new target date, seems overly ambitious. Jozef De Coster looks at some of the challenges facing the sector.
19: Four key patterns in US apparel imports What do the changing dynamics of US apparel imports reveal about the shifting sourcing and supply chain strategies of US fashion brands and retailers? Dr Sheng Lu, assistant professor in the Department of Fashion and Apparel Studies at the University of Delaware, takes a look
20: Bangladesh manufacturers making inroads into lingerie Lured by a shifting global market and better margins, Bangladesh's apparel producers are rushing into the lingerie space – predicting Chinese manufacturers will secure fewer export orders for these lines as their costs rise.