Top 20 analysis articles on just-style in 2020...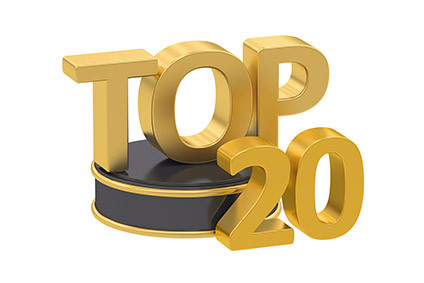 just-style's top 20 picks of 2020
In this year-end roundup, we take a look at the top analysis pieces on just-style in 2020. The Covid-19 pandemic inevitably dominated the coverage, while exploitation in Leicester's garment industry, new manufacturing models, trade, and sourcing trends also featured.
1: US-China tariff war – The textile and apparel hit-list updated
Amid the rapidly shifting goalposts of the US-China tariff war and the imminent addition of punitive duties on textiles and apparel imported into the US from China, we've taken an updated look at the latest actions and the products on the hit-list.
2: China clothing factories struggling to get back on track
China's clothing and textile makers are struggling to get back on track amid the continuing novel coronavirus epidemic – telling just-style that quarantined workers, travel restrictions and material delays are disrupting production and causing ongoing uncertainty.
3: Covid-19 an opportunity to "reset and reshape" the fashion industry
The coronavirus (Covid-19) pandemic will provide the global fashion industry with an opportunity to "reset and reshape", a new report says, with digital acceleration, discounting, consolidation and innovation all expected to feature. Once the dust settles on the immediate coronavirus crisis, the global fashion industry will face a recessionary market and an industry landscape still undergoing dramatic transformation, according to an update to 'The State of Fashion 2020' report by Business of Fashion (BoF) and McKinsey.
4: Ethiopia textile and clothing sector must get smarter
Ethiopia's clothing and textile sector needs to invest in creating a reliable quality domestic supply chain to grow and meet government targets for expanding export sales. Sintayehu Teshome, a textile and garment engineer working at the Ethiopian Textile and Garment Association (ETGAMA), which represents more than 120 medium and large companies, believes the sector still has many challenges to overcome to fulfil its potential. This is despite government incentives such as the construction of industrial parks and generous investment lease policies, as well as Ethiopia's low labour costs.
5: Canada's clothing market – Top selling and sourcing trends
The US-Mexico-Canada Agreement (USMCA) – the regional free trade pact that replaces the North American Free Trade Agreement (NAFTA) – entered into force on 1 July 2020. Mikayla DuBreuil and Dr Sheng Lu from the University of Delaware take a deep-dive analysis into the Canadian apparel market and its sourcing patterns.
6: Ten breakthrough apparel innovations at CES 2020
just-style rounded up ten innovations in the apparel and footwear sectors presented at CES 2020 in Las Vegas. The world's biggest tech conference saw global brands showcasing everything from robotics to artificial intelligence (AI) solutions and wearable tech innovations.
7: Boohoo investigation could have lasting impact on transparency in fashion
Boohoo's share price slumped in July as a growing number of retailers ditched the group's brands from their websites over claims of exploitation and unsafe conditions at one of its UK supplier factories. Analysts have questioned where Boohoo goes from here and how it will affect fashion's transparency problem.
8: Covid-19 has taken its toll on Sri Lanka clothing sector
Covid-19 has taken its toll on Sri Lanka's textile and clothing sector, with exports forecast to plummet 30% in fiscal 2021. The country's national clothing industry has revised its estimate from a target of US$5.6bn for the financial year ending March, to US$3.9bn – a drop of US$1.7bn year-on-year for April 2020 to March 2021.
9: Fast fashion faces shake-up in post-Covid-19 world
The Covid-19 pandemic will not just threaten business failure for many clothing brands and manufacturers, it may herald the end of the current high production, fast fashion model and result in fewer, smaller collections from more sustainable supply chains.
10: Covid-19 – The worst-case scenarios for apparel sourcing
The fast spread of the coronavirus around the globe has created an unprecedented situation for the world economy. But how might Covid-19 affect apparel sourcing and trade? Dr Sheng Lu, associate professor in the Department of Fashion and Apparel Studies at the University of Delaware, has analysed the worst case scenarios.
11: Coronavirus shaking up China's apparel supply chain
According to the World Health Organization (WHO), as of 11 February 2020 there have been 42,968 confirmed cases of novel coronavirus (2019-nCo) in 25 countries – with by far the majority (42,708) in China. The death toll is 1,018. China based analysts are raising concerns that the novel coronavirus outbreak will disrupt supplies of apparel to major international fashion brands.
12: Sourcing powerhouse PDS Group invests for future growth
As its fashion sourcing business continues to recover from the disruption wrought by the coronavirus pandemic, PDS Group has wasted no time in picking up the pace on new projects and investments to broaden its portfolio.
13: How will EU trade curb affect Cambodia's apparel industry?
Cambodia's garment industry, already buffeted by the coronavirus pandemic, is set for a further hit after the European Union decided to suspend duty-free access for some products from 12 August over "systematic" human rights violations. Abby Edge and Sheng Lu from the University of Delaware, analyse the potential impact and possible shift in trade patterns.
14: Industry 4.0 weaves into the clothing supply chain
Experts told just-style of the urgent need for the clothing sector to embrace Industry 4.0 to boost productivity and harness creativity by providing a single, connected platform for all supply chain processes.
15: Five changes to expect at Nike as Donahoe takes charge
It's all change at the top for sportswear giant Nike Inc as John Donahoe took over the reins as the company's fourth CEO in its 55-year history in January. But with a background in technology rather than retail and sportswear, what changes are likely under his leadership?
16: Covid-19 inventory glut adds to garment industry grief
With spring/summer now a write-off for most fashion retailers, the resulting flood of excess inventory – and the subsequent discounting and margin erosion – will likely lead to widespread administrations for companies in the UK, Europe and the US.
17: Five ways world textile and apparel trade is changing
The World Trade Statistical Review 2020 released by the World Trade Organization (WTO) offers an insight into fashion companies' evolving production and sourcing strategies – and points to new patterns of world textiles and apparel trade in 2019. Dr Sheng Lu, associate professor in the Department of Fashion and Apparel Studies at the University of Delaware, sets out five key trends to watch.
18: Micro-factories – The future of fashion manufacturing?
The globalisation of fashion supply chains has seen fashion manufacturers in developed high wage countries lose business to larger scale suppliers in lower cost countries. But the trend towards digitisation and mass customisation means micro-factories close to customers will be a key component in the future of fashion manufacturing, according to Roit Kathiala – with benefits including speed-to-market, flexibility and a lower carbon footprint.
19: Covid and EU duty-free loss a double blow for Cambodia
The Covid-19 pandemic could not have come at a worse time for Cambodia's garment sector, since it coincides with the partial withdrawal of the country's duty-free access to the European Union (EU) market.
20: 3D virtual design and fit tools keep fashion on track
With fashion supply chains around the world fracturing in the face of travel bans, factory shutdowns and remote working, tools such as 3D virtual design, fit and prototyping software are helping businesses to stay on track.
Sectors: Apparel, Deals, Fibres & fabrics, Finance, Footwear, Manufacturing, Retail, Social & environmental responsibility, Sourcing, Technology, Trade
Create sourcing plans that work
Find new apparel sourcing destinations, assess trade flows and manage tariffs. All in one place.
Oops! This article is copy protected.
Why can't I copy the text on this page?
The ability to copy articles is specially reserved for people who are part of a group membership.
How do I become a group member?
To find out how you and your team can copy and share articles and save money as part of a group membership call Sean Clinton on
+44 (0)1527 573 736 or complete this form..