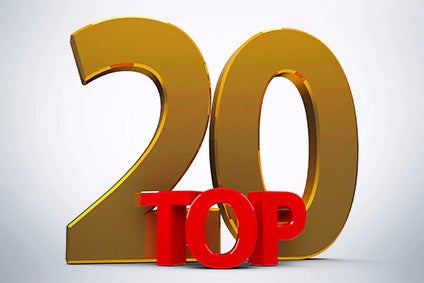 Instead of the regular roundup of the most-read news pieces on just-style during the week, we thought a fitting end to the year would be to take a look at our top analysis pieces in 2016. Child labour, trade deals, Trump's election, 3D printing, the impact of Brexit, and sustainability are just some of the issues we analysed.
Supply chain risk management has declined in priority, with many organisations citing lack of bandwidth and budget as the biggest roadblocks. Yet, according to a new report, those that take a more pragmatic approach will capture the most powerful insights.
While Vietnam is likely to see some of the biggest apparel export gains from the Trans-Pacific Partnership (TPP), a new report confirms industry concerns that its shortfall in yarn and fabric production, ability to meet yarn-forward rules of origin, capacity constraints and related price effects could all weigh on its potential.
An overhaul of its supply chain is at the heart of restructuring plans revealed this week by Ralph Lauren's newly-appointed CEO Stefan Larsson, including a new test pipeline, shorter lead times, reduced inventory and a focus on fewer styles and more on-trend merchandise.
3D-printing has already transformed the manufacturing process in many industries, but an assessment of the technology by analysts at Bernstein Research seems to suggest much more progress still needs to be made before it has the potential to impact apparel.
International trade deals, particularly the Trans-Pacific Partnership (TPP), may well fall by the wayside following the upset victory of Republican Donald Trump for the US presidency, participants at the 28th Apparel Importers Trade & Transportation Conference have warned.
Earlier this year apparel giant PVH set up Innovation Next, a new department dedicated to preparing for the big ideas coming at the industry – including connected apparel and implications for the supply chain. just-style takes a closer look.
One month after the UK's Brexit referendum vote to leave the European Union (EU), the British clothing industry has been weighing up the immediate impact and trying to assess what might happen in advance of any longer-term trade solution.
Could corporate social responsibility (CSR) be the secret weapon to countering some of the challenges currently facing apparel and textile producers in China? New initiatives and in-factory research suggests that not only is an engaged workforce likely to be more motivated and easier to retain, but it is more productive too – with benefits ultimately being seen on a company's bottom line.
The new boss at British high street giant Marks & Spencer has set out his plans to turn around the retailer's key clothing division by lowering prices and improving style, fit and quality – after the troubled unit saw like-for-like sales slump 2.9% over the past year.
Just how many factories there are in the Bangladesh garment industry, the size of the workforce, and the number of workers covered by the various initiatives aimed at improving factory safety? The answer, it seems, is that nobody knows for sure – and a row has now broken out between two groups of academics over their analysis.
Clothing manufacturing will be completely transformed by the internet and digital printing over the next five to ten years, according to industry experts speaking in Brussels this week at a conference on 'European Textiles: Going Digital – Going High-Tech'.
Executives from the smart textile and embedded sensor sectors gathered in London last month for the third edition of the annual Wearable Technology Show. Everything from performance enhancing sportswear to intelligent insoles and jackets that alert workers if they go too close to moving vehicles was on show. Katie Smith takes a closer look at some of the highlights.
The legal minimum wage and purchasing power of average monthly pay in some of Bangladesh's factories falls below World Bank poverty lines, a new report has found.
Upward pressure on sourcing costs is one of the new challenges set to face US apparel retailers in 2016 as a "fair, living wage" and "decent work conditions" become an integral part of product sourcing and marketing.
While consumers increasingly crave instant gratification, one-of-a-kind merchandise, and more options than ever before in terms of products and how and where to buy them, retailers and brands are being hampered by supply chains that are legacies of a previous era. Is a fundamental redesign the answer? Or can existing ones be improved?
The new Paris climate change deal struck at the COP21 summit late last year should be yet another catalyst for the apparel industry and its supply chain to devise more environmentally-friendly solutions and to collaborate more effectively. But as speakers at this month's Prime Source Forum in Hong Kong admitted, the path to success in sustainability is never going to be an easy one.
With advantages that include the best cotton in the world, thousands of textile and garment factories, low labour costs and duty-free access to key markets in the US, European Union (EU), the Middle-East and Africa, Egypt should have formidable potential. But at the same time it's facing a mountain of problems, including low labour productivity, lack of investments in ginning, spinning and weaving, difficult access to finance, and poor infrastructure.
As well as the business benefits of adopting radio frequency identification (RFID), there's wide scope to apply it across various parts of the supply chain too. So it may come as no surprise then that sustainability is emerging as the next use case for the technology, explains Jacky Broomhead, market development manager for apparel at supply chain standards organisation GS1 UK.
The US presidential election result is likely to have little impact on holiday spending plans – but changes to trade, labour and tax regulation could all have far-reaching implications for the retail industry, analysts believe.
Widespread poverty, low rates of secondary schooling, and lax labour law enforcement are being blamed for the presence of child labour in Myanmar's garment sector, with a new report suggesting the risk factors could increase as the manufacturing sector grows.
Click on the links below to read more of just-style's Top 20 lists…
Top 20 comment articles on just-style in 2016…
Top 20 news stories on just-style in 2016…
Top interviews on just-style in 2016…