Top tips for choosing and evaluating your suppliers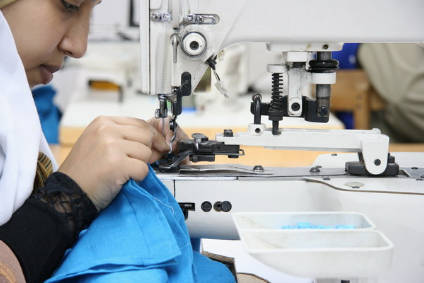 Finding out who else the factory works for is a good guide to the quality they produce
Finding the right supplier and creating a long-term relationship is something everyone in the fashion industry aspires to. It is the formula for creating a successful business – but it's also remarkably elusive. Here Liz Leffman offers some tips for anyone in the industry who wants to find a new factory, but isn't sure what to look for.
Changing suppliers when things go wrong is time-consuming, and can be expensive, so getting it right in the first place is really important.
For start-up businesses, finding the right supplier can be difficult as the quantities that they are able to offer are very small at the beginning. But even for more seasoned buyers, making sure that you know what criteria you are using to judge a factory is crucial.
Here are some pointers that may be helpful.
First contact
You have received an email from a factory that you think sounds interesting: how do you judge whether it is worth your while hopping on a plane to go and visit them, or trusting them with a sample to cost?
Here are a few questions you might want to get answers to first:
Where is the factory located? Can you get to it easily? What are the travel arrangements?
Can they make what you want?
Are they financially secure? (You can check them out using their country's equivalent of Companies' House, to make sure that they exist and are reasonably stable. They will probably do the same to you!)
How long have they been established?
Who else do they work for? This will be a good guide to the quality they produce.
Are they interested in the sort of quantities you can offer them? If you are a start-up, the volume of work you are able to offer the factory may be too small, or they may charge a big premium for making less than their usual minimum order.
The next stage
Meeting the factory people face to face is by far the best way of forming a strong relationship
Once you have established that the factory can make what you want, appears to be reliable and is interested in working with you, you will probably want to send them a garment to cost and, depending on whether their quote fits, you may then want to go and visit the factory yourself. This is in my view a crucial part of deciding whether to give them work. I have in my time come across many businesses who have given work to factories that they have not visited and while it is dangerous to generalise, meeting the people face to face is by far the best way of forming a strong relationship.
But before going it is important to establish the criteria against which you will be judging them. It will help to make a list and to have questions ready to ask while you are there, and things that you want to look at. Here are some suggestions (in no particular order):
Quality. Don't rely on what is hanging in the showroom. Have a look at what is in the warehouse – this will give you a very good idea not only of the standard of make but also of the customers they are working with.
Delivery. Do they manage their own deliveries or will you be expected to organise that?
Payment terms. How and when do they expect to be paid?
Communication. Is there someone that you can contact regularly for update on your production – does that person speak English?
Compliance. Have they got certification from other customers? Do they pay a minimum wage in line with local legislation? Can they demonstrate that they do not employ anyone under the legal age?
Capacity. Have they got the right capacity available when you want it?
Capability. Have they got the machines to make what you are looking for? Are they able to order the fabric and trims that you want or do you have to supply them? Do they have a design facility and a sample room? Can they grade patterns for you?
Factory environment. Is the factory clean and well lit? Do they have a separate rest/eating area for their staff? How are tidily the raw materials stored?
Presenting yourself to the factory
Relationships are two-way, and the factory will want to know as much about you as possible before offering you capacity. These are some of the questions you should be prepared to answer.
How long have you been in business?
Who are your customers?
Are you able to offer regular business or is it seasonal?
What do you supply and what do you expect from the factory?
What are your long-term plans?
The factory will want to be sure that you are reliable, just as you need to know that they will be.
The long-term relationship
Going through the process of finding a factory is very time-consuming, so making sure that you are happy with the factory before you give them any work will mean less stress for you. Building the relationship over the long term is the best way to ensure that you avoid production headaches.
Factories don't like to let customers down so they will try to give the customer what they are asking for. This sometimes results in them taking on orders that they can't deliver.
There is nothing worse than a delivery that has problems, and often those problems start with customers making unreasonable demands. So knowing the factory's limitations is an essential part of a successful relationship, as are good communications on both sides.
Develop that, and you have the basis for a strong, reliable partnership that will result in good business for both parties.
This article is based on a presentation made by Liz Leffman at last month's Fashion SVP apparel sourcing event in London. Leffman is a director at Clothesource, a UK-based consultancy that provides the western apparel buying community with objective information on apparel production, trade, price competitiveness, and apparel producers in over 100 countries.
Create sourcing plans that work
Find new apparel sourcing destinations, assess trade flows and manage tariffs. All in one place.
Oops! This article is copy protected.
Why can't I copy the text on this page?
The ability to copy articles is specially reserved for people who are part of a group membership.
How do I become a group member?
To find out how you and your team can copy and share articles and save money as part of a group membership call Sean Clinton on
+44 (0)1527 573 736 or complete this form..