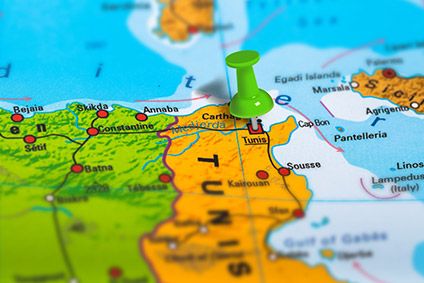 Tunisia's textile and garment sector is warning of major commercial and humanitarian damage because of production stoppages and order cancellations resulting from the ongoing coronavirus crisis.
According to the vice president of the Tunisian Textile and Garment Federation (FTTH), this important north African outsourcing hub faces harmful disruption, despite the proactivity of the Tunisian government.
The government and the Central Bank of Tunisia have announced emergency measures to support businesses, such as cutting interest rates, delaying the date of tax payments, and supporting banks who lend with delayed repayments.
A fund of TND2.5bn (US$870m) plus further funds including US$400m from the International Monetary Fund (IMF) have been promised to help Tunisia, its people and businesses to survive the Covid-19 crisis.
But the government has also taken a tough line on operations, with Prime Minister Elyes Fakhfakh on 21 March closing Tunisia's garment factories. Only those with special licenses to produce protective clothing such as surgical masks and gowns remain in production. An initial two-week lockdown for all Tunisians started the next day.
Tunisian economist Ezzedine Saidane told just-style the funds and measures proposed do not go far enough. "You need to delay payments in terms of loans, taxes and power bills and you have to make sure that companies can access further borrowing to keep their business going."
Cancelled orders
The vice president of the FTTH (La Fédération tunisienne du textile et de l'habillement), Nafaa Ennaifer, adds: "The big problem is cash flow because customers have cancelled orders [mid-season]."
Producers have bought expensive inputs that may not be used, Ennaifer says. "For example, a factory that supplies knitwear to Hugo Boss and Replay has outlayed EUR9m on yarn."
Ennaifer is deeply concerned about the industry's workforce. "There is a real issue of social responsibility to our employees. At the moment, we can only afford to pay them March's salary – after that, they are effectively unemployed."
However, Haithem Bouagila, a board member of FTTH, told just-style that in some cases, larger clients such as his customer Hugo Boss are supporting Tunisian factories through this difficult time. He says his factory will be able to pay his staff in the coming months.
And the closures and lockdown could continue well beyond any projected April end date. Tunisian health minister Abdellatif Mekki told a press conference on Sunday (29 March) that confinements could continue well into the rest of the year.
This has prompted concerns within the FTTH about retaining highly trained factory workers.
Ennaifer also voiced fears about post-pandemic trade "We do not know how the market will behave or how our clients will behave at the end of confinement. We don't know if we will be able to buy on credit, and how we will pay our workers.
"While it is understandable that companies are focusing on the needs of their local staff, clothing retailers must accept that if they choose a business model that relies on the labour of millions of garment workers overseas, then these people are their workers as well.
"I respect the problem, but I also have a problem. It's our problem. It's a whole planet problem, it's a whole industry problem," he says. "We talk about responsibility, partnership, cooperation, collaboration. Where have those words gone now?"
Bouagila says FTTH intends to support its membership by lobbying the government regarding delaying or cancelling tax bills, guaranteeing loans to small and medium sized factories. It is also asking European customers of Tunisian manufacturers to guarantee payments for goods shipped between January and March 2020, and is calling on the government to ease access to finance at very low rates of interest.
Apparel is Tunisia's second largest export sector behind electronics, accounting for 22% of the total. The country has nearly 1100 garment factories.
The fallout from the coronavirus pandemic is impacting garment producing countries around the world, as retailers and brands slash orders and halt shipments amid falling sales and store closures. Indian exporters say the country's lockdown will have little impact as orders have already been cancelled, while Mexican and Central American garment factories are shutting down as regional governments respond to the coronavirus outbreak. Manufacturers in Bangladesh have called for financial support.
But at this time of crisis it's also critically important that apparel brands and retailers avoid taking any drastic action that could sink the entire supply chain: Apparel industry in crisis – Why we need to work as a team.
Click on the following links for a roundup of just-style's coverage: