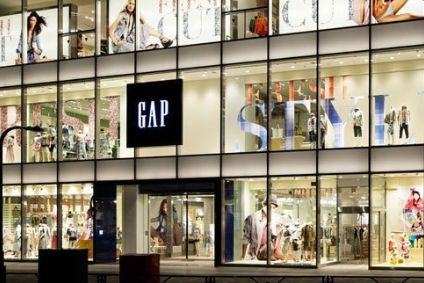 Hundreds of store closures could be on the way at Gap Inc as CEO Art Peck says the firm is appraising the namesake brand locations that are "dragging down" the business. His comments come after the segment reported a 7% drop in third-quarter comparable sales.
Speaking to analysts on the firm's third-quarter earnings call, Peck said while the performance of the Gap brand this quarter was not entirely surprising, clearly "we're disappointed and we need to do better."
"We continue to feel the impact of last year's operational missteps in the business, but we also face more fundamental issues with the brand, namely the speciality fleet," he added.
One of the biggest challenges , Peck said, is the real estate obligations that currently encumber the business. The group operates 775 Gap brand speciality stores globally, which, on a cash basis, Peck says returns a "very modest contribution." However, the range between what he calls the very best to the very worst stores is "extremely broad."
"Addressing the bottom half of the fleet represents over US$100m of earnings contribution opportunity and it is that portion of the fleet that is dragging down the brand," he told analysts. "This is the piece of the business that we are firmly committed to addressing with urgency.
"It includes some amazing flagship stores around the world that we're evaluating with an objective eye on which ones provide sufficient value to keep. Collectively, the flags have meaningful negative contribution."
Beyond that, Peck said there are hundreds of other stores that likely do not fit the group's vision for the future of Gap brand speciality stores, whether in terms of profitability, customer experience, and traffic trends.
"These stores are a drag on the health and a drag on the performance of the brand," he added, pledging to take action quickly.
"You have my commitment that why this type of strategic action on the fleet is overdue, I am going to take the action to get this one done and get this one behind us. There likely will be a cash cost to exit many of these stores, which we will attempt to minimise with appropriate sequencing, but I plan to exit those that do not fit the future vision quickly.
"I'm going to move thoughtfully, but aggressively. We will come back to you with more detail on our planned actions by the time we layout our guidance for the coming fiscal year," he told analysts.
Third-quarter review
Peck's comments come as the group reported a 16.2% rise in net income for the third quarter ended 3 November, reaching $266m from $229m last year. Gross margin was 39.7%, flat compared with last year while operating margin was 8.9%, a decrease of 90 basis points compared with 9.8% a year ago.
Net sales, meanwhile, rose 7% in the period to $4.1bn from $3.8bn last year. Gap said the translation of foreign currencies into US dollars negatively impacted net sales by about $20m in the period. Comparable sales were flat compared with a 3% increase last year.
Comparable sales increased at both the Old Navy and Banana Republic brands, with Old Navy sales up 4% but flat on last year, while at Banana Republic sales were up 2%, versus a 1% drop last year. At Gap, sales tumbled 7% compared to a 1% rise in the year-ago period.
Meanwhile, sales in the US were up by 9% to $3.27bn in the third quarter compared to last year, while Europe sales fell 5.7% to $149m. Asia sales dropped by 4% to $300m.
Looking ahead, Gap has revised its diluted earnings per share guidance for fiscal year 2018 to be in the range of $2.55 to $2.60. The retailer was previously expecting a range of between $2.55 and $2.70. Comparable sales for the period are forecast to be flat to up slightly.
Peck said the group is pleased with the "continued solid performance" from Old Navy, Banana Republic and Athleta leading into the important holiday season but was less impressed with the company's namesake brand.
"We are clearly not satisfied with the performance of Gap brand" – Art Peck
"We are clearly not satisfied with the performance of Gap brand. We know this iconic brand is important to customers, and we are committed to taking the bold and necessary steps to ensure that it delivers value to shareholders."
Neil Saunders, managing director of GlobalData Retail, notes the quarter's sales results – which include a 1.6% drop in Gap brand sales in the US – testify to the deep-seated problems at the business.
"When it comes to Gap the numbers are particularly bad," he says, adding Gap's brand image is still lacklustre and it is not bringing anything new or exciting to the market.
"Products are still samey and boring and they are still being discounted because Gap is unable to sell them at full price.
"Our consumer data still shows that shoppers see Gap as bland and increasingly irrelevant in the apparel space. This is not a healthy state of affairs and it underlines the fact that Gap still has an enormous amount of work to do before it can even start down the road to recovery."