Urban Outfitters shifting sourcing to mitigate China tariffs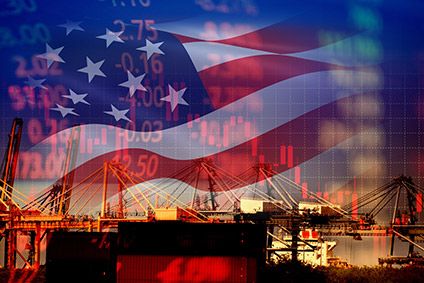 Urban Outfitters has set out its priorities to mitigate the impact of President Trump's tariffs on imports from China
US clothing retailer Urban Outfitters has said that rather than resorting to price hikes, its focus will be on sourcing from other countries and negotiating with existing suppliers to mitigate the impact of US tariffs on imports from China.
Speaking at the Goldman Sachs Global Retailing Conference last week, finance chief Frank Conforti told delegates the company has "moved over 20 points of our production out of China and into other markets, so that's had a big impact for us. And going back to the vendors and the factories that don't want to lose that business, who we've had relationships with for a long-standing period of time and are willing to share that tariff burden with us. We've certainly had a lot of success in those conversations with vendors and mitigating the tariffs that are out there."
The US imposed new levies on another tranche of imports from China on 1 September, meaning around US$31bn in textile, apparel and home textile products are now subject to an additional tariff of 15%. The new tariffs will hit 92% of all apparel products and 53% of all footwear items imported into the US from China.
The remaining US$160bn in US imports from China – including US$4.7bn in textile, apparel and home textile products – are set to be hit by an extra 15% tariff from 15 December.
Many US brands have already spoken about the steps they are taking to mitigate the impact of tariffs, with pre-negotiated vendor concessions bearing the brunt of this.
Menswear retailer Tailored Brands noted on its first-quarter earnings call that various burden-sharing agreements had been worked out with vendors that covered the spectrum of 10% tariffs to 25%, while children's wear retailer Carter's pre-negotiated terms with vendors. And last month US speciality apparel retailer Gap Inc said it would look at partnering with its vendors to share in the cost as well as pricing actions.
Analysts at Moody's Investors Service believe that increasing prices to consumers will be difficult, since "US consumers, saddled with higher costs, would likely cut back on purchases, which would take a bite out of company revenue and profitability."
Unfavourable price hikes
Conforti agreed that price hikes would be Urban Outfitters' least favourable tariff mitigation strategy.
"There are certain areas and certain products where maybe we'll be able to inch the price up a little bit, but I think you've got to be really careful with that and you've got to make sure you're doing it in your elevated product, and product where you are hitting that bullseye and you're hitting the mark," he explained.
"We don't think you can just large-scale hike price across the board; the consumer is too discerning right now. It's a smaller piece of the assortment where we think we might be able to do a just price, but it's not a primary strategy for us. I would agree with what retailers are telling you, that it would be tough to do across the board. You've got to be really specific and strategic where you think you'll be able to take some price."
Conforti said Urban Outfitters' strategy is a combination of diversifying its supply chain as well as pushing back on the supply base. "We've had success in doing both, moving 20 points of our production out of China and we've definitely had success at mitigating half, if not a little bit more, on our production in China, on just going back to our vendors."
Asked whether moving suppliers would be a risk for inventory going forward, Conforti said the company is "on top of it" and that the retailer will be bringing inventory in about a week earlier in the back half of the year to avoid that risk from a sales perspective.
"Because we have experienced these slippages [previously], there is a whole slew of people watching the sourcing like a hawk on a day-to-day basis – where it is in the supply chain, where we are from a production standpoint, ensuring it doesn't happen. But just in case, we probably are going to raise our inventory a bit, roughly by about one week of supply just to avoid any risk relative to the sales trend. I would expect that to come back and normalise as we get into next year and we have our feet underneath us with some of these new vendors."
Global investment
Despite the tariff headwinds, Conforti said the company is continuing to invest in China, where it has recently employed a managing director to head up the division and build up inventory.
"We have experienced really nice growth in China from a distance...where you don't have any boots or product on the ground and you're just selling in from the US. Based on that growth and based on the positive reception from the Urban and Free People brands from the customer, we said it's time for us to go into this market and have a better customer experience.
"It is not an easy market to navigate, or something you can do overnight from a talent and regulatory perspective. What we realised from taking a step back by looking at the trade war was that maybe the timing wasn't great. That being said, our market share is so incredibly small and the customer reaction we saw to our product...is something that is very unique."
Conforti said the company will also look to increase its presence in Europe – a region in which it has low penetration – despite the "noise" about Brexit.
"While Europe is certainly challenged from a macro perspective...we believe in the market long-term and we're taking the opportunity to go and grab some better rents. It is a market we believe we can increase our market share in over time, so we're going to take the opportunity that presents itself right now with a little bit of a macro headwind in that market if we can get some better deals on rents."
In its second-quarter, Urban Outfitters booked a 3% drop in total company net sales for the three months ended 31 July as revenue declined to US$962.3m from $992.5m last year. Comparable retail segment net sales also decreased by 3%, driven by negative retail store sales, partially offset by growth in the digital channel.
By brand, comparable retail segment net sales increased 6% at Free People and decreased 3% at the Anthropologie Group and 5% at Urban Outfitters. Wholesale segment net sales declined by 8%. Net income, meanwhile, fell to $60.3m from $90.8m.
The company operates 246 Urban Outfitters stores, 228 Anthropologie Group stores and 137 Free People stores in the US, Canada and Europe. Free People, Anthropologie Group and Urban Outfitters also wholesale sell their products through around 2,200 department and specialty stores worldwide.
Create sourcing plans that work
Find new apparel sourcing destinations, assess trade flows and manage tariffs. All in one place.
Oops! This article is copy protected.
Why can't I copy the text on this page?
The ability to copy articles is specially reserved for people who are part of a group membership.
How do I become a group member?
To find out how you and your team can copy and share articles and save money as part of a group membership call Sean Clinton on
+44 (0)1527 573 736 or complete this form..