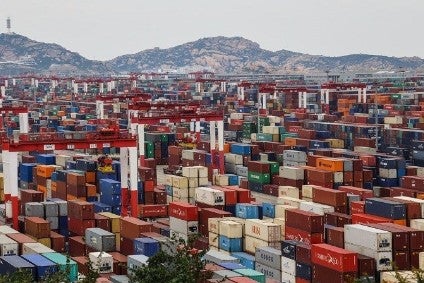 In February 2020 the Covid-19 pandemic triggered the closure of textile and clothing factories in China as the country looked to curb the spread of the outbreak. This had a knock-on effect at apparel suppliers around the world, with material delays and shortages disrupting production. One year on, an increase in total apparel shipment volumes to the US comes as no surprise, with China and Pakistan booking the largest increases.
The latest figures from the Department of Commerce's Office of Textiles and Apparel (OTEXA) show the volume of US apparel imports from all sources was down 3% month-on-month in February to 2,070 million square metres (MM2), dropping from 2,135 MM2 in January.
While the figures for February are up compared with the same month last year – rising 3.19% from 2,006 MM2 – such comparisons are difficult because of the pandemic, with last February marking the post-holiday season lull in imports. This year, in contrast, retailers are importing merchandise faster than ever in a bid to capitalise on higher consumer spending and to try to work around ongoing congestion at US ports.
Three of the ten largest suppliers of apparel to the US saw shipment volume growth during the month, including super-suppliers China and Bangladesh.
China, the largest supplier of apparel to the US, booked a 23.99% year-over-year increase in exports during the month at 718 MM2, just behind Pakistan whose shipments rose 25.03% year-over-year. But in terms of scale, Pakistan remains one of smaller suppliers, shipping just 62 MM2 compared to 50 MM2 for the same period last year.
Vietnam, the second-largest apparel supplier, saw shipment volumes slide 0.47% to 333 MM2. Bangladesh, in third place, saw its volumes grow 2.29% to 194 MM2 on a year-over-year basis.
Indonesia booked the biggest decline in shipment volumes at 20.9% to 75 MM2 year-over-year, followed by Honduras with a 17.14% fall to 67 MM2. India's apparel volumes declined 14.76% to 95 MM2, while those from El Salvador dropped by 14.42% to 48 MM2.
Mexico's shipment volumes fell 2.66% year-over-year to 63 MM2 and Cambodia's fell 0.01% at 95 MM2.
Combined textile and apparel imports from all sources, meanwhile, climbed 21.47% year-on-year to 5,807 MM2, but dropped 2.3% in value terms to $7.62bn. Textiles from all sources jumped 34.7% in volume terms to 3,738 MM2 and were up 18% in value terms to $2.23bn.
Facts behind the figures.
China was the first country hit by Covid-19, and factory closures commenced early last year factory as the country attempted to curb the spread of the coronavirus outbreak. This caused a knock-on effect, with suppliers around the world – including those in India, Vietnam and Cambodia – having to close due to raw material shortages.
Makers in Central America also saw delays of up to a month in essential Chinese fabric supplies as a result of the outbreak.
So its no real surprise that apparel shipment volumes to the US this February were higher than the same month last year.
China continues to remain the leading source for apparel supply. As well as one of the world's most complete textile and apparel supply chains, it also has a skilled worker base and has been able to maintain low prices. According to data analysis by just-style, China's per-unit cost for clothing fell 20% in 2020 to a ten-year low.
Pakistan, which saw the largest year-on-year rise in shipment volumes to the US in February, came in as the second cheapest supplier of clothing in 2020. But its price was still 21% higher than China on a per-unit basis.
Even so, while the country continues to gain ground, its shipment volumes pale in comparison to the top three suppliers – China, Vietnam and Bangladesh.
For an in-depth look at how the Covid-19 pandemic has impacted these three countries, click on the following link: Sourcing's new order – Covid's impact on world's top three apparel exporters