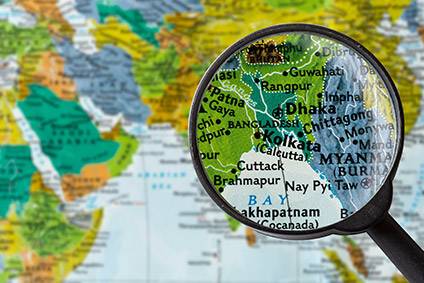 The volume of US apparel imports saw an increase in October on the prior year as retailers geared up for the holiday shopping season. Bangladesh booked the second highest growth behind India, reversing four consecutive months of declines.
The latest figures from the Department of Commerce's Office of Textiles and Apparel (OTEXA) show the volume of US apparel imports from all sources was up 0.9% against October last year to 2.50bn square metre equivalents (SME), and up 4.3% to $7.66bn in value. The figures, however, show the volume of apparel imports was down 3.1% month-on-month in October, compared with 2.58bn SME booked in September.
In terms of individual supplier countries, half of the top-ten recorded a year-on-year increase, with India booking the largest growth.
China – the largest supplier of apparel to the US – saw shipments drop 2% year-on-year to 1.11bn SME. Shipments were also down 13.3% month-on-month from the 1.28m SME recorded in September. The second-largest supplier, Vietnam, booked year-on-year growth of 0.8% to 333m SME – a slowdown on September's increase of 9.8%.
Bangladesh, ranked number three in the top-ten league table, saw its exports to the US rise 5.5% year-on-year in October to 142m SME – reversing four consecutive monthly declines. Cambodia saw shipments increase 3.9% year-on-year to 91m SME, while India's increased 17.7% to 93m SME.
Of the remaining top-ten supplier countries, Honduras reported the largest year-on-year decrease of 7.3% to 79m SME, while El Salvador recorded a fall of 2.8% to 64m SME. Nicaragua, meanwhile, booked growth of 3% to 45m SME. Mexico booked a year-on-year decline of 2.9% to 72m SME, while Indonesia's shipments were down 1% to 113m SME.
Year-to-date and six-year overview
While monthly trade data is often volatile, with big swings from one month to the next, a broader view of the year shows the volume of total US apparel and textile imports was up 3.1% in the January to October period to 54.52bn SME, from 52.88bn SME in the same period last year. Within this, textiles grew 4.6% to 31.41bn SME, while apparel shipments edged up 1% to 23.11bn SME.
In value terms, total US apparel and textile imports edged up 0.6% to $89.84bn in the year-to-date, from $89.28bn in the same period a year ago. Apparel imports dropped 0.8% to $68.42bn, while textiles were up 4.5% to $21.42bn.
Only four of the top ten apparel supplier countries booked growth during the first ten months of the year, with Vietnam seeing the largest increase at 6.8% to 9.84bn SME.
Mexico booked the second highest gain, at 6.2% to 3bn SME. Imports from China, meanwhile, were down 3.6% to 23.16bn SME – although the country remains by far the biggest supplier of apparel to the US with a 41.5% share of the market. Bangladesh, the third-largest supplier with a share of 6.9%, booked the largest drop in shipments of 4.9% compared with last year to 4.35bn SME.
Cambodia meanwhile, reported a 1.8% drop year-on-year to 1.83bn SME, but this was an improvement on last month's 1.62bn SME.
Taking a broader look at the data over a six-year period from 2010 to 2016, Vietnam is the only country in the top ten to have seen a steady increase in import volumes to the US, growing from 1.91bn SME in 2010 to 3.35bn SME in 2016 – increasing its share of total imports from 7.72% to 12.45%.
China's imports have fluctuated over this period, from 10.4bn SME in 2010, falling to 9.74bn SME a year later, before reaching a peak of 11.38bn SME in 2015. Shipments declined in 2016 to 11.17bn SME. The country has lost marginal market share, from 41.98% in 2010 to 41.50% last year.
Cambodia, Mexico and Pakistan, meanwhile, are all exporting less to the US than they were six years ago. Cambodia fell from 947.1m SME to 903m SME in 2016, decreasing its share of the total from 3.83% in 2010 to 3.35% last year.
India, which booked the highest gain for apparel shipments in October, remains a marginal player in world apparel trade. That said, efforts are underway to diversify its garment offering, and the country's apparel industry benefits from a huge pool of low-cost workers, and a vertical cotton industry from farming to the production of finished goods.
In June last year, India's garment exporters widely welcomed a series of financial and labour reforms announced by the government to generate 10m jobs and boost exports by $30bn over three years. The country's textile and apparel industry also received informal assurances of increased central government support after it was largely ignored in this year's national budget.
The sector, however, is facing a continued decline in exports due to global conditions, and rupee overvaluation, as well as an economic slowdown following the implementation of the Goods and Services Tax (GST) in July. Adding additional pressure, the government recently revised duty drawback rates on garment exports from the country, which could slow exports.
Despite this, a joint study by the Associated Chambers of Commerce and Industry (ASSOCHAM) and consulting firm EY believes India is poised for sustainable growth in the near future.
While there continue to be concerns that increasing wages are undermining the competitiveness of China's garment production on the world stage, the latest figures continue to confirm its appeal to apparel buyers as rising prices are largely being offset by productivity gains. No other country can match China in terms of the size of its supply base, its range of skills, its quality levels, its product variety and the completeness of its supply chain. A new survey of supply chain executives appears to back this up.
The country also continues to lead the way when it comes to efficiency and infrastructure. Data on China's apparel imports to the US last year show the country's prices are now lower than they were six years ago.
The government is also cracking down on pollution and is understood to have shut down tens of thousands of factories, including garment and textile facilities. The national effort follows several months of investigations by the country's Environment Bureau to determine which factories are not following environmental laws. The investigation has resulted in the closing of an estimated 40% of all China's factories in order to lower air pollution levels.
This week, the country's efforts to secure market economy status were dealt another blow after the US rejected its request to be treated as such under global trading rules. The US, Europe and others say their promise to grant China that status was contingent on it implementing market liberalisation measures that have yet to be carried out.
Meanwhile, Vietnam has benefited as producers and buyers diversify their supply chains, helped by its low labour costs and its industry focus on specialisation, modernisation, and increasing value added. In volume terms the country increased its share of US imports last year, rising from 11.52% in 2015 to 12.45% in the 12 months to December 2016.
Manufacturers in Vietnam stand to gain from improved access to the EU import market once the EU-Vietnam free trade agreement comes into force, as well as increased foreign direct investment that flowed into the country's textile and clothing sector ahead of the now-abandoned Trans-Pacific Partnership (TPP) trade agreement.
The country has seen a massive 48.3% surge in total garment, textile, fibre and yarn exports in the first six months of the year, with the industry expected to reach its export target of US$31bn for the year. In August, Vietnam's National Wage Council proposed the minimum wage for 2018 will rise 6.5% to between VND2.76m and VND3.98m ($121-175) per month.
The government recently said it wants to elevate the country's clothing manufacturing sector from its current low-cost model to an added value sector that includes design and branding. This is intended to help offset competition from neighbouring Cambodia and Myanmar, China, India, Bangladesh and Sri Lanka. While the Vietnam Textile and Apparel Association (VITAS), has urged garment and textile firms to apply new technologies to help increase productivity and use less labour.