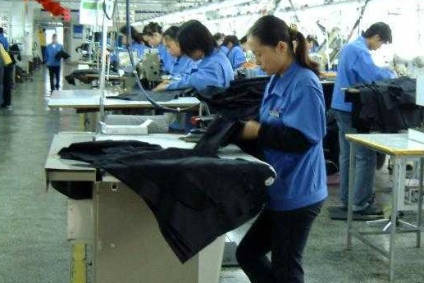 With the global apparel industry starting to feel the effects of factory shutdowns and retail store closures in March due to the outbreak of coronavirus, US apparel imports saw a double-digit drop on the month prior, with its largest supplier China recording the steepest fall at 53%.
The latest figures from the Department of Commerce's Office of Textiles and Apparel (OTEXA) show the volume of US apparel imports from all sources was down 15.5% month-on-month in March to 1.69bn square metre equivalents (SME).
The figures for March also show a 13% drop in volume against the same month last year and a 15% drop in value terms year-on-year to US$5.18bn.
In terms of individual supplier countries, only three of the top-ten recorded a year-on-year increase in March, with Vietnam booking the largest growth.
China, the largest supplier of apparel to the US, booked the largest fall in shipment growth with volumes down 42.4% to 274m SME. On a month-on-month basis, shipment volumes fell 53%.
The second-largest supplier, Vietnam, saw growth on a year-on-year basis of 12.2% to 325m SME – an improvement on the relatively flat growth of 0.27% recorded in February.
Of the remaining sourcing giants, Cambodia recorded growth in shipment volumes of 12.1% year-on-year to 92m SME.
Pakistan also saw growth in shipment volumes compared to last year, at 9.2% to 55m SME.
After China, Honduras saw the next largest decline, with shipment volumes down 19.5% to 70m SME, followed by El Salvador at 15.5% to 55m SME. Mexico recorded a decline of 15.2% to 63m SME, while Indonesia's volumes were down 14.8% to 99m SME.
India booked a decline of 8.2% to 106m SME, and Bangladesh, the third-largest supplier of clothing to the US, booked the smallest fall in shipment volume growth of 0.3% at 194m SME.
Textile and apparel imports, meanwhile, fell 12.6% year-on-year to 4.19bn SME, and by 15% in value terms to $6.9bn. Textiles alone, meanwhile, recorded a fall of 12.5% to 2.5bn SME, and in value terms were down 14% to $1.7bn.
Year-to-date and nine-year overview
While monthly trade data is often volatile, with big swings from one month to the next, a broader view of the year so far shows the value of total US apparel and textile imports dropped 11.7% to $23.6bn year-to-date, from $26.8bn in the same period a year ago.
Drilling down, apparel imports fell 12.1% to $17.85bn, while textiles slipped 10.7% to $5.78bn.
In value terms, six of the top-ten apparel supplier countries booked declines during the first three months of the year, with China seeing the largest drop at 43.1% to $3.27bn.
Taking a broader look at the data over a nine-year period from 2010 to 2019, Vietnam is the only country in the top ten to have seen a steady increase in import volumes to the US, growing from 1.91bn SME in 2010 to 3.95bn SME in 2019 – its share of total imports rising from 7.72% to 14.26%.
China's imports have fluctuated over this period, from 10.4bn SME in 2010, falling to 9.74bn SME a year later, before reaching a peak of 11.38bn SME in 2015. Shipments dipped again in 2016 to 11.17bn SME, and last year dropped to 11.08bn. The country has lost marginal US apparel market share, from 41.98% in 2010 to 39.93% in 2019.
Indonesia, Mexico, El Salvador, Honduras and Pakistan are all exporting less to the US now than they were nine years ago. Cambodia, India and Bangladesh, meanwhile, are exporting more.
Cambodia has increased its exports to the US from 947.11 SME in 2010 to 1.04bn last year, maintaining a relatively stable share of the US apparel market at 3.8%. Bangladesh has grown its exports from 1.61bn SME to 2.01bn SME, improving its market share from 6.5% to 7.25%.
Facts behind the Figures
The most pronounced fall in apparel imports to the US came from China during March due to annual shutdowns for Lunar New Year celebrations, which began in February but this year lasted into March due to the outbreak of coronavirus where the epicentre was the Hubei province.
By the end of January, 8,000 cases were confirmed and over 170 deaths had been reported. Chinese authorities placed Wuhan under quarantine and banned travel out of the country. It also closed public transportation in some cities and factories in key apparel-producing provinces Guangdong and Zhejiang and extended factory closures until mid-February.
Though some factories were starting to reopen by the end of February, makers were struggling to get back on track. As well as delays to garment production and export, the production of garment components and export was also impacted, meaning other major sourcing countries — Vietnam, Cambodia and Myanmar — also experienced interruptions to their production. More recently, stores across the world have been closed in a bid to control the spread of the virus. Consumer demand has also been hit with millions of Americans out of work and prioritising essentials over clothing when it comes to shopping.