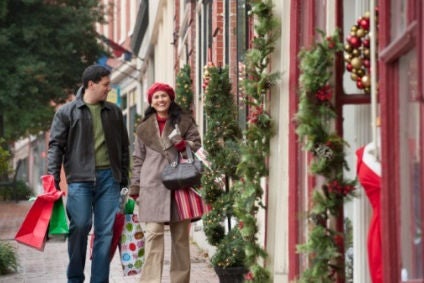 The US experienced a fall in imports during November from nine of its top ten apparel supplier countries. The tenth – China – booked flat growth. The figures suggest early stockpiling by retailers ahead of the holiday period, as well as moves to bring in spring merchandise early in a bid to beat a potential increase in tariffs on goods from China.
The new figures from the Department of Commerce are more than a month late due to a delay in updating the agency's Office of Textiles and Apparel (OTEXA) website during the recent and prolonged US government shutdown.
They show the volume of US apparel imports from all sources was down 29% month-on-month in November to 2.02bn square metre equivalents (SME). The figures for November also show a 2.74% fall in volume against the same month last year, and a 1.8% fall in value terms year-on-year to US$6.15bn.
In terms of individual supplier countries, all of the top-ten, save China, recorded a year-on-year fall in November. China – the largest supplier of apparel to the US – saw shipments edge up just 0.06% year-on-year to 852m SME. Imports from the country were down 35% month-on-month from the 1.33bn SME recorded in October.
The second-largest apparel supplier, Vietnam, booked a year-on-year decrease of 4.94% to 257m SME, with a fall of 33.6% from October when imports stood at 387m SME.
Bangladesh, ranked number three in the top-ten US apparel supplier league table, also saw exports fall 8.58% to 129m SME.
Neighbouring Pakistan booked a 4.79% fall to 47m SME, down against the 52m SME last month, while India witnessed a 2.24% drop in imports to 72m SME year-on-year.
Of the remaining countries, Indonesia reported a 5.2% fall to 79m SME, Cambodia's imports fell 7.26% to 64m SME, Honduras recorded a 9.21% fall to 86m SME and Mexico a 5.77% fall at 65m SME. El Salvador saw the greatest decline in year-on-year imports among the top ten countries at 14.05% to 60m SME.
On the contrary, textile and apparel imports, grew 3.27% year-on-year to 5.58bn SME, and in value terms nudged up 0.4% to US8.53bn. Textiles alone, meanwhile, recorded growth of 7% to 3.56bn SME, and in value terms were up 6.6% to US$2.4bn
Year-to-date and six-year overview
Seven of the top ten apparel supplier countries booked growth during the first 11 months of the year, with Cambodia once again seeing the largest increase at 12.37% to 2.24bn SME. Bangladesh registered the second highest gain, at 6% to 5bn SME.
Imports from Pakistan, meanwhile, were up by 1.2bn SME with Vietnam closely following at an increase of 5.83% to 11.37bn SME. India reported a 2.8% increase to 3.6bn SME. Honduras also recorded growth of 1.83% to 2.34bn SME. And Chinese apparel imports saw modest growth of 0.91% to 25.44bn SME.
Mexico, El Salvador and Indonesia all reported declines in apparel imports in the first 11 months of 2018. Mexico's imports fell 5.33% to 3.13bn SME. El Salvador saw a fall of 0.64% to 1.75bn. Indonesia reported a decline of 2.33% to 4.17bn SME.
Taking a broader look at the data over an eight-year period from 2010 to 2017, Vietnam is the only country in the top ten to have seen a steady increase in import volumes to the US, up from 1.91bn SME in 2010 to 3.60bn SME in 2017 – growing its share of total imports from 7.72% to 13.28%.
China's imports have fluctuated over this period, from 10.4bn SME in 2010, falling to 9.74bn SME a year later, before reaching a peak of 11.38bn SME in 2015. Shipments dipped again in 2016 to 11.17bn SME, and last year grew to 11.36bn. The country has lost marginal US apparel market share, from 41.98% in 2010 to 41.91% in 2017.
Cambodia, Indonesia, Mexico, El Salvador and Pakistan are all exporting less to the US now than they were eight years ago. Cambodia fell from 947.1m SME to 931m SME in 2017, decreasing its share of the total from 3.83% in 2010 to 3.43% last year.
Facts behind the figures
Compared with US import data from the previous November, these results don't paint a wildly different picture. Similarly, on a month-on-month basis, there was a decline in import volumes compared to October. With November and December being key trading months in the US, it makes sense for retailers to get their ducks in a row earlier, bringing stock in ahead of time to maximise holiday trade.
Early stockpiling was even likelier to be the case in the run-up to November 2018 due to the looming threat of increased tariffs on Chinese goods. China is the largest supplier of apparel to the US and import growth on a month-by-month basis was flat.
Looking back to October 2018, US President Donald Trump looked unlikely to wane on his threats of increasing tariffs on more Chinese goods. This fear may have prompted retailers to think on their feet and increase the volume of goods they brought in earlier so as not to interrupt trade over the holiday period. China's exports to the US were up by more than 15% in October.
Even Vietnam, the second largest supplier of apparel to the US, saw a fall in imports compared to the October period – again suggesting some level of early stockpiling has possibly come into play.
Vietnam is, however, hoping to capitalise on the potential loss of Chinese business to the US as a result of the ongoing trade spat with China. The Vietnam Textile and Apparel Association (VITAS) reported many businesses have already received higher orders for the first half of the year, with a lot of production shifting to the country from China.
It is also widely expected to be one of the biggest beneficiaries of the Comprehensive and Progressive Agreement for Trans-Pacific Partnership (CPTPP) – or TPP-11 – which came into effect earlier this month. Many of the original TPP provisions remain intact in CPTPP, with customs duties on 95% of trade in goods due to be removed, including all textiles and apparel. Some products will see immediate duty-free treatment, while tariffs on other goods will be lowered gradually over a number of years until being eliminated entirely. The full schedule can be accessed in the re:source by just-style strategic planning tool.
Vietnamese vendors are also reported to be becoming more responsive to buyer demands for more sustainable production methods. The International Finance Corporation (IFC) says an initiative it introduced in 2016 to 70 factories supplying brands such as VF Corp, Target Corp, Puma , New Balance and adidas , have saved US$24m in water, energy, and chemical operating costs.
It will be interesting to see, over the remainder of the year, how imports for the top ten supplier countries to the US – including Vietnam – fare. Despite ongoing talks between Chinese and US leaders, it still looks likely that the US will go ahead and increase from 10% to 25% its additional tariff on $200bn worth of goods from China after the 2 March deadline unless the two countries reach a satisfactory outcome. The tariffs currently apply to all textiles, all travel goods, all hats, and select apparel, accessories and machinery used in domestic US manufacturing.