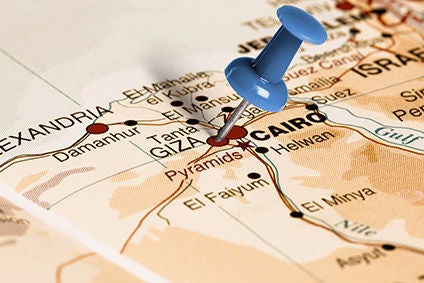 While North Africa accounts for more than US$10bn of the continent's US$13.54bn in clothing and textile exports, the much discussed potential of sub-Saharan Africa as the world's next sourcing hub is starting to materialise, an industry conference has been told.
Even so, sub-Saharan African garment and textile manufacturers still have a long way to go to increase capacity, develop the supply chain and diversify overall production.
"Preferential treatment to access Europe and the US is what is driving investment in Africa," said Navdeep Sodhi, partner at the Switzerland-based Gherzi Textil Organisation, which has carried out 100 assignments in Africa, including the training of 10,000 workers and operators in Kenya.
Egypt is the continent's largest clothing and textile producer, with US$1.6bn in garment exports forecast for this year, according to the Readymade Garment Export Council of Egypt (RMGEC). The country has a free trade agreement with the US, while sub-Saharan African countries have preferential access to this critically important market through the African Growth and Opportunity Act (AGOA).
"Around 70% [of total African clothing and textile exports] is from three countries – Morocco, Tunisia and Egypt – the rest of Africa only 30%. That is where there's potential," said Sodhi at last week's Destination Africa trade exhibition and conference in Cairo.
But for sub-Saharan African nations to become clothing and textile exporters rather than importers (imports of clothing and textiles were worth US$21.56bn in 2016, according to international trade data) they should learn from the success of East Asian outsourcing hubs that have progressively taken less time to reach the crucial export threshold of US$5bn.
"It took Bangladesh eight years, Vietnam seven years, and Cambodia five years, so it takes between five to ten years to move from the first US$1bn to the threshold of US$5bn," said Sodhi.
Attracting investment
Ethiopia wants to emulate Bangladesh's US$29bn in garment exports, and in 2017 announced a target of US$30bn for textile and garments exports by 2025. But more may well be required. "We are amused when African countries target US$5bn; it is meaningless, as you first need to get to US$1bn," said Sodhi.
And for manufacturing to take off, "Africa should attract [major] players to change the face of the industry," he added.
This is already starting to happen beyond North Africa, with new outsourcing centres emulating Morocco, Tunisia and Egypt, which are long-established manufacturing hubs for global brands.
Ethiopia has attracted investment from a number of the world's leading garment manufacturers, including Hong Kong's TAL Apparel, which has set up premises in the Hawassa Industrial Park, south of the capital Addis Ababa. India's Raymond Group, a US$1bn company, has also established a suit factory at Hawassa, and fellow Indian manufacturer Arvind has set up a shirt manufacturing facility at the plant. Other tenants include Epic Group, Hirdaramani Garment, and fabric mill Wuxi Jinmao.
"Even companies in Bangladesh are beginning to look at Africa seriously as they feel they'll lose duty-free status in a few years [to Europe], and to access the US market, so there is an anticipation for companies to invest. The ball is in the court of Africa to attract them to flourish," said Sodhi.
Egypt and Ethiopia have been particularly proactive in attracting manufacturing capacity, both offering tax holidays and trade zones, with Ethiopia providing land for free at Hawassa. A Chinese delegation, comprised of the public and private sector, attended Destination Africa, looking to scope out possibilities.
Li & Fung scaling up
What could really drive growth is the entry of Hong Kong-based Li & Fung into Africa, the world's leading supply chain solutions partner for consumer brands and retailers, handling US$16bn in volume a year.
"In Africa we've only done 0.1% of our total volume – around 6 million pieces out of 5bn pieces – and that is not enough," said Jason Kra, president of the FRC division at Li & Fung.
Out of US$111m worth of product the supplier sourced from Africa during 2017, around US$30m was from Egypt. By 2019, Li & Fung wants to double that figure. "By 2022 we will aim for US$350m, with US$210m from Africa, the rest from Egypt," said Kra.
To achieve such growth, Li& Fung has brought to Africa 13 companies from China and Bangladesh with combined exports of US$1bn, including three fabric mills and garment companies such as Shanghai Dongxia, HYT, Azim Group, Gilwood, Maxfung, and Cobalt, for example. "We are looking to buy factories or establish partnerships, but it's best to have partners," said Kra.
The firm's initial focus will be Egypt. "Our short-term focus is how to scale up in Egypt, and then start in other countries in a bigger way," he added.
This approach fits the current trend as the North African country is better established as a production hub, said Eihab El Zaher, export manager at Sweet Girl, an Egyptian garment producer, and member of the RMGEC.
"Ethiopia will take five to ten years to scale up as its infrastructure is not there yet. But it is the buyer that dictates investment and forces manufacturers to set up according to their needs," he said.
China focus
Indeed, Chinese companies, along with Western buyers and retailers, are increasingly requiring more sustainable production as African nations gear up to become the next manufacturing hubs.
"China is going to invest abroad, and it will increase very rapidly. As the situation in Africa is like China's industry 30 years ago, my suggestion is first, before we start production, we should consider sustainability, and consider environmental protection and employees," said Zheng Jian, international project director, Office for Social Responsibility, China National Textile and Apparel Council (CNTAC).
That said, while proximity to Europe, especially from North Africa, is an upside for manufacturers, it is the continent's low wages that are a particular boon, as higher electricity rates and financing costs in most African countries mean "spinning is not viable," said Sodhi.
Average monthly wages in China have reached US$600, US$275 in Vietnam, and US$130 in Bangladesh, whereas in Ethiopia it is US$75, in Uganda US$100, and Egypt US$125, according to Gherzi figures.
US buyers certainly expect sourcing from China to fall in the near future, according to 67% of buyers recently polled by the United States Fashion Industry Association (USFIA), said Matthias Knappe, programme manager for cotton, textiles and clothing at the International Trade Centre in Geneva. Rising garment demand in China is also expected to divert production away from exports.
Everyone is talking about China selling more clothes domestically, with the market maybe growing by 50%, he suggested. "Even if it is 10%, that is more than Morocco exports as a whole to the EU. How can we make sure part of the pie goes to Africa? We need to find a way to work together." Knappe noted that in the first six months of the year, imports to Europe from China declined by 6.4%, while Egyptian and Moroccan exports were also negative year-on-year.
What may really trigger growth is the US-China trade war, with Chinese manufacturers set to lose out on the US market due to higher tariffs.
"If the trade wars become more severe China will move business elsewhere, and African production will speed up. I don't think the US consumer will pay, say, 20% more to have a Chinese made garment, but the challenge for us is capacity," said Samer Riad, general manager of the Riad Group in Cairo.
Deeper ties
Egypt stands to benefit particularly through its Qualifying Industrial Zones (QIZ), where Egyptian garments have to have 10.5% of components from Israel to enter the US tax-free. The QIZs were established in 1996 to help normalise relations between Egypt and Israel, generating more than US$8.6bn in exports, according to the RMGEC. As a result, the "QIZ is pretty safe as a tripartite agreement, no one will touch it," said Zaher, while "Cambodia and Vietnam could come under the line of fire" from the US due to China being the major investor in East Asian garment manufacturers.
A US delegation was also at Destination Africa to deepen bilateral ties. "The US says it is coming to Egypt as an alternative to China, and we can see the Chinese are interested in investing in Egypt," said Sherin Hosni, executive director of the RMGEC.
A new industrial city is to be opened at the end of the year in the New Suez Canal area, to the east of Cairo, that is geared at Chinese investment, as well as in the industrial zones of El Minya, in Upper Egypt, some 245 km south of the capital. Foreign companies are allowed to employ non-Egyptians up to 10% of their workforce.
After a dip in exports following the 2011 uprising, Egyptian garment exports have gradually rebounded, growing by 14% in 2017 to reach US$1.4bn, and by 9% to September 2018, to US$1.2bn, according to RMGEC statistics. "I think we will not exceed US$1.6bn this year, so around 10% to 11% growth," said Hosni.
While Egypt wants more foreign investment to bolster production, sub-Saharan Africa is seeking both foreign and continental investment, which is happening gradually. "Companies born and raised in Africa, like Sunflag, [in Tanzania]; Fine Spinners, in Uganda; and [Egypt's] Nile Clothing Company, which understand Africa, are also investing in production," said Sodhi.
Looking ahead, key to continental growth will be adding value, said Jas Bedi, chairman of Kenya's Export Promotion Council and chairman of the African Cotton and Textile Industries Federation.
"We have huge potential, with duty-free to Europe and the US, and the need for speed, I can see more verticality in the supply chain, and investment in textiles. The numbers will start changing, and it's going to be driven by buyers looking for a 35-day delivery time."