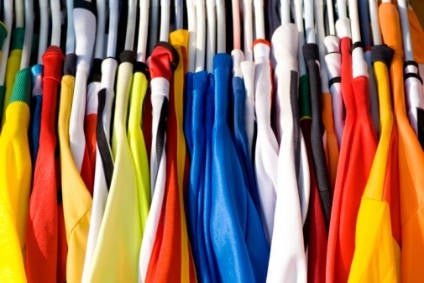 Three associations representing the US fashion, apparel, footwear, and travel goods industries have set out recommendations for future tariff relief and stimulus aid to help retailers and importers emerge from the coronavirus crisis.
A letter to Congress jointly signed by the American Apparel & Footwear Association (AAFA), Council of Fashion Designers of America (CFDA), and the Travel Goods Association (TGA), includes suggested modifications to the CARES (Coronavirus Aid, Relief, and Economic Security) Act economic rescue package to provide liquidity to more companies.
It also calls for the expansion of tax credits, business interruption insurance, and liability protection; and support for childcare funding to help families get back to work.
Among the trade-related recommendations are the extension of duty payment deferrals, and the renewal of certain trade preference programmes, including the Caribbean Basin Trade Partnership Act.
The letter was sent to House Speaker Nancy Pelosi, Senate Majority Leader Mitch McConnell, House Minority Leader Kevin McCarthy, and Senate Minority Leader Charles Schumer.
"The Covid-19 pandemic is a health crisis that is leaving an economic crisis in its wake," says Steve Lamar, president and CEO of the American Apparel & Footwear Association (AAFA), who this week shared with just-style some of the US fashion and footwear sector's concerns.
"As companies have closed stores and limited operations in line with public health guidance to protect workers and consumers, they have been unable to bring in the revenue they need to pay their employees and the bills that come with running a business.
"While the CARES Act and other measures have provided the liquidity and cash flow to fill a few of the gaps, there are many more that need to be addressed, particularly to help companies who have been on the front lines of repurposing factories and supply chains to make and distribute items of personal protective equipment.
"We are providing Congressional leadership with an overview of what is on our industry's mind and what our members need to retain and re-activate as many Americans as possible in the workforce, so that we can recover quickly."
Trade-related recommendations
Duty Deferral A key request is for the extension of duty payment deferrals to include those products that have been excluded to date, such as those hit with duties under the Section 301 tariffs. Last month President Donald Trump signed an executive order suspending duty payments on some imports for 90 days in a bid to help businesses struggling during the coronavirus pandemic.
However, items caught up in the ongoing US-China trade war are excluded – which includes most apparel and footwear imported from China.
"While our members appreciate the recent duty deferral actions, it will not benefit many companies because certain important duties have been excluded and because it only covers imports made during March and April," the letter says.
"We recommend the extension of the programme to cover imports made during May and June, and possibly additional months if the crisis persists, and expand the programme to defer the due dates for ALL duties and fees. Deferring these tariffs – which will ultimately be repaid – gives employers access to critical resources they can use to support payroll and pay other critical business expenses."
Tariff relief The group notes that while many companies are now using their factories and supply chains to produce and deliver items of Personal Protective Equipment (PPE) to hospitals and patients, "incredibly those items still face tariffs. We urge the suspension of collection of duties – both MFN duties and Section 301 tariffs – that are paid on urgently needed PPE."
Foreign Trade Zones (FTZ) Retailers are faced with a high volume of spring, summer and autumn merchandise that they are unable to sell in the current environment – with one option being to store these products until the appropriate selling season next year. Storage will require temperature-controlled facilities for up to 12-14 months.
"The limited capacity at FTZ storage facilities will create a cash-flow crisis if retailers are forced to pay duties on those goods at the time of transfer to non-FTZ offsite facilities.
"Allowing Foreign Trade Zones to temporarily remove items to off-site, non-activated, secure warehouses for storage…while allowing those goods to maintain their non duty-paid status during storage will significantly ease cash flow concerns and provide retailers the opportunity to salvage goods to sell next year.
"We request that the stimulus package permit this FTZ treatment for offsite storage and permit relaxation on FTZ transfer requirements for certain seasonal product."
Customs Bond Requirements For companies that import products, Customs and Border Protection (CBP) requires the importer to have a Customs Bond. A Customs Bond assures CBP that the importer is able to fulfil their financial responsibilities for duties, penalties and other fees. "CBP should review the current bond requirements so that the surety can lower the collateral requirements. This would provide companies the liquidity they desperately need to pay employees."
Caribbean Basin Trade Partnership Act (CBTPA) The 20-year-old Caribbean Basin Trade Partnership Act (CBTPA) is set to expire on 30 September 2020. "Since it was enacted, the CBTPA – along with the Haitian Hemispheric Opportunity through Partnership Encouragement (HOPE) Act, and the Haiti Economic Lift Program (HELP) Act – has provided an important trade policy basis to support US investment in and exports to US allies in the Caribbean Basin.
"We request the renewal of this critical programme especially during these challenging times and especially because companies using it are now involved in efforts to make and distribute urgently needed PPE."
Generalized System of Preferences (GSP) The Generalized System of Preferences (GSP) duty-free programme is set to expire at the end of 2020. "With the coronavirus debilitating supply chains, renewing and modernising the GSP programme will be a critical component to reopening the country and improving the economy."
Additional relief
"While Congressional action put in place programmes that provide support for businesses during the pandemic, additional relief is needed," adds Steven Kolb president and CEO of the Council of Fashion Designers of America.
"As fashion and retail look to reopen in the near future, the ability to rehire workers is critical. There is more that Washington can do, starting with changes to the CARES Act while considering other steps outlined by our organisations."
For the small, mostly family-owned businesses that comprise the US travel goods industry there is the dual challenge of staying afloat while virtually all travel is banned and all retail is shut down.
"The reality is that in the current crisis, when no one is travelling and there are no stores open, no one is buying a suitcase, or a tote, or a backpack," says Michele Marini Pittenger, president and CEO of the Travel Goods Association.
"This letter includes practical measures that can help our industry to survive now and assist us to get to the other side of this crisis. Now is not the time to leave any tools in the toolbox, especially when so many jobs are at stake."
The full letter and all its recommendations can be downloaded from the AAFA website.