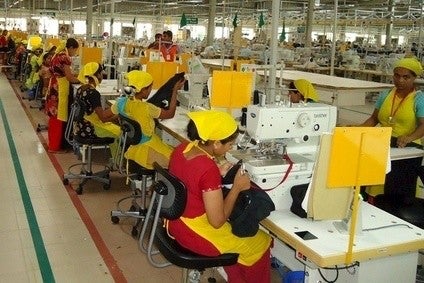 Bangladesh and Cambodia both enjoyed a boost in apparel shipments to the US during May – at around the same time US President Donald Trump said he was mulling a tariff hike on all incoming Chinese goods. While US imports from China also continued to rise during the month, a spike in shipments from neighbouring countries suggests retailers and brands are moving forward with plans to cut back on how much product they source from the Southeast Asian giant.
The latest figures from the Department of Commerce's Office of Textiles and Apparel (OTEXA) show the volume of US apparel imports from all sources was up 11% month-on-month in May to 2.28bn square metre equivalents (SME).
The figures also show a 5.5% rise in volume against the same month last year and 6.6% growth in value terms year-on-year to $6.6bn.
In terms of individual supplier countries, eight of the top-ten recorded a year-on-year increase in May, with both Bangladesh and Cambodia booking the largest growth of 10.2% to 177m SME and 70m SME respectively when compared to the same period last year.
Pakistan recorded a 10.16% year-on-year growth in shipment volumes to 55m SME. India's shipments rose 8.5% to 112m SME over the period.
China, the largest supplier of apparel to the US, recorded US export growth of 6.87% year-on-year to 855m SME.
Vietnam, the second-largest US apparel supplier, booked growth of 4.7% year-on-year to 337m SME.
Of the remaining countries, exports from Honduras to the US during May increased 3.16% to 92m SME, while those from Indonesia rose 2.73% to 93m SME.
El Salvador booked the biggest decline in shipments at 5.28% to 66m SME, followed by Mexico at 4.99% to 74m SME year-on-year.
Textile and apparel imports, meanwhile, grew 7.89% year-on-year to 6.1bn SME, and in value terms by 6% to $9.2bn. Textiles alone recorded growth of 9.36% to 3.82bn SME, and in value terms were up 4.4% to $2.57bn.
Year-to-date and eight-year overview
In value terms, total US apparel and textile imports are up 5.14% to $44.3bn in the year-to-date, from $42.2bn in the same period a year ago.
Apparel imports have grown 5.93% to $31.11bn, while textiles are up 2.9% to $11.2bn.
In value terms, nine of the ten apparel supplier countries booked growth during the first five months of the year, with Bangladesh booking the highest growth at 15.48% to US$2.5bn in value terms, followed by Vietnam at 12% to US5.3bn. China saw flat growth of 0.37% to $9bn.
Honduras and India have both seen a double-digit rise of 11.87% and 10.83% respectively to $1.06bn and $1.95bn.
Pakistan has recorded a 9.86% growth in shipments year-to-date to US$586m and Cambodia's shipments have risen 6% to US$1.3bn.
Indonesia's exports to the US nudged up 1.32% to $1.9bn during the period while El Salvador booked nominal growth of 0.07% to $723m. Mexico's shipments once again declined in May by 2.39% to US$1.3bn.
Facts behind the figures
In May US President Donald Trump threatened to impose a 25% tariff on nearly all Chinese exports to the US, a move US apparel and footwear retailers had been dreading.
The fear of additional tariffs has already seen several major US brands consider relocating current sourcing from China including Crocs, which said it would reduce the amount of US product sourced from China by more than two-thirds over the next year. G-III Apparel Group, which is a private label producer and supplier of licensed brands including Tommy Hilfiger, Levi's and Calvin Klein, also said it was taking a number of steps to offset the impact of the ongoing trade war between the US and China including reducing its production in China and raising its prices.
But experts have warned that shifting global sourcing away from China to other less mature markets where ethical and quality control compliance issues in manufacturing are more prevalent is a risky decision.
Analysis of data from supplier compliance service provider QIMA revealed 30% of respondents were specifically diverting their sourcing from China to other regions as the tariff face-off with the US continues to unfold. Markets seeing more activity include those with less mature manufacturing industries than China – like Indonesia, Cambodia, Bangladesh, Turkey and Vietnam – all countries where factory compliance, workers' rights, safety, waste management, and quality control issues persist.
A second analysis from Verisk Maplecroft, which forms part of its 2019 Supply Chain Risk Outlook, suggests companies may inadvertently be increasing their exposure to labour rights abuses that they were better positioned to navigate in China.
According to the re:source by just-style strategic sourcing tool, Bangladesh is the world's second-largest ready-made garment exporter, and the textile and apparel sector contributes around 20% to Bangladesh's GDP. It employs around 20m people in the country and is the major driving force of the country's economy.
On a month-by-month basis, US apparel imports from Bangladesh grew 12% to 177m SME. During May, the Bangladesh Export Promotion Bureau reported a 12.82% jump in global apparel exports over a 10-month period, which was attributed, in part, to higher orders from retailers and brands "flocking [away from China] to Bangladesh because they want hassle-free shipment and do not want any uncertainty."
Manufacturers in Bangladesh are being urged to move away from traditional volume production and focus instead on meeting the demand for value-added products in order to secure more business.
However, the country still struggles with infrastructure problems, widespread corruption, insufficient power supplies and reliability, and slow implementation of economic reforms. Poor working conditions remain an issue in the country's textile factories. In April, fires broke out at commercial properties in two separate incidents. Yesterday (3 July), another fire at a spinning mill broke out, reportedly killing six people.
And the situation in Cambodia remains equally complicated. Despite a jump in US apparel shipments on a year-on-year basis, and a 1.4% increase in shipment volumes on a month-on-month basis, stakeholders remain concerned about the human rights situation in the country.
Cambodia is a strategic supplier to many of the world's largest garment, footwear, and travel goods companies. It was the sixth largest garment supplier and the fourth largest footwear supplier to the US last year, and the fifth largest garment and footwear supplier to the European market. Sales to Europe and the US combined in 2018 reached US$$8.5bn, or more than one-third (38%) of Cambodia's total Gross Domestic Product (GDP). Further, apparel, footwear, and travel goods account for 80% of Cambodia's total exports.
In May, global brands including Nike, Gap Inc, Levi Strauss and Under Armour wrote a second letter to prime minister Hun Sen urging the Cambodian government to address criticism of its human rights record or risk losing international trade benefits. The brands together imported goods from the Southeast Asian nation to the tune of US$9.5bn last year, and are concerned that the labour and human rights situation in Cambodia is posing a risk to the country's trade preferences.
Recently the European Union announced its decision to review Cambodia's Everything but Arms (EBA) benefits, starting the process that could lead to a temporary suspension of preferential EBA tariff arrangements – which can be removed if beneficiary countries fail to respect core human rights and labour rights.
And members in the US Congress have introduced the Cambodian Trade Act of 2019, which would require the US Government to review Cambodia's Generalized System of Preferences (GSP) benefits based on the declining respect for labour standards, including freedom of association, and other issues related to respect for human rights.