Utexa yarn mill helping Honduras to get back on track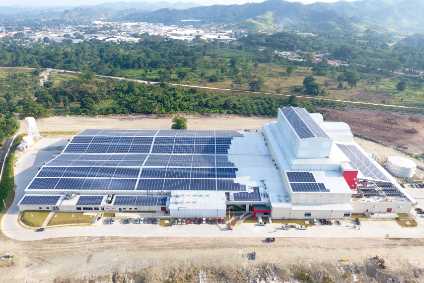 The $100m Utexa facility is one of the most advanced man-made yarn production facilities in the world
Set up two years ago to give a boost to Central America's apparel production, the Utexa synthetic yarn plant in Honduras most recently played a pivotal role in US PPE supply chains. Navigating the Covid-19 pandemic has been a rollercoaster ride, general director Eric Joo tells just-style – and one that proves the importance of collaboration.
Until the coronavirus pandemic hit, 2020 was shaping up to be the best year ever for many textile and clothing manufacturers in Honduras.
As the fifth-largest apparel supplier to the US, the Central American country saw shipments to its largest trading partner rise 7.7% year-on-year in 2019 to US$2.8bn. With a 3.3% share of the US market by value, top exports include cotton T-shirts, sweatshirts and underwear, with gains also being seen in man-made knits and other activewear.
Rather than trying to compete on low-cost production, growth has been fuelled by a focus on speed-to-market and more frequent in-season replenishments, along with rising demand for value-added sportswear in the United States – a key component of which is virgin and recycled polyester yarn from the United Textiles of America (Utexa) mill.
Turning Honduras into a synthetics powerhouse also plays to the yarn-forward duty-free rules of origin under the Dominican Republic-Central America Free Trade Agreement (DR-CAFTA), where it is already the largest supplier of apparel to the US.
We came in to give a boost to sourcing decisions in the region and take advantage of duty-free access to the United States
The US$100m Utexa facility is one of the most advanced man-made yarn production facilities in the world, and was borne out of a frustration with current synthetic yarn supply, Joo explains. "There wasn't enough innovation and price competition in the marketplace, so we came in to give a boost to sourcing decisions in the region and take advantage of duty-free access to the United States.
"There's been more of a sense of urgency over the last few years to bring product development cycles closer to market, but one of the barriers was a lack of products and the pricing was too high. So we're bringing in more products to Central America that are typically available out of Asian suppliers."
The state-of-the-art mill employs 420 people and adds a monthly capacity of 2,500 tons of texturised filament polyester yarn to the region. Tapping into rising demand for recycled polyester, it even launched its own Reborn brand last year, which is certified to the Global Recycle Standard (GRS). Sales of Reborn polyester are expected to be greater than virgin polyester by 2021.
As well as appealing to activewear specialists like Nike, Under Armour, Adidas, "even value everyday basics retailers such as Target and Walmart have seen that they're able to drive decisions to deliver high performing products using texturised polyester," Joo adds.
"We reached pretty close to full capacity, but with Covid we're not where we'd like to be. We still have some room to grow."
PPE lifeline
Utexa's business has been buffeted from all directions since the coronavirus outbreak at the start of the year. "We bring in most of our raw materials from Asia, and initially when Covid-19 started happening, China was on lockdown, so we weren't able to get our goods in. And then after China started recuperating, our regular business slowed down."
The plant was shuttered when Honduras went into lockdown on 16 March, "but we were able to start up again a couple of weeks later to manufacture essential raw materials for PPE."
Involved in a programme for FEMA (the Federal Emergency Management Agency) in the US, Utexa became part of the supply chain to manufacture isolation gowns for frontline responders.
"It was a pretty significant effort, going from scratch to a supply chain that was delivering about 8m units out of Central America to the United States. It was a very coordinated and rapid effort, and really shows what can happen when you have cooperation between different competitors."
While still hoping that additional PPE business will come out of programmes now being handled by the Defense Logistics Agency (DLA) for the US Department of Defense, Utexa's regular business is starting to bounce back.
Customer orders for Reborn recycled polyester are booming. "Pretty much everything is switching over to recycled polyester, so right now, most of our new business and the majority of our buying is recycled polyester."
In particular, customer orders for Reborn recycled polyester are booming. "Pretty much everything is switching over to recycled polyester, so right now, most of our new business and the majority of our buying is recycled polyester."
Nevertheless, the picture painted by Joo is one of confusion on the part of apparel brands and retailers as they emerge from the pandemic. "There are some buyers that are cautious, some buyers that are bullish, but even the same buyer will be bullish one week and cautious the next week, so it goes up and down. It's a bit of a rollercoaster ride.
"The whole situation is exacerbated because you have certain retailers who have had their doors shut and are sitting on a lot of inventory, and then you have others that have kept their doors open and have come roaring back.
"There's more hesitation on the part of brands that do not have direct tie-in to retail sales numbers and retail sell-throughs. They're trying to play a balancing act between keeping their suppliers healthy, keeping their inventory levels healthy and being able to have the right product in order to meet demand.
"It's really about just trying to figure out what they don't have enough inventory of, what they have too much inventory of: right now it's pretty much a guessing game."
If there is a general consensus, he says, it's along the lines of "Let's write off the holiday/winter seasons and move on to spring 2021."
Near-shoring strategies
Export data for the year so far shows just how hard the pandemic has hit apparel exports between Honduras and the United States. The volume of shipments slumped 39.2% to 402m SME in the first eight months, down from 662m SME in the same period last year, while there has been a 43.4% drop in value to US$1.03bn.
However, from a low of just 5m SME in April, exports have been recovering month-on-month, reaching 31m SME in June and doubling to 64m SME in July and 82 SME in August – just 2.5% down on the same month last year.
It's a different story for yarn exports, with the volume sent to the US from January to August jumping 24.3% to 4.7m SME. Of this, 57% was textured filament yarn – a rise of 87.4% on the same period a year earlier.
As well as helping to broaden the product range available in the region and lowering its raw material input costs, Utexa's presence has given added impetus to sourcing and near-shoring strategies.
Located just two to three days' shipping time to major ports on the southeast coast of the US, Honduras can offer speed to market through a vertically integrated supply chain that includes yarn spinning, knitting, dyeing, finishing, printing, cutting, sewing, packaging and logistics.
The country is in the same time zone as its US customers, English is widely spoken and, according to pre-Covid figures from the Honduran Maquila Association (Asociación Hondureña de Maquiladores or AHM), there are 322 companies employing more than 167,000 workers operating out of 16 industrial parks.
Rethinking retail
However, Joo believes now is also the time for brands to really rethink the way they're approaching retail and their supply chains.
"The old adage 'pile em high, watch them fly,' where you buy a ton of inventory and sell it, is no longer true.
"If you can figure out how to deliver products within weeks instead of months then you're going to have an advantage. Certain companies have materials platforms [where they buy large quantities of fabric, position it with key strategic vendors, and call off different treatments, washes and finishes within a season once a key trend is identified] and that strategy is starting to become more and more important in terms of flexibility."
The only caveat? "It requires retailers and brands to address something that they're generally pretty uncomfortable with: sharing their strategy, sharing their information with their supply chain, and really trusting that their supply chain keeps their best interests at heart. But without some measure of trust you can't build these flexible platforms.
"It's starting to happen, but it's really turning convention around. Instead of 'this is what I need for the season, give me what I want,' it's a case of 'this is what we're going to use this season, and based on how it does, we'll either go this direction or that direction'."
Cooperation and coordination
Collaboration is also something he would like to see more of across the region as a whole.
Under the DR-CAFTA's "yarn-forward" rules of origin, each component starting with the yarn used to make the garments must be made within the free trade area to qualify for duty-free benefits.
"It creates a market that's available to be supplied by various countries, but in order to fully take advantage of the opportunities to meet US demands, there needs to be a lot more cooperation and coordination between the member countries. Infrastructure is challenging, customs regulations are very challenging...these are little things that could help a lot, and really boost the competitiveness of the member countries."
Despite the formalisation of the Central America Customs Union last year to ease the flow of people and merchandise between the three Northern Triangle countries – Guatemala, Honduras and El Salvador – Joo suggests implementation has been slow, with ongoing restrictions on travel within the region and cross-border delays.
"With Guatemala, El Salvador and Honduras being somewhat fragmented and not wholly unified, it somewhat decreases the competitiveness."
The International Monetary Fund has forecast the coronavirus pandemic may cause economic activity across Latin America and the Caribbean to contract by 9.4% in 2020 – and a more robust textile and apparel sector across the region could serve as a lifeline.
Covid-19 has also exposed vulnerabilities in global supply chains, causing US brands and retailers to rethink their future sourcing strategies.
The 2020 Fashion Industry Benchmarking Study published by the United States Fashion Industry Association (USIFA) saw some 40% of respondents express interest in increasing imports from the Western Hemisphere – such as DR-CAFTA – over the next two years.
"A more concerted effort by businesses and even customers in the US to make this happen needs to be realised," says Joo, adding: "There's more cooperation than there used to be between the Cent Am countries, but it's still not where I think is necessary."
Create sourcing plans that work
Find new apparel sourcing destinations, assess trade flows and manage tariffs. All in one place.
Oops! This article is copy protected.
Why can't I copy the text on this page?
The ability to copy articles is specially reserved for people who are part of a group membership.
How do I become a group member?
To find out how you and your team can copy and share articles and save money as part of a group membership call Sean Clinton on
+44 (0)1527 573 736 or complete this form..