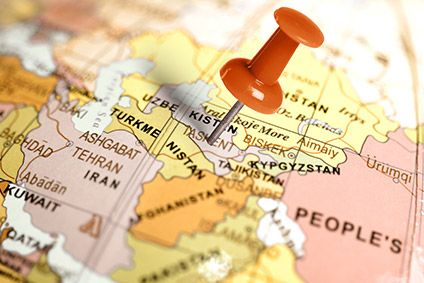 The Uzbekistan clothing and footwear industries are eyeing a major increase in exports as its government pushes ahead with programme to liberalise what was until three years ago a largely unreformed post-Soviet state.
A key goal is swapping raw cotton exports for overseas sales of added value textiles and clothing.
Uzbekistan has been reforming since President Shavkat Mirziyoyev rose to power in 2016, following the death of the country's only head of state since its independence, Islam Karimov. A 2017−2021 reform strategy was quickly developed, involving privatisation, liberalisation, tax reform and export development.
This policy has since been fleshed out for clothing and textiles. While Uzbekistan is still the world's eighth largest cotton producer and its 11th largest exporter, according to the State Committee of Uzbekistan on Statistics, the government wants to eliminate all raw cotton exports. It wants a 340% rise in the value of garment exports, to generate annual receipts US$7bn by 2025.
A recent bulletin from the committee says exports have been rising, with overseas sales of textile products doubling over the past two years, netting US$1.6bn in the past year – although almost 50% of this volume is yarn, not finished clothing.
The committee report says Uzbekistan's ministry of economy and industry and the Uzbekistan Textile Industry Association (Uztuqimachiliksanoat) have been "instructed to broaden the share of finished goods in exports."
These bodies are, however, starting from a low base, with the CIS Counties Trade Data (CIS is the post-Soviet Commonwealth of Independent States) saying that in 2016, Uzbek exports of knitted and crocheted apparel and accessories, for instance, were worth just US$187m, with key export markets including Russia, Switzerland, China and Turkey.
Leather goods goals
A similar demand for export growth has been made by the government on its ministry of investments and foreign trade and the Leather Industry Association (Uzcharmsanot) – tasked with doubling volumes of exports of leather goods, including shoes and bags.
This would mainly be by investing in full processing of raw leather and expanding the production of women's shoes and bags, sports equipment and other finished leather and haberdashery goods. The statistical committee report argues Uzbekistan's leather and footwear industry "has the export potential for at least US$1.5bn, yet currently this figure scarcely reaches US$200m."
Forced labour issues
Of course, a developing clothing industry will need to deal with claims that forced labour is still used to help pick Uzbekistan's cotton, a key raw material for Uzbek fabric makers.
This prompted a ban on US imports of Uzbek cotton and related products in 2010, although this was lifted in March this year as concerns about child labour eased.
Even so, the Global Legal Action Network (GLAN) is working with the Uzbek-German Forum for Human Rights to take a case to the English courts. This will claim the EU is breaking its own trade policies by offering Uzbekistan preferential tariff access to EU markets, without real proof that the country has ended forced labour.
In the meantime, it is undeniable that reform is ongoing in Uzbekistan. The government announced in September that 76 cotton and textile business clusters have been established to introduce new technologies and innovations, increase labour productivity and wages in the industry.
The same month, a government event briefed on how a similar cluster approach is being used to develop the Uzbek silk industry, promoted by silk industry association Uzbekipaksanoat and the ministry of economy and industry.
A ministry statement says it is developing "investment projects for manufacturing export-ready products, as well as the involvement of qualified professionals in the industry through cooperation with leading foreign research institutions and manufacturers." Meanwhile, the Global Go To Think Tank Index Report listed a new Uzbek economic development centre in its top 50 annual ranking in 2017.
Industry and business associations are seeking to build on this progress. The Chamber of Commerce and Industry of Uzbekistan met with Malaysian external trade development corporation MATRADE in October to discuss import-export opportunities.
Meanwhile, an Uzbek-Chinese business forum was held in Uzbekistan's capital Tashkent in November, celebrating the opening of a Sichuan International Chamber office in Uzbekistan, improving relations with this southern Chinese province.
Also last month, the Uzbek chamber held a meeting with Turkish business leaders to discuss potential cooperation regarding Uzbekistan's plan to improve investment and liberalise its economy.
And worker rights group the Cotton Campaign has met with the government of Uzbekistan in Washington to discuss reforms to end forced labour in Uzbekistan's cotton harvest.
With additional reporting by Keith Nuthall.