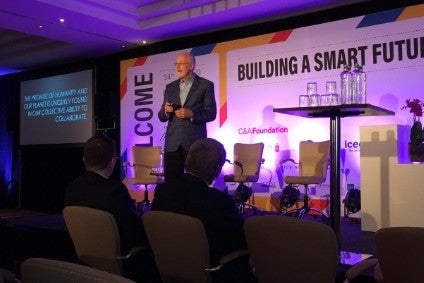 "We get so focused on making money that we sometimes overlook the value of collaboration and the spirit of making the world a better place and for the future of our fashion industry," Scott Deitz, vice president of public affairs at US apparel giant VF Corp, told delegates at the recent IAF World Fashion Convention.
VF is a US$13bn powerhouse with a portfolio of about 25 brands including industry heavyweights such as The North Face, Timberland, Vans and Wrangler. It boasts consumers in 170 countries and has its product manufactured in around 50 countries worldwide – giving it a massive responsibility to the people who make and buy its clothing and footwear. "The way we behave or misbehave matters from a business and a social standpoint," Deitz says.
It's a stance being reflected in the group's new Purpose Statement, first announced in May but not widely shared publicly, to be a 'purpose-led' company that will "power movements of sustainable and active lifestyles for the betterment of people in our planet."
"That means that sometimes we will lead movements, sometimes we will join movements, but we will be movement makers in ways that make us more a purposeful and value created company," Deitz explains. "Because the facts are that we have to collaborate if we're going to make the world a better place in business and in society around the world."
This focus "on a much broader purpose that will guide our actions" is a major shift for a company that "used to focus almost exclusively on total shareholder return."
The US apparel giant's strength, Deitz says, has always been focused on transformation; building brands and making fundamental changes in these businesses to respond to a changing marketplace.
"Because of transformation, VF has been able to hold its ground," he explains, adding the company was also "very quiet" in the way it did business around the world, with the emphasis instead on ensuring "people loved our brands."
The trigger
The realisation that something needed to change came with the collapse of the Rana Plaza factory building in Bangladesh five years ago, where more than 1,100 garment workers lost their lives.
While VF was not sourcing from any of the factories in the Rana Plaza complex, "it became quickly apparent that we had to move from being a transformative company to being a collaborative company for the sake of our industry, consumers, and others who were a part of our supply chain organisation," Deitz says.
VF faced criticism from some NGOs following the disaster, in part, Deitz says, because "of our size, the power of some of our brands, and nobody knew who the company was. Nobody knew our story…They knew what they were told by the media."
The experience led to VF executives agreeing to be more collaborative and progressive, with less focus on business results. "Rana Plaza and the events that followed it have represented a pivotal change in our company. In part, it's why we are becoming much more proactive in the kinds of things we are doing from a collaborative standpoint."
"In VF history, we have gone from transformation to collaboration," Deitz adds, describing collaboration as "an arrangement in which two or more parties, which may or may not have anything to do with each other, work generally toward a common goal.
"Sometimes these parties don't know each other at all, sometimes they don't respect each other, sometimes they don't want to work together – but they collaborate for some common goal."
Key takeaways
From its experiences, VF has taken away a number of key learnings on what it takes to be collaborative.
Working with friend and foe "In today's fashion world, value created collaboration required us to work with friend and foe. And sometimes foe is a competitor, but we can be a wonderful industry and still engage in competitive and profitable business practices where the best rise to the top when we're able to collaborate on a pre-competitive basis to do the right thing."
Find common ground Next, the collaborating parties must define common ground. "It is really easy for us to look at each other and determine the differences that separate us. But isn't it wonderful for just a moment to focus and start on the notion of common ground? Over time, you'll address your differences, understand your differences, and be able to navigate through effective collaboration."
Resistance to change Yet not everyone will welcome the change. "Whether you are an NGO, a consultant or a company, a provider or producer, whatever you are, resistance to change is real. Deal with it. Expect it. Understand the notion of resistance because it's not going away any time soon. If you really want to change the world, if you really want to change your business practices, you're going to meet resistance."
Respect Equally important is the need to "respect each other's business models. If you are a consultant, do you really understand VF's business model? If you a supplier, do you really understand VF's business model and what our goals and aspirations and expectations are? Do I really understand the goals, the inspirations of the NGOs that are working to make the world a better place? I would argue that until we understand their business model, we can't achieve success driven collaboration. This is even true within your own organisation."
"Show up" and inspire others The next point: "The world is run by those who show up," although companies who fail to collaborate must be not "left in the cold" but inspired by the actions of those that do.
There is no box "How many times have you heard the phrase 'outside the box thinking'? Who created the box? Who's right? Who's wrong? By saying that there is a box defines winners and losers and right and wrong. Let's just agree there is no box. It will make the world a better place, and it will make our industry more successful."
"Say and do" must be aligned "Our say and do must be aligned in this industry, without exception. You do first and then you talk about it."
Click here to read more coverage from the IAF World Fashion Convention, including how new tools and technologies are helping the apparel industry to build smarter, transparent – and more trusted – supply chains.