Vietnam again leads US apparel import growth in June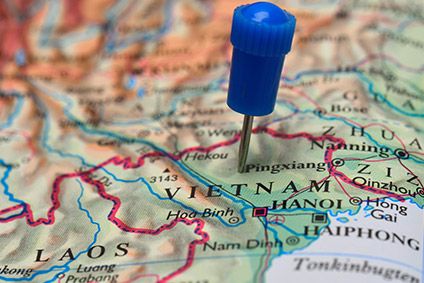 Vietnam was among only three of the top-ten countries that recorded a year-on-year gain
Apparel imports into the US in June have risen as merchants stocked up for summer and prepare for the back-to-school season, climbing on the previous month but down on the year before. Exports from Vietnam continue to surge, but Bangladesh has swung back into negative territory.
The latest figures from the Department of Commerce's Office of Textiles and Apparel (OTEXA) show the volume of US apparel imports from all sources was up 5.1% month-on-month in June to 2.25bn square metre equivalents (SME), compared with 2.14bn SME booked in May.
The figures also show the volume of apparel imports fell 2.21% against June last year, and were down 1% to $9.10bn in value terms.
In terms of individual supplier countries, only three of the top-ten recorded a year-on-year increase while two countries – Cambodia and El Salvador – saw a double-digit decline.
China – the largest supplier of apparel to the US – saw shipments drop 0.35% year-on-year to 950m SME, but rise 15.3% month-on-month from the 824m SME recorded in May. The second-largest supplier, Vietnam, booked an increase of 5.32% to 296m SME – although this was lower than May's 10.3% growth.
Bangladesh, ranked number three in the top-ten league table, has seen its exports to the US decline 2.1% year-on-year in June to 165m SME, reversing last month's increase. Cambodia booked a decline of 11.5% year-on-year to 59m SME. India, meanwhile, saw shipments increase 2.06% to 88m SME.
Of the remaining top-ten supplier countries, Nicaragua, new to the top-ten list since February, featured again but with a year-on-year decrease of 1.22% to 46m SME, while El Salvador fell 16.26% to 63m SME. Indonesia's shipments, meanwhile increased slightly, up 0.25% to 98m SME, while those from India increased 2.06% to 88m SME. Honduras fell 8.61% to 93m SME, and Mexico booked a year-on-year decline of 3.84% to 78m SME.
Total US apparel and textile imports in June were up 0.71%, reaching 5.58bn SME from 5.54bn SME in the same month last year. Textile shipments into the US were also up, by 2.79% to reach 3.33bn SME.
Source: The Department of Commerce's Office of Textiles and Apparel (OTEXA)
Click on the individual countries to add or remove
Year-to-date and six-year overview
While monthly trade data is often volatile, with big swings from one month to the next, a broader view of the year shows the volume of total US apparel and textile imports were up 2.3% in the January to June period to 30.68bn SME, from 30bn SME last year. Within this, textiles grew 2.7% to 17.88bn SME, while apparel shipments were up 1.67% to 12.8bn SME.
In value terms, total US apparel and textile imports were down 2.03% to $49.46bn year-to-date, from $50.48bn in the same period a year ago. Apparel imports dropped 1.86% to $37.25bn, while textiles dropped 2.52% to $12.21bn.
Again, only half of the top ten apparel supplier countries booked growth during the first six months of the year, with Vietnam seeing the largest increase at 10.57% to 1.78bn SME.
Nicaragua booked the second highest gain, at 5.98% to 270m SME. Imports from China, meanwhile, were up 3.97% to 4.9bn SME – the country remaining by far the biggest supplier of apparel to the US with a 41.5% share of the market. While Bangladesh, the third-largest supplier with a share of 6.9%, booked a drop in shipments of 0.85% compared with last year to 965m SME.
El Salvador saw the largest year-on-year decline at 7.45% to 377m SME, while Mexico also saw a decline, of 7.22% to 426m SME. Cambodia meanwhile, booked a 3.11% drop to 417m SME.
Taking a broader look at the data over a six-year period from 2010 to 2016, Vietnam is the only country in the top ten to have seen a steady increase in import volumes to the US, growing from 1.91bn SME in 2010 to 3.35bn SME in 2016, increasing its share of total imports from 7.72% to 12.45%.
China's imports have fluctuated over this period, from 10.4bn SME in 2010, falling to 9.74bn SME a year later, before reaching a peak of 11.38bn SME in 2015, before falling again in 2016 to 11.17bn SME. The country has lost marginal market share, from 41.98% in 2010 to 41.50% last year.
Cambodia, Mexico and Pakistan, meanwhile, are all exporting less to the US than they were six years ago. Cambodia fell from 947.1m SME to 903m SME in 2016, decreasing its share of the total from 3.83% in 2010 to 3.35% last year.
Apparel volumes - 6-year overview
Source: The Department of Commerce's Office of Textiles and Apparel (OTEXA)
Click on the individual countries to add or remove
Facts behind the figures
Vietnam has benefited as producers and buyers diversify their supply chains, helped by its low labour costs and its industry focus on specialisation, modernisation, and increasing value added. In volume terms the country increased its share of US imports last year, rising from 11.52% in 2015 to 12.45% in the 12 months to December 2016.
Manufacturers in Vietnam stand to gain from improved access to the EU import market once the EU-Vietnam free trade agreement comes into force, as well as increased foreign direct investment that flowed into the country ahead of the now-abandoned Trans-Pacific Partnership (TPP) trade agreement.
The industry is also calling on the government to create a development strategy to 2025, with a vision towards 2040, in order to help domestic firms take advantage of opportunities from free trade agreements, as well as offset competition from neighbouring Cambodia and Myanmar, China, India, Bangladesh and Sri Lanka.
Meanwhile, the country has seen a massive 48.3% surge in total garment, textile, fibre and yarn exports in the first six months of the year. The industry is expected to reach its export target of US$31bn for the year.
Nicaragua, meanwhile, has appeared in the top ten list for the last five months. Benefiting from the Dominican Republic-Central America FTA (DR-CAFTA) free trade agreement on exports to the US, a number of Nicaragua's manufacturers have set out their ambitions to boost their production to meet rising demand from US apparel brands.
The country benefits from low wages and a stable economic and political environment. Nicaragua's government has also managed to negotiate five-year collective wage agreements, adding further stability for manufacturers.
In percentage terms, of the Central American countries that export to the US, Nicaragua's textile export volume grew the fastest last year. In 2016, export volumes amounted to 531.3m SME compared to 488.1m in 2015. The country operates around 264 apparel and textile companies in its free zone, according to the National Free Zone Commission (CNZF).
While there continue to be concerns that increasing wages are undermining the competitiveness of China's garment production on the world stage, the latest figures continue to confirm its appeal to apparel buyers as rising prices are largely being offset by productivity gains. No other country can match China in terms of the size of its supply base, its range of skills, its quality levels, its product variety and the completeness of its supply chain. The country also continues to lead the way when it comes to efficiency and infrastructure.
Recent data on China's apparel imports to the US last year show the country's prices are now lower than they were six years ago. But an analysis of 2016 trade data also shows that while the country looks set to maintain its lead into the future, increasing competition is coming from suppliers in the Western Hemisphere who offer faster speed to market. This is supported by the recent growth of Nicaragua as a key apparel supplier to the US.
Meanwhile, a new report has shown imports of men's and boys' manmade fibre knit shirts and women's and girls' knit shirts and blouses from China into the US saw the biggest growth in volume across all clothing categories between 2010 and 2016.
Meanwhile, a new analysis published on just-style last month picks up on the challenges facing Bangladesh garment imports, and takes a closer look at why the country has been left behind as its competitors have moved forward.
Last month, Bangladesh booked a rise in imports for the first time since January. Despite factory safety concerns, the South Asian country's clothing industry has largely continued to build momentum as a low-cost sourcing destination. Since the collapse of the Rana Plaza building in April 2013, two major industry-backed remedial plans, together with one supported by the government, have worked to resolve issues over safety and worker rights, including the closure of some garment factories.
Two fatal terrorist attacks in Dhaka, and a safety warning by the US State Department earlier this year, left garment buyers rethinking travel plans, reigniting concerns over a potential economic fallout for a sector reliant on foreign investment. But while industry observers have questioned whether the attacks mark a tipping point for Bangladesh, garment exporters have insisted that business continues as usual in the country.
In June, Primark, Hennes & Mauritz (H&M) and Inditex were among the first to join a number of major apparel brands and unions in signing a new and improved Bangladesh Accord that will run to 2021 and promises to offer new worker protections and ensure more factories are inspected and renovated. The agreement includes additional commitments to the right of workers to organise and join a union in order to protect their own safety. So far the '2018 Accord' has been signed by 15 brands.
However, reports last month claimed Bangladesh exports have experienced the slowest growth in 15 years with garment exports up a mere 0.2% for the year ending June 2017. There have also been warnings that brands and retailers could stop sourcing from the country if it refuses to play ball on tackling outstanding labour rights issues.
Create sourcing plans that work
Find new apparel sourcing destinations, assess trade flows and manage tariffs. All in one place.
Oops! This article is copy protected.
Why can't I copy the text on this page?
The ability to copy articles is specially reserved for people who are part of a group membership.
How do I become a group member?
To find out how you and your team can copy and share articles and save money as part of a group membership call Sean Clinton on
+44 (0)1527 573 736 or complete this form..