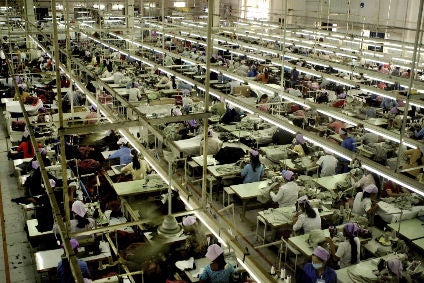 Global apparel brands need to redouble efforts to make fair wages a reality without excessive overtime, a new report says, amid claims full-time wages for workers in Vietnamese garment factories are not enough to meet their basic needs.
Just-released findings from a three-year long study by the Fair Labor Association (FLA) show Vietnam factory workers work overtime "beyond what is acceptable by international standards" to try to close the significant gap between what they earn and what they need to provide for themselves and their families.
This is despite the fact the average worker in FLA affiliate factories in Vietnam earns significantly more than double the minimum wage and well above the World Bank International Poverty Line, the National Poverty Line, and the legal minimum wage.
Vietnam is the world's third-largest garment exporting country by volume (behind China and Bangladesh), and the apparel industry accounts for 16% of total exports. Apparel production is the main source of economic development, with about 6,000 manufacturers employing 2.5m workers in a nation with a population of 90m. The combined footprint of Tier One suppliers and facilities owned by FLA affiliates alone involves more than 1.5m workers.
"The global supply chain still doesn't work for workers on the factory line," says Sharon Waxman, president and CEO of the FLA. "Individuals should not have to work excessive overtime week after week to compensate for low wages so they can put food on the table.
"People go to work so they can provide for themselves and their families. Global apparel brands, the government of Vietnam and civil society need to redouble efforts to make fair wages a reality, without excessive overtime."
The findings in the FLA's new report, 'Toward Fair Compensation in Vietnam: Insights on Reaching a Living Wage,' reflect data collected over three years, representing 13,000 workers across 38 FLA-affiliated factories in Vietnam.
The FLA, which recently made a move to require its company affiliates to publicly disclose their supplier lists, works to promote and protect workers' rights and improve workplace conditions.
Key findings
Workers who earn a salary on par with living wage estimates do so only through "excessive hours and days of work without rest," the report says, in violation of international health and safety standards. Indeed, it is common for workers in facilities with rest day violations to work more than 50 hours of overtime a month, FLA claims.
And although the average worker in FLA-affiliated factories in Vietnam earns more than double the legal minimum wage, a worker would need a pay increase of almost 25% to reach the lowest consensus living wage estimate, as benchmarked by the Global Living Wage Coalition.
Under what the FLA says is Vietnam's proposed 5.3% minimum wage increase for 2019, minimum wages would remain less than half (48.2%) of the Global Living Wage Coalition benchmark.
Recommendations
To address the issues identified, and mitigate the health and safety concerns of excessive overtime, which can leave workers "exhausted, injured, or worse," the report recommends:
The government should increase the minimum wage to a level that ensures a worker will earn enough to pay for basic human needs and have some discretionary resources to spur factory compliance.
Governments, unions, and brands should promote the adoption of industry-wide initiatives, such as ACT (Action, Collaboration, Transformation), that bring together government, unions and apparel brands to push for positive change on wages.
Brands should: 1) Avoid using harsh negotiating tactics with suppliers that lead to razor-thin margins, which often drive involuntary or excessive overtime; and 2) Review their costing policies to be sure that they are taking fair compensation into account.
Brands and suppliers must work together to plan their production cycles to allow for a regular work week, without assuming or expecting that employees will work overtime.
The current minimum wage in Vietnam ranges from US$125 to US$180, and while a recent study from the ILO shows that garment workers in Vietnam earn around US$248 per month – this is much lower than US$583 per month national average.
And a recent report from Oxfam Australia criticised several major Australian brands such as Kmart, Target Corp, Big W and Cotton On for failing to protect garment workers in their Bangladesh and Vietnam supply chains, claiming many are going hungry due to low wages.
Click here to access the full report 'Toward Fair Compensation in Vietnam: Insights on Reaching a Living Wage.'