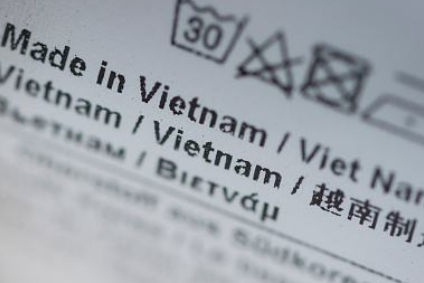 US apparel import volumes declined in December as retailers headed towards the end of the holiday shopping season. But while shipments from Vietnam continue on an upward trajectory, other top suppliers China and Bangladesh have seen their fortunes fluctuate.
The latest figures from the Department of Commerce's Office of Textiles and Apparel (OTEXA) show the volume of US apparel imports from all sources was down 8.1% month-on-month in December to 1.92bn square metre equivalents (SME). The figures also show a 3.5% decline in volume against December last year, and a 3.2% drop in value terms year-on-year to $5.56bn.
In terms of individual supplier countries, only three of the top-ten recorded a year-on-year increase in December, with Cambodia booking the largest growth.
China – the largest supplier of apparel to the US – saw shipments fall 1.7% year-on-year during the month to 794m SME. Imports from the country were also down month-on-month from the 855.4m SME recorded in November. The second-largest supplier, Vietnam, booked year-on-year growth of 0.2% to 261m SME – a slowdown on November's growth of 6%.
Bangladesh, ranked number three in the top-ten US apparel supplier league table, saw its exports drop 5.5% year-on-year in December to 131m SME. But Cambodia saw its shipments soar 25.5% year-on-year to 72m SME, while Mexico's edged up 0.04% to 60m SME.
Of the remaining top-ten supplier countries, Honduras reported the largest year-on-year decline of 27% to 65m SME. Nicaragua, meanwhile, recorded a fall of 16% to 35m SME and India a decline of 15.8% to 62m SME. Indonesia saw shipments decline 10.7% year-on-year to 79m SME, and El Salvador by 1.6% to 64m SME.
Nicaragua pushed Pakistan off the top ten list from February 2017.
Full-year and eight-year overview
While monthly trade data is often volatile, with big swings from one month to the next, a broader view of the full year shows the volume of total US apparel and textile imports was up 3.2% in the January to December period to 64.89bn SME, from 62.85bn SME the year before. Within this, textiles grew 5.1% to 34.77bn SME, while apparel shipments edged up 0.8% to 27.12bn SME.
In value terms, total US apparel and textile imports edged up 1.3% to $106bn in the 12 months to December, from $105bn a year ago. Apparel imports dropped 0.5% to $80.29bn, while textiles were up 7.2% to $25.71bn.
Half of the top ten apparel supplier countries booked growth during the year, with Vietnam seeing the largest increase at 7.5% to 3.6bn SME.
Cambodia booked the second-highest gain, at 3.1% to 931m SME. Imports from China, meanwhile, were up 1.8% to 11.36bn SME – with the country remaining by far the biggest supplier of apparel to the US with a 41.5% share of the market. Bangladesh, the third-largest supplier with a share of 6.9%, saw shipments drop 0.4% compared with last year to 1.85bn SME.
India meanwhile, reported a 2% increase year-on-year to 1.06bn SME. El Salvador booked the largest decline, of 5.4% to 780m SME.
Taking a broader look at the data over an eight year period from 2010 to 2017, Vietnam is the only country in the top ten to have seen a steady increase in import volumes to the US, growing from 1.91bn SME in 2010 to 3.60bn SME in 2017 – growing its share of total imports from 7.72% to 13.28%.
China's imports have fluctuated over this period, from 10.4bn SME in 2010, falling to 9.74bn SME a year later, before reaching a peak of 11.38bn SME in 2015. Shipments dipped again in 2016 to 11.17bn SME, and last year grew to 11.36bn. The country has lost marginal US apparel market share, from 41.98% in 2010 to 41.91% in 2017.
Cambodia, Indonesia, Mexico, El Salvador and Pakistan are all exporting less to the US now than they were eight years ago. Cambodia fell from 947.1m SME to 931m SME in 2017, decreasing its share of the total from 3.83% in 2010 to 3.43% last year.
Facts behind the figures
While there continue to be concerns that increasing wages are undermining the competitiveness of China's garment production on the world stage, the latest figures continue to confirm its appeal to apparel buyers as rising prices are largely being offset by productivity gains. No other country can match China in terms of the size of its supply base, its range of skills, its quality levels, its product variety and the completeness of its supply chain. The country also continues to lead the way when it comes to efficiency and infrastructure.
The latest figures show accumulated industrial profits in China's apparel and textile sectors climbed in the first ten months of the year, up 8.6% and 3.2%, respectively.
Work has also been underway by China's government to crack down on pollution, with tens of thousands of factories, including garment and textile facilities, shut down already. The national effort follows several months of investigations by the country's Environment Bureau to determine which factories are not following environmental laws. An estimated 40% of all China's factories have been closed in order to lower air pollution levels.
Factories may also feel further pressure to conform following the recent launch of an online supply chain map of China linking fashion brands and retailers to their suppliers' environmental performance. The database and map provide real-time data and historical trends on air pollution emissions and wastewater discharge for nearly 15,000 major industrial facilities in China, as well as access to environmental supervision records for over half a million more.
Last month, the country's efforts to secure market economy status were dealt another blow after the US rejected its request to be treated as such under global trading rules. The US, Europe and others say their promise to grant China that status was contingent on it implementing market liberalisation measures that have yet to be carried out.
Meanwhile, Cambodia's apparel industry is the country's largest manufacturing sector, despite being blighted by strikes, wage disputes, and factory faintings. Garment manufacturers have called for a focus on productivity to offset rising wages, and are also urging buyers to increase their prices for Cambodian goods. A new monthly minimum wage of $170 took effect in January – an increase of 11% on last year.
Cambodia's garment exports are growing in markets with beneficial access, like Canada, Japan and the EU, while shipments to the US have fallen over the past eight years.
However, in December the European Parliament passed a resolution calling for the temporary suspension of Cambodia's preferential Everything But Arms (EBA) duty-free trade access over claims the country is violating its obligations under the agreement. Earlier in the month a ruling by the country's top court to dissolve Cambodia's main opposition party had prompted garment makers to call for continued support from international buyers.
Thanks to the EBA duty-free access, the European Union (EU) is the most important market for Cambodia's garment exports, accounting for around 45% of the total – which grew 5.4% year-on-year to US$3.3bn in the first six months of 2017. As a whole, Cambodia's garment and footwear sector is worth US$6.8bn and accounts for 80% of its total exports.