Virtual trade shows unlikely to replace physical post Covid-19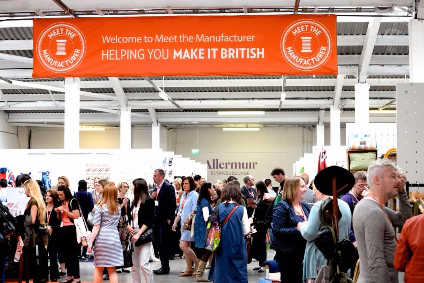 Will physical trade shows return as they were pre-pandemic
Digital apparel and textile trade shows are unlikely to replace physical shows post-pandemic, but rather complement them, experts have agreed.
With the industry in lockdown due to the coronavirus outbreak, trade shows were one of the many casualties as all but essential travel was stopped. For many organisers it has been a chance to offer a digital alternative to the physical shows such as the Apparel Textile Sourcing Virtual (ATSV) show and Kingpins24.
A digital support
However, many organisers believe that while digital has an important role to play in trade shows, it cannot replace the physical show completely.
"A trade show must be accompanied by a digital support to accelerate contacts and the business but digital should not to make us forget we are running a physical show," Guglielmo Olearo, international director of Premiere Vision, said on a panel session for the two day Kingpins24 virtual event last week.
"We took the decision two years ago to launch the Marketplace [for online orders] and to invest, even in tough times, to add some additional features to our tools because I feel these will be useful not only during the show but on this platform that connects people for 12 months and not just six days."
Olaf Schmidt, vice president of textile and textile technologies for Messe Frankfurt/Texworld and Intertextile Shanghai, agreed that digital should complement global communication at trade shows, but not more.
"Before the crisis we had a discussion about how the digital solution can support the trade show. This makes sense because first we have this trade show and we offer a digital solution for our community, for exhibitors and visitors. But at the end, personal meetings are really important for this type of business, particularly when you talk about fabrics and you need to see the fabrics.
"We need trade shows to support the industry. It's more important to me that you have additional tools for our customers but not more. Especially in the last few weeks, we saw so many digital solutions for the industry but I also saw some very horrible solutions. And the industry said, okay, now we see how important it is we need physical trade shows to meet each other and to do business."
Andrew Olah of the Kingpins Show and Transformers Foundation, offered a similar sentiment. "[Digital] is a complementary tool that we can use for our communities. We haven't been using them and going forward I think they will be more important as a tool. Our physical trade show is never going away, we are a tactile industry so it's never going to change but we can do more than we're doing."
Finding a starting point
It is expected that physical shows will be allowed to take place again from the autumn. Last week, the Bavarian Government announced trade fairs will be allowed to take place again from September, while in Bangladesh, organisers are gearing towards November.
In Amsterdam, no decision has yet been made, Olah says, but for Kingpins' New York show, he questions whether people will travel.
"You can basically say we're going to have a show but it doesn't mean people will want to go to a show. Is there going to be a second wave? We don't know."
Sebastian Klinder, managing director of Munich Fabric Start/BlueZone, adds: "Things are changing so quickly and we cannot foresee what is happening in two weeks or two months. This is the problem for all of us. Trade shows have to be organised so precisely and we need time, and we need a starting point. We need to think positive and that is what me and my team are doing right now to say, okay, let's try to make it happen and try to make a show under these new circumstances. This show will be different. But we need a restart, whether that's smaller or regional, it doesn't matter, but this can't be done in a totally virtual and digital way."
Travel, however, could continue to be a problem, Schmidt points out. "It is possible now to organise a show, but the issue is how to get people to move to a physical show.
"It's important to know more about international visitors and requirements for flight operations and allowance to travel anywhere in the world. This is essential in the first step. It is possible to organise a trade show based on the regulations but the visitors and exhibitors have to come. So it's easier to organise a local event with local visitors and buyers than internationally."
Tricia Carey, director of global business development for denim at Lenzing Fibers, concurs. "The biggest obstacle for me is getting on the airplane. That is my biggest concern. In New York, what will happen with shows because many of the businesses in New York do not plan to have their offices open through the summer? How do people feel about interacting with each other? Will there be additional quarantines? Will there be more outbreaks over the summer? I have less fear about going into a trade show, but it's more the logistics of getting there as we know air travel is all going to change."
How many trade shows take place is also a subject of consideration. For Messe Frankfurt, which organises 55 trade shows internationally, Schmidt says he has no doubt after the crisis "there is a high request to have physical trade shows again, perhaps more than before because people would like to meet each other".
Klinder offers a different view. "The question of how many trade shows in the industry really needs is ongoing. For me, I'm really questioning if three major denim shows must be happening within a time slot of three months and the distance of probably not more than 600 miles. This is crazy in a way but I think trade shows are one of the most important business and marketing tools. I'm missing the fact that shows cannot happen. Trade shows will change and the way people are travelling will change but the way physical trade shows happen are important to me."
Create sourcing plans that work
Find new apparel sourcing destinations, assess trade flows and manage tariffs. All in one place.
Oops! This article is copy protected.
Why can't I copy the text on this page?
The ability to copy articles is specially reserved for people who are part of a group membership.
How do I become a group member?
To find out how you and your team can copy and share articles and save money as part of a group membership call Sean Clinton on
+44 (0)1527 573 736 or complete this form..