What are the advantages and challenges of local sourcing?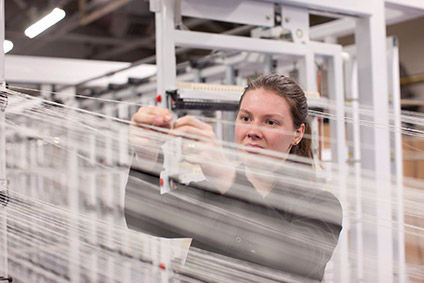 UK manufacturing has seen a small resurgence but there is a lack of skill coming through
Delayed shipments, rising labour costs, quality claims and compliance issues are just some of the challenges facing sourcing managers. Add in the need for faster speed to market and 'buy now/wear now' demands, and it's not surprising that some UK fashion brands and retailers are looking to buy closer to home. A recent industry event considered both the opportunities and the challenges for local or near-sourcing.
"You might think that it's cheaper to go to China or India [to source clothing], but what people don't factor in is the cost of going over there, the cost of re-processing when you come back, the fact that if there is a mistake you've already paid for it," Jenny Holloway, CEO of social enterprise Fashion Enter, told delegates at the recent Fashion SVP sourcing event in London.
She also raised the question of whether it is more beneficial to source small quantities closer to home. Fashion enter, an advocate for manufacturing in the UK, carries out sampling, grading and production for some of the country's major fashion brands, including online retailer Asos. It is also a centre for learning and development of skills within the fashion and textiles industry.
The organisation's average order size is 500-800 units, which enables production to be completed within the hour.
"Today that is what the customer is dictating," says Holloway. "We can get fabric in five days, our digital prints from Leicester, we cut it as soon as it arrives, and in two weeks we make the garments and they're delivered. It's so fast now. The traditional spring, summer, autumn and winter transition is gone. It is that fast. It's about what the customer wants and they're not prepared to wait any longer."
Liza Canneford, a consultant and former product director for women's wear brand Jaeger, says her argument for going near-shore when she worked for the upmarket fashion label was quality.
Nearly four years ago when she joined Jaeger, over 60% of its production was in the Far East, primarily China – a country Canneford says the brand was "far too exposed to." Consequently, she set about bringing production closer to home and over a period of three years reduced that to just under 40%.
"The reason we still have that amount coming out of China is because we have so much cashmere and silk and China is one of the best places for that," she explains. "We brought back to Portugal tailoring, jerseys, silk dresses. We also brought production back to Italy, Turkey and Eastern Europe – Romania and Lithuania – for tailoring.
"It's about understanding where to go for what product. We would look at the product design, look at the fabric we wanted to use and then work out the best person was to make that with us. That's where the partnerships come in, and knowing and understanding factories."
UK manufacturing challenges
Sourcing closer to home for Jaeger, however, has not necessarily meant choosing UK manufacturers.
"I would loved to have sourced more from the UK but it is extremely challenging to find really good quality factories [here] at the moment," says Canneford. "We had a target at Jaeger of sourcing 15% of our production from the UK and we couldn't do it because of the quality of the product, of the factories, hygiene standards and CSR compliance – these were some of the big issues we were finding.
"I would rather have a slightly longer lead-time and get a better quality product from Portugal than currently use some of the suppliers we met in the UK. Obviously the UK is changing very rapidly and it's a very shifting picture, so that's something we as buyers need to keep up with as well."
Holloway implores retailers to support a return to manufacturing in the UK but concedes that the huge skills gap in clothing manufacturing in the country isn't helping – a challenge Fashion Enter is trying to resolve through its stitching academies.
"We now have real succession planning going on on the teaching side. We also do factory visits. The buyers today do not understand how factories work, so we do continual personal professional development (CPPD) where we talk about how to construct a garment," she explains.
Aside from the skills shortage, for many retailers and brands there is also the challenge of higher cost when considering manufacturing in the UK.
But Canneford believes "it's about making clothes, it's not just about making fashion".
"We are seeing, working with investors, that people want something made with care and quality. In sportswear too, people want something a bit different. A factory has opened in Wales specialising in denim. There is a lot more of that going on. People want niche brands that specialise in [exciting] product."
Buyer training
While Canneford is an advocate for UK manufacturing, she also argues that the crucial element within sourcing is quality – and, more critically, the relationship a buyer has with its supplier.
"As a large scale high street retailer it's a lot more challenging…but if you're a small start-up, it is really important you build a relationship with your supplier so you know the product they are creating for you and you are creating it together as a team. As a buyer you don't get it right all the time so you might need your supplier to do a favour for you to pull your production through the line. It's a give and take relationship," she explains.
The challenge, however, is ensuring buyers coming into the industry have the right training and knowledge to do the job to the best of their ability – a problem she believes is facing many retailers and brands.
"Sadly, you get a lot of buyers come in as graduates with a fashion or engineering degree that are given a lot of responsibility very very quickly. They aren't fortunate enough to go into a factory and understand how one works and that's a really really critical point.
"We have designers coming in who don't have training in fabric so they're designing garments that are never actually going to work because they're using a fabric that isn't suitable for that construction. You need to get your basics straight before you go in and feel confident talking to your suppliers.
"It's not always about buying a cheaper fabric, it's about garment engineering too and that comes with experience and knowing your job. If you respect your supplier and listen to what they're telling you, you will learn so much. You both have a common goal and that is to make a garment and make money."
Canneford believes this responsibility lies with the retailer. "If we want to succeed in this country in retail, then we have to have buyers who are technically proficient in garment construction."
Brexit implications
At present, around 40% of garments imported into the UK come from countries within the EU and its associated customs union. So while the UK faces up to the challenge of whether it will ever become a viable location to produce mass garments, Mike Flanagan, chief executive of UK-based consultancy Clothesource, throws another conundrum into the mix.
"It is the established policy of the British government that on 30 March 2019 we will erect a customs barrier against countries where 40% of our garments come from, and that roughly one in five lorries coming into the country will be stopped and will be inspected."
As Flanagan has written extensively on just-style, the prospect of disruption to the free flow of goods should be a major concern for apparel importers –especially those in fast fashion.
The prospect of Britain leaving the EU has also led to a tumultuous time for the pound – including higher prices for some retailers. British fashion retailers Next Plc and Karen Millen are just two firms who have said they will have to raise prices by 5% to deal with increasing cost pressures from the devalued pound.
"In terms of the impact of Brexit on near-shore sourcing, already there has been an impact on cost," says Canneford. "A lot of companies had hedged their currencies so the impact wasn't immediate. But there have already been price increases, so European manufacturers are quoting 10-15% on their pricing and some of those have already been put onto product."
Holloway says her concern is for her employees, some of whom are from Europe. Under current Brexit negotiations, the UK government is under pressure to guarantee the residence rights of EU citizens already living in the UK, with many skilled EU workers saying they are likely to leave the country before Brexit even happens.
"I've said to [my staff] I will do everything I can to ensure they have longevity. It's quite damning, and I just can't find such a pool of talent in the UK. I'm on tenterhooks about it."
Canneford says the challenge going forward for retailers and brands will be deciding whether to put their prices up, how they will handle their discounting, and whether they are prepared to take a margin hit.
"All of those decisions need to be made, and then there are the implications we don't even know about yet in terms of borders and getting things through. Again, it's all about the relationship with your European suppliers. How are they feeling about supplying the UK?
"Jaeger went through administration recently and that was the third time some of those European suppliers had been through administration with British companies. And UK law around administration over what happens to manufacturers and creditors is very different to the law in Europe and the US. That is something that needs to be addressed going forward."
Create sourcing plans that work
Find new apparel sourcing destinations, assess trade flows and manage tariffs. All in one place.
Oops! This article is copy protected.
Why can't I copy the text on this page?
The ability to copy articles is specially reserved for people who are part of a group membership.
How do I become a group member?
To find out how you and your team can copy and share articles and save money as part of a group membership call Sean Clinton on
+44 (0)1527 573 736 or complete this form..