What are the top threats to global supply chains in 2016?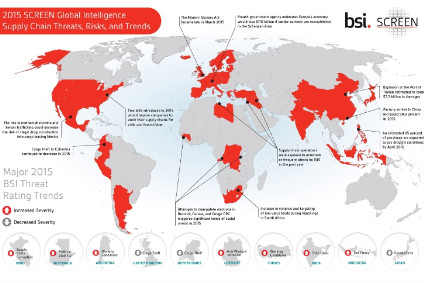 The BSI threat rating trends marked in red indicate areas of increased risk severity
Risks ranging from cargo theft to natural disasters and terrorism incidents are among the biggest threats seen to global supply chains in 2016 – with worker unrest in China and child labour in India among specific challenges faced by apparel firms.
The forecast from the BSI (British Standards Institution) also expects continued disruptions as a result of a push for supply chain monitoring and reporting to eliminate the use of child and forced labour, and continued social unrest in Africa, Latin America, and Europe.
The group's latest Global Supply Chain Intelligence report calculates that in 2015, $22.6bn worth of losses were due to cargo theft, and that the year's top five natural disasters had a $33bn impact.
South Africa has seen a 30% increase in cargo truck hijackings over the last year; and daring vehicle shipment thefts have become increasingly commonplace in China, including in-transit vehicle thefts occurring along the busy G45 highway.
The report is based on data from BSI's Supply Chain Risk Exposure Evaluation Network (SCREEN), which provides continuous evaluation across 22 proprietary risk factors and 204 countries.
Its findings also note that a number of transnational issues threatened supply chain resiliency across the world, including terrorism incidents that contributed to billions of dollars in losses for global shipping companies, especially in Europe and the Middle East.
An influx of migrants in Europe disrupted cargo movement across the continent; and issues of corruption drove social unrest in Africa and Central America. Extreme weather events, including many attributed to the El Nino phenomenon, also caused supply chain disruptions and threatened business continuity in multiple regions.
Industries including textiles and apparel were plagued by poor enforcement of labour regulations, allowing for significant rates of child or forced labour in Argentina and India, among other nations.
Nearly 80% of Argentina's textile industry was found to be sourcing from unregulated facilities in 2015, where forced, child labour and poor working conditions are common.
BSI also noted an increase in the risk of child labour use in India due to the existence of loopholes in labour reforms approved in 2015. It also suggests the country's key export industries may be among those impacted by proposed reforms that could spark the proliferation of subcontractors structured as 'family enterprises', possibly allowing children to manufacture goods like apparel or sporting goods depending on the law's interpretation.
In response to these and other recent concerns, European countries and the United States last year moved to pass laws mandating reporting on corporate social responsibility issues in corporate supply chains.
Other issues with a greater prevalence in the clothing and footwear sectors include labour unrest and factory strikes.
Last year, factory strikes in China increased by 58.3% from the previous year due to pay disputes, as factory owners struggled to pay workers due to a slowing economy, leading to protests. The withholding of wages was cited as a major cause in 75% of protests and generated losses of up to $27m in the footwear industry.
The garment and textile sector accounted for 16.9% of all strikes in China in 2015, while footwear accounted for 6.2% of the total. Guangdong Province, the manufacturing powerhouse in China's south, accounted for 30% of strikes, more than any other province.
Labour unrest in China
Labour unrest is likely to continue in China in 2016, regardless of whether the economy improves, the BSI report suggests.
A return to faster growth in the Chinese economy would continue to drive wage increases, emboldening workers to ask for further wage hikes and making them less willing to accept unfair withholdings of benefits, it says.
Compounding these problems, the rate at which migrant workers are moving to China's coastal manufacturing provinces is beginning to slow, creating spot labour shortages in some places and further driving up wages.
Increasing wages in China's major manufacturing areas in the coastal provinces have also driven companies to relocate to nearby countries that have lower wages, serving as another driver of strikes in China. Vietnam and Cambodia, for example, have monthly wages of $146 and $140, respectively, compared to minimum wages that top out at $325 for Guangdong Province.
The garment industry has been most active in relocating to Southeast Asia. However, many Chinese manufacturers relocate to these countries without paying required compensation to workers in China, leading to strikes.
The biggest threats to global supply chains in 2016 include:
Global cargo theft cost is estimated to grow by a further $1bn in 2016 – with increased concerns in China, Germany, India, Mexico, South Africa, and United States.
Continued tensions in the South China Sea are predicted to lead to further protests and disruptions.
On-going conflict in Syria will continue to impact supply chains: the migrant crisis will continue to lead to port disruptions; and European Union/Schengen border controls are predicted to have far-reaching impact.
ISIS is predicted to remain a significant threat to disrupt supply chains.
Labour unrest in China is expected to persist, as a slowdown in the Chinese economy continues and more jobs move to neighbouring countries.
Weather disruptions e.g. La Nina phenomenon.
Global health crises such as Zika and Ebola may lead to work stoppages and protests.
Click on the following link for a full copy of the report: Global Intelligence – Supply Chain Threats, Risks, and Trends
Create sourcing plans that work
Find new apparel sourcing destinations, assess trade flows and manage tariffs. All in one place.
Oops! This article is copy protected.
Why can't I copy the text on this page?
The ability to copy articles is specially reserved for people who are part of a group membership.
How do I become a group member?
To find out how you and your team can copy and share articles and save money as part of a group membership call Sean Clinton on
+44 (0)1527 573 736 or complete this form..