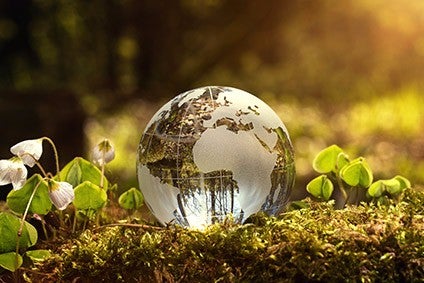 On the 51st anniversary of World Earth Day, we take a look at the ways in which the footwear and apparel industry is marking the event. Highlights include a pledge by the Leather and Hide Council of America (LHCA) for zero hide waste, new technology from Jeanologia that could help scale sustainable production, and an open-source version of Allbirds' Carbon Footprint Calculator.
Allbirds' Carbon Footprint Calculator Sustainable footwear and apparel company Allbirds is open-sourcing a version of its proprietary Carbon Footprint Calculator at FreeTheFootprint.com. The company says it has invested hundreds of hours and thousands of dollars into R&D for the third-party verified life cycle assessment (LCA) tool. Allbirds last year revealed plans to label all of its products with a carbon footprint, with its Dasher performance the first to display a physical Carbon Count label. The company has also recently pledged that by the end of 2025, 100% of its wool will come from regenerative sources, and all of its annual on-farm emissions from wool will be reduced or sequestered.
Jeanologia's future for fabric finishing Denim finishing technology specialist Jeanologia has launched a new technology to help scale sustainable production. Its Handman comprises lasers and a robot cabinet and enables two people with two robots and eight lasers to produce 10,000 pairs of jeans a day, without discharge. Handman is also said to change the relationship between brands, retailers and producers by allowing them to be more strategic and interconnected. "This technology is the beginning of a new era with a completely automised, sustainable and digital production," Jeanologia says. The firm notes Handman is currently is in use in three plants around the world, producing 5m jeans a year.
US leather industry commits to zero hide waste The Leather and Hide Council of America (LHCA), the representative body of the US leather industry, has pledged that every hide from the dairy and meat industry will be used to make clothing, shoes, furniture and car interiors. The US leather industry currently uses 83% of such hides, but has now committed to ensuring that the remaining 17% are no longer incinerated or sent to landfill. This will save an estimated 137,500 tonnes of waste every year whilst reducing carbon emissions from landfill by 120,000 tonnes of CO2 equivalents, LHCA says. It is also working on a number of initiatives to help buyers and consumers make more responsible choices, including expanding the programme that allows buyers to trace US hides and developing international equivalents. It is also stepping up its global campaign Real Leather. Stay Different. to help consumers make more informed decisions about the products they buy.
Climate Neutral Certification doubles brand participation Climate Neutral, an independent non-profit that provides a climate-neutral certification for businesses, says more than 230 brands – 52 of which are fashion and apparel brands, including Reformation, Allbirds, Ministry of Supply, and MATE The Label – have completed the certification process to measure, offset, and reduce their 2020 "cradle-to-customer" greenhouse gas emissions. The number of certified brands has more than doubled over the past year. To help measure each brand's carbon footprint, the non-profit provides access to its carbon calculator – The Brand Emissions Estimator (the BEE) – built specifically to help measure corporate emissions. All companies that achieve the certification must go on to offset their emissions according to Climate Neutral's standards and create reduction action plans to reduce their footprint in the next 1-2 years. The organisation plans to certify around 150 more brands in June.
Cone Denim's waste water treatment facility US-based Cone Denim has announced its next phase of its water reduction initiatives, including completion of the Zero Liquid Discharge waste water treatment facility at the Cone Denim Parras (CDP) facility located in Northern Mexico. This customised ultrafiltration and reverse osmosis system will recycle 90% of the water used at CDP back into the manufacturing process, leaving only a small amount of water that is lost due to evaporation needing to be replaced with fresh water. As a result, no wastewater will be discharged into the environment, and once completely operational this summer, the Zero Liquid Discharge facility will save over 140m gallons of water a year – the equivalent of 16,000 gallons per hour.
Asics Earth Day Pack Sportswear firm Asics has launched what it says is its most planet-friendly cross-category collection to date, having been created using a circular manufacturing approach that saw around 5 tonnes of textile waste recycled into new shoes. The new Earth Day Pack includes many popular products across Asics' running, court, and Sportstyle ranges, as well as a wide range of clothing. Contributing to the smaller environmental footprint is the shoes' socklining, which is developed using solution dyeing said to reduce carbon dioxide emissions by around 45% and cut water use by around 33% compared to conventional dyeing processes. Earlier this year the company released the Sunrise Reborn Pack, made in part from recycled clothing collected in Japan.
Sanuk x Surfrider Sanuk, a division of Deckers Brands, has partnered with the Surfrider Foundation, an environmental non-profit that works to protect the ocean and beaches, to launch a limited-edition footwear collection for all genders. The Sanuk x Surfrider We Got Your Back features 100% hemp uppers, classic cotton Baja blanket trim, custom debossed branding, jute inlay in the outsole, and responsibly sourced leather from the Leather Working Group. Sanuk has donated US$25,000 to the Surfrider Foundation this year, and an additional $3 per pair donation will go to the Surfrider Foundation for every pair of We Got Your Back Surfrider product sold, with a minimum guaranteed total donation of $44,000.
Smartwool's Second Cut Project VF Corporation's Smartwool brand has announced a strategic goal of making all products circular by 2030 and outlined a new initiative that aims to give products a "second cut" at life and create a more circular supply chain. Timed to coincide with Earth Day, Smartwool's Second Cut Project starts with socks – which it says one of the most thrown-away pieces of apparel. In partnership with Material Return, Smartwool will collect used socks from any brand at specialty retailers nationwide and online from 21 April. These initial donations will be re-purposed into a filling for dog beds, which will be available for purchase at Smartwool.com during the 2021 holiday season.
Eco-conscious digital fabric collection 3D design and prototyping software specialist Browzwear and non-profit Cotton Incorporated have joined forces to create an eco-conscious digital fabric collection consisting of more than 20 minimally processed cotton fabrics ready to use in VStitcher's asset library. In addition, Cotton Incorporated's CottonWorks platform will offer users an exclusive collection of over 100 downloadable, Browzwear-compatible, digital cotton fabric files for 3D garment development. The two say the collection will help designers to reduce textile waste and ultimately market a more eco-conscious product.
Tencel eShop Austrian cellulosic fibre producer Lenzing has launched an eShop for its Tencel fibre that offers a curated mix of more than 200 apparel and home textile products from an initial seven brands including Levi's, H&M and West Elm. Lenzing says this is the first e-commerce channel created by a sustainable fibre producer.
Other companies who have made sustainability announcements in the lead-up to Earth Day include VF Corporation's action sports brand Vans; US denim brand Wrangler; Canadian outdoor apparel specialist Canada Goose; and Gap Inc's Old Navy clothing business.
This week has also seen ethical fashion brand So Just Shop call on the UK government and regulators to adopt a 33% unethical practices Fast Tax on the products of brands that cannot prove responsible practices within their supply chain.