What the Paris climate deal means for clothing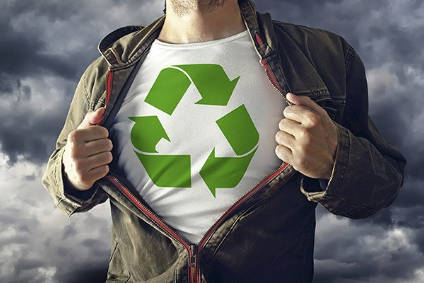 "The apparel industry needs to rapidly decarbonise its manufacturing facilities and bring down its carbon footprint"
The global clothing industry should engage with the new Paris climate change deal, say experts, who warn that a warming planet imperils not only the raw materials the industry needs but also poses an existential threat to the sector's prevailing business model.
The apparel industry must react quickly to the Paris climate change accord if it is to head-off the gravest impacts of global warming, experts have warned.
The agreement, struck on 12 December at the 21st session of the Conference of the Parties (COP) to the UN Framework Convention on Climate Change (or COP 21), calls on all nations to hold the increase in the global average temperature to well below 2°C above pre-industrial levels.
It outlines several implications for the apparel sector, whose contribution to climate change is dominated by the requirement for burning fossil fuel to create electricity for heating water and air in production processes such as dyeing and finishing, laundering and land use for resources.
"The Paris conference has definitely been pertinent to the industry. We're one of the most energy intensive industries," says Orsola de Castro, co-founder of UK-based Fashion Revolution, which promotes sustainable textiles.
Dr Sally Uren, CEO of London-based sustainability group Forum for the Future, said that the Paris agreement had direct implications for the apparel sector that required swift action. "The apparel sector sees and feels that it is on a burning platform when it comes to sustainability," she says.
"Paris sends a clear message to the apparel industry about the need to rapidly decarbonise its manufacturing facilities and bring down the carbon footprint of the goods themselves."
The agreement has also raised another challenge facing the apparel sector – measures to reduce the carbon emissions involved in farming: much of the carbon footprint in cotton production happens in the growth phase, in farming, and in the final end use by consumers.
"Bringing down the agricultural footprint is equally important," says Uren. "But the hardest bit is in stopping us, the consumers, from buying things over and over again."
Uren praises efforts by companies such as Levi Strauss & Co, which has produced jeans that use dramatically less water in the production process. "The major brands are looking for opportunities to make lower-carbon products fashionable," she says.
"The biggest challenge will be a business model based on fast fashion and cheap labour. They need to get away from the narrative that people always buy clothes that can be easily and affordably be replaced."
Level playing field
Proponents of the final Paris agreement say that it puts in place mechanisms to address the issue of a level playing field for industry emissions between Europe, the US and China – where, according to management consultants McKinsey, approximately US$177bn in apparel exports were generated in 2013.
Article 4 of the accord says that all countries will aim to reach global peaking of greenhouse gas emissions as soon as possible, "recognising that peaking will take longer for developing country parties."
To respond, argue experts, is in the apparel industry's own interests, as a changing climate is forecast to involve droughts, temperature shifts and other impacts that will make apparel production more difficult and costly.
"It's true to say that climate change is already impacting the apparel sector," says Uren. "It's manifesting itself in terms of water shortages, and extreme heat. That is a major issue for workers' rights. The use of air conditioning just compounds the energy intensity."
Industry impacts
A report issued before the Paris conference by bankers HSBC, 'No Water, More Trade Offs', identified climate factors that threatened the apparel industry in China, a country in which 32% to 75% of hides, wool, cotton, chemical fibre and silk are either made in or pass through China as imports.
These include drought. China dominates the water-intensive global cotton industry, accounting for around a quarter of global cotton lint output. But the report found that climate change is altering historical patterns of water availability: droughts in southern China may leave less water available in the north.
A July 2015 report by McKinsey, 'East Africa: the Next Hub for Apparel Sourcing?' suggested that a segment of the cotton industry might relocate from China to Ethiopia, which was deemed to have 3.2m hectares of land with a suitable climate for cotton cultivation.
Bangladesh's apparel sector also faces an increase in hurricanes across the Bay of Bengal, documented by a 2014 World Bank report, 'Turn Down the Heat', which says that by 2040 shifting rain patterns could leave some areas under water and others without enough water for power generation and irrigation.
Francesco Marchi, director general of European clothing and textile industry association Euratex, says such weather patterns, combined with rising costs in Asia, could lead to more apparel companies near-sourcing and relocating to or near Europe.
Uren agrees. "We may well even see an increase in on-shoring [where companies relocate into Europe and the US]. China has had strict environmental laws for some time but they are now going to be enforced. Manufacturers of apparel there will soon find that standards are as high as in other parts of the world. "
Create sourcing plans that work
Find new apparel sourcing destinations, assess trade flows and manage tariffs. All in one place.
Oops! This article is copy protected.
Why can't I copy the text on this page?
The ability to copy articles is specially reserved for people who are part of a group membership.
How do I become a group member?
To find out how you and your team can copy and share articles and save money as part of a group membership call Sean Clinton on
+44 (0)1527 573 736 or complete this form..