Texprocess 2015: Where next for 3D design and prototyping?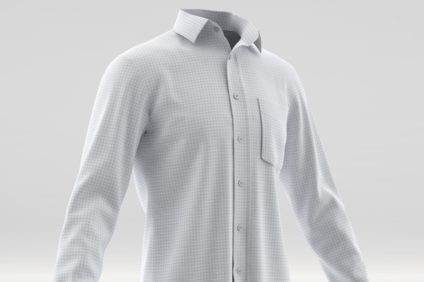 True-to-life 3D digital samples are finally coming of age - as shown by the new Optitex O/15
There's no doubt 3D design and virtual

prototyping

is a potential

disruptor

to the traditional way the apparel industry does business, from sampling and pattern making to the creation of 3D digital catalogues and a range of customer-centric services. And with it, comes debate on how the tools are re-writing the rules.
With benefits that include faster lead times and lower costs by reducing the number of physical samples that need to be sent back and forth – as well as helping eliminate delays and errors caused by different time zones and languages – it's no wonder 3D design and virtual prototyping software is finally coming of age.
Indeed, the ability to transform 2D patterns into 3D draped garments on ever-more realistic virtual models, check size and fit on a static or moving avatar, integrate material data from PLM (product lifecycle management) software, build virtual ranges and plan store and catalogue layouts before a piece of cloth is cut, were among the most exciting developments on show at this month's Texprocess trade fair in Frankfurt, Germany.
"We're talking about digitising the core product of a $1.3 trillion fashion industry – which has huge impacts on industry capabilities and the way fashion brands operate," explains Asaf Landau, CEO at Optitex, the 2D CAD (computer-aided design) to 3D virtual sample software specialist.
"We're really seeing great market traction for digital products," he told just-style. "You can see sales samples in a matter of hours, make alterations in seconds to enable design and tech teams to work together to see how things look. You're able to see colourways without waiting one to two months for the fabric to arrive. You can see your collection in sales sample quality, three weeks after design sketches as opposed to five or six months – and you can then double-down on the things that work."
Decision-making detail
But despite the many and clear advantages in the technology's potential to lighten workloads, simplify processes and reduce raw material and labour costs through fewer samples and prototypes, one of the enduring questions is whether a virtual product is good enough for decision making?
"The technology is all very well, but in reality the buyer still wants to see the garment on a model," Çem Altan, managing director at Aycem Tekstil Istanbul, told a Texprocess Forum panel session hosted by the International Apparel Federation (IAF), adding: "The fit process is the biggest loss in the time of production."
"If you look at it from the product development side, companies are all working on 3D product development from different aspects," Mike Fralix, president and CEO at research and consulting firm the Textile Clothing and Technology Corporation ([TC]²), said during the same session.
However, he believes companies are moving in the direction "where a brand will rely on that to replace the physical samples. A year ago a study was done that 5.1 physical samples are made for every product that went from concept to retail store; [that's] a waste of time and materials. 3D product development becomes a tool that can be used to reduce that, and you're more sustainable."
He adds: "It's a complex thing, because to drape a garment from patterns on to a 3D avatar doesn't happen in two seconds."
While some believe mass-adoption of 3D product development tools is making good advances, but will still probably take another three to five years, Optitex's Landau says the technology has now hit a tipping point in terms of quality and easy of use "where you can make decisions off of it." Consequently, "we're seeing a higher demand than there is supply. We're talking about being able to cut overall product development time by 30-50% - so major brands are now proactively looking for solutions."
Even so: "We always tell customers to make the physical sample – but the first time approval rate on that physical sample is 90+%."
Organisational change
Another issue seems to be that some degree of organisational change will be required for a successful 3D implementation, including training and downtime within a company as the switch is made.
Training is a particularly contentious point, with resistance expected from many traditional designers – and those who do work in 3D requiring a range of additional skills. There is even talk of the need for a new professional group - 'virtual technical design' perhaps – to encompass the combined new skills of creativity and technology. Crossover with industries such as virtual gaming and special effects may also lead to the involvement of people from outside the fashion industry.
But "you will still need 2D knowledge before you do 3D. You have to learn it and then apply it," argues Prof Dr Michael Ernst from the faculty of textile and clothing technology at Niederrhein University of Applied Sciences.
He told a panel on 'The World of Fashion going 3D' that: "You need know-how in cutting, you need to understand draping of materials. [Also] the fit to body still needs to be assessed on a real-life model, and if there are any defects you will still need the know-how to fix them. It is not realistic to think samples will not be needed. The designer and 3D designer will need to work together to change necklines, re-set sleeves etc."
Optitex's Landau agrees. "You must have the capabilities of 2D design and 2D CAD making along with 3D, otherwise you're disconnected from the product development cycle. You must be able to support the changes going through the organisation."
The 'art' of pattern making is also very much about personal interpretation, so 3D products also have to be intuitive and easy to use – especially when it comes to carrying out quick changes. If it's easier to make a physical sample, then that's what people will continue to do.
Gerber Technology's Yvonne Heinen-Foudeh, marketing director for EMEA, believes that like CAD systems, 3D tools are becoming more intuitive and user-friendly. She also notes that while the technology is currently best for casual products, jeans and shorts, the ability to simulate more complex shapes, structures and materials like suits will open up new demand.
"I believe 3D will become the standard working mode for all of us; the only question is when. At the moment we develop product in 2D but I see it being developed in 3D."
Supply chain redesigned
"I think we'll see the supply chain redesigned leveraging technology," Landau says. "The use of 3D digital products right now is very similar to what we've seen in other industries like architecture and automotives. It starts in product development, it makes much faster prototypes, much higher quality earlier on in the cycle, and the ability to make decisions based off of that.
"Once the technology gets to where it's easy enough to create digital products quickly, without a lot of skills, then they pass that line of decision-making capability. Right now, what we're seeing is a lot more traction on that because people want to be able to go faster. So they're starting in product development, they're connecting to their core business process of pattern making, and they're stitching it in 3D rather than physically stitching it. And suddenly, a week and a half later, they have the final concept approved.
"And then they end up leveraging this 3D elsewhere. If you've got your entire collection three weeks after your design sketches, as opposed to six months, you can show it to your buyers, and they can tell you what's the hit and what's the miss. So you can produce more of them – and design more styles relative to your buyers.
"3D gives you capabilities you never had before."
Ongoing evolution
The next step in the evolution of 3D design and visualisation is likely to see digital products spread throughout a fashion company all the way to distribution, marketing and retail – and even engaging consumers themselves in the decision-making process. If shoppers can offer their feedback on ten different – digital – designs of a jacket, for instance, this gives the brand or retailer a good idea of what the consumer wants and is most likely to sell.
Going forward, it'll also get to the point where a virtual garment looks so real the consumer will see it as the marketing view of the garments, and digitally try on clothes.
There are likely to be implications for manufacturing too. "In the beginning you're going to see pervasive use in apparel as it is today," says Landau. "But what you'll see is more localisation of manufacturing happening as well, and being able to provide just-in-time solutions for the consumer. This will be a platform for connecting from the back office and product development and manufacturing all the way to the consumer side – and when you have one medium for doing that, clothes can be made locally based on the orders received. But I think that's going to take a decade or two to see it really come in to play."
In the meantime, however, "the ominchannel and internet is very much where we're going tomorrow." And because the technology has already been around for a number of years, "most companies out there are either doing it, planning on doing it, or watching and seeing what's happening."
Create sourcing plans that work
Find new apparel sourcing destinations, assess trade flows and manage tariffs. All in one place.
Oops! This article is copy protected.
Why can't I copy the text on this page?
The ability to copy articles is specially reserved for people who are part of a group membership.
How do I become a group member?
To find out how you and your team can copy and share articles and save money as part of a group membership call Sean Clinton on
+44 (0)1527 573 736 or complete this form..